What's your current work status? Where are you watching from? I am so sorry if you are jobless right now.
Before we start, our brand new membership site, CLASS is open! You can join us through March 31st and that truly IS the answer right now if you are jobless because we've opened up the entire LYCF and CRP program for you to binge-watch. Whether it's resume resources, job searching resources or starting a business or blog resources, even updating social media, all the things plus weekly coaching calls with me so you can get coaching too. The founding member rate is only available through March 31st so do not miss this. www.classycareergirl.com/join
I'm here to help, everyday until March 31st I committed this morning to be here with you at 10 am PST everyday to walk through this time with you.
Subscribe on your favorite platform below: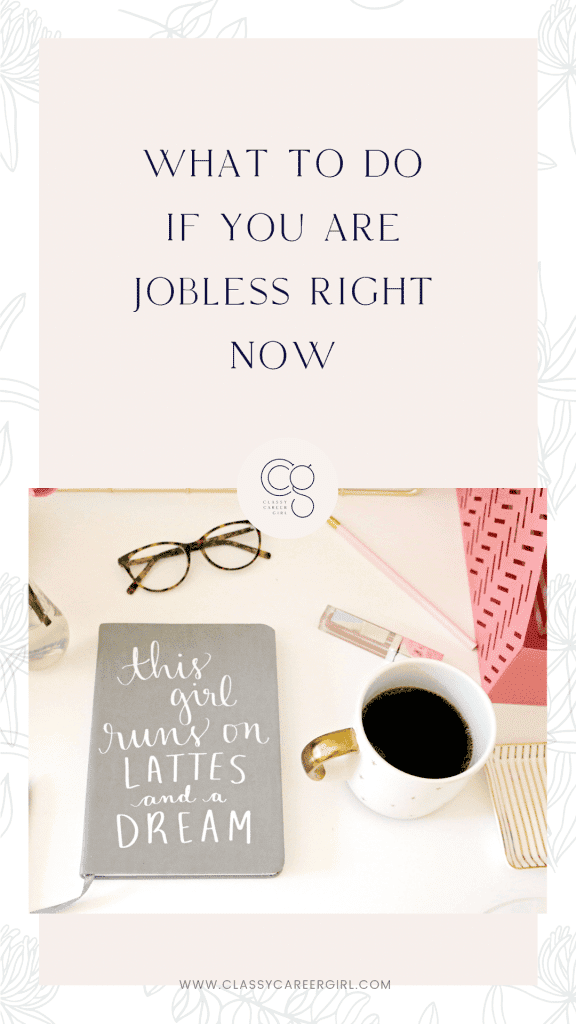 What to do if you are jobless right now
Worked for the government. No one ever got fired. Was going to be CEO. Then, my mentor, Sandra, got fired with twins. Our company had a meeting with us and said there will be more layoffs. That was my wake up call. My job was no longer secure. I had to become the CEO of my own career instead of relying on anyone else to manage my career for me. 
This is your wake up call. To never get in this place again where you are not in control of your career or finances. Enough is enough.
Let's take care of the basics needs.

Unemployment if you can. Dave Ramsey: The 4 walls: 1. Food, 2. Utilities 3. Shelter 4. Transport. Just focus on the next 30 days. Let's look at your savings. How long can you get through with these 4 walls. Let's take of our family. We are going to be ok. We can't drive and eat out. So house and utilities and groceries. I know I haven't eaten out and am saving money now than ever right now.

Go find a job. There are companies hiring.

This might not be your dream job. Let me tell you something I worked my job I didn't love from 2010 – 2014. I was miserable but I was bringing in some income so that I could take my side hustle full time eventually. I do want you to be fulfilled in your dream career or business. That's my #1 goal in life. But, it's a million times easier to do this while you have a paycheck and you don't have to worry about bills. Don't be picky. We need to cover your expenses right now. You don't need to go into debt right now. 

Dive into your passion. Now is your time to create an extra income. People have problems NOW more than ever. How can you help? How can you serve? Now is not the time to overthink. Now is the time to act. I woke up this morning with an idea to serve you more. Everyday at 10am PST from now until Tuesday, Mar 31st, I am going to serve and help on FB Lives. I can't overthink this. I just have to do. People need my help so I am putting my content out there. If you overthink, you'll waste this precious time right now. People are online like never before. I've had more views on my FB Lives. I have incredible FB ad prices right now. Businesses are growing. What are you going to look back at this time and be proud of. Is it doing some free coaching? I updated resumes for free and did career coaching for free when I started in 2010. Is it getting testimonials. If you have already worked with someone, is it making that first sale and putting an offer out there. Can you help people? People are waiting for you right now. Create a simple PDF ebook on canva. Create a private facebook group and charge a monthly fee to do FB Lives in it or teach a course in it. Be an affiliate for another product that will be selling right now. You don't even have to create a product. Offer to volunteer, intern and help companies right now. Whatever you do use this time.
Now remember, our brand new membership site, CLASS is open! You can join us through March 31st and that truly IS the answer right now if you are jobless because we've opened up the entire LYCF and CRP program for you to binge-watch. Whether it's resume resources, job searching resources or starting a business or blog resources, even updating social media, all the things plus weekly coaching calls with me so you can get coaching too. The founding member rate is only available through March 31st so do not miss this. www.classycareergirl.com/join