How many things are on your to-do list today?
Recap of Day 1: Routines and Schedules

When it comes to just taking small baby steps to control your day, it all starts with the moment you wake up.
That's why today we are going to design your ideal morning routine. Having a plan from the moment you wake up and will help make the rest of your day more relaxed.
Today is day 2! We are focusing today on daily habits and to-do lists. I am going to take you behind the scenes and share twelve things you can do for success and happiness every day. Note, Disclaimer: I rarely do all 12 of these things. It is difficult to do one of these things every day! But I try, and that is what is important. Some are better than none and I always have a better day when I do some of these.
Subscribe on your favorite platform below: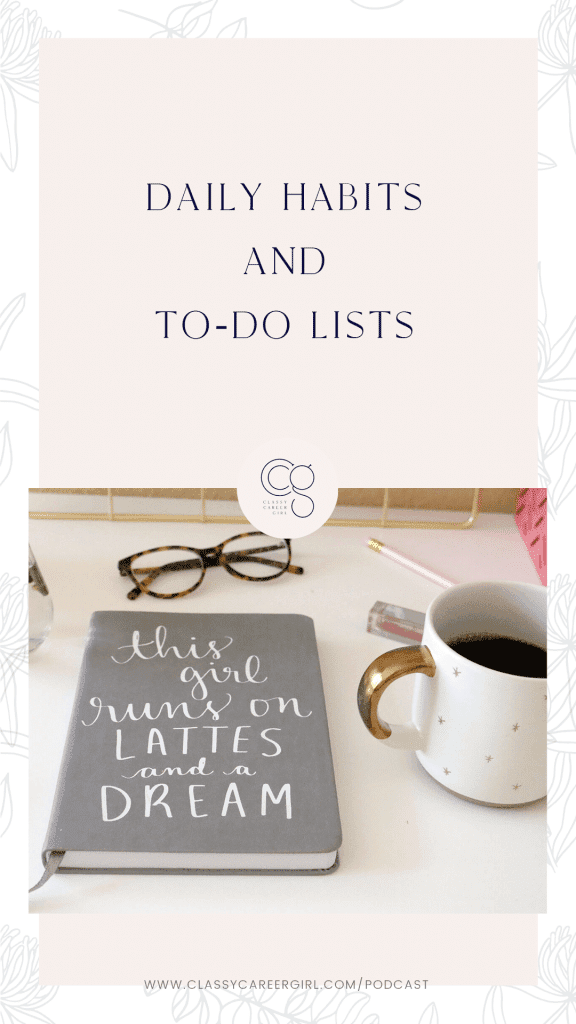 Your Daily Habits and To-Do Lists
I created my daily habits list after my second daughter was born in  2018. I do not have the quiet or alone time that I used to have. But I try to get as many of things as I can. The days that I get to as many of these habits as possible I am happier.
I know doing these things was part of what led to the success of our business and I feel like I am able to balance motherhood better too. If I had not been trying to do these habits, I don't think I would have been in the right place mentally to actually make my goals happen. So, I believe great daily habits are going to help you reach your goals.
1) Working out or stretching
Do something active every day. Ideally going to the gym, taking a class. I try to get it in before lunchtime these days with a newborn.
2) Read personal development book
Something positive and encouraging so I can learn something.
3) Review goals
I review my annual goals so I know where I am headed. This will impact what I do that day and the ideas I have. My best ideas come while driving and while in the shower. Not working is when I have the best ideas. Reviewing my goals helps get those ideas flowing.
4) Gratitude journal
Everyday I write down three things I am grateful for in my gratitude journal. When you're grateful for the things you have, those things instantly increase. The more gratitude you feel, the happier you will be. Studies show people who practice gratitude have closer relationships, are more connected to family and friends and have people look upon them more favorably. Even being thankful for your boss will give you more patience, understanding, compassion, and kindness. You will forget about the things you use to complain about them if you are thankful for them. I once had a very tough client in my previous corporate consulting job who was not nice to me AT ALL, but I was and still am SO THANKFUL to her for showing me how to handle difficult clients and situations with class. This is exactly why I make it a habit in my morning routine to write down three things I am grateful for each day. It just makes me happier and gives me a better outlook for the day.
5) Affirmations
If you listen to last week's podcast, you know how much I believe in affirmations. Repeating positive statements every single day. I've been doing this with my daughter lately and we've been saying, I choose to make today the best day of my life.
6) Journal/write
write a blog post or write in my 5-year journals for my daughter memories of our days. This is another form of gratitude for myself and my writing my blog helps me help others and that makes me happy. Sometimes its just writing an Instagram post on my @annarunyan account. As long as I'm doing this daily I feel better.
7) Drink water
Fill up four bottles of water in the fridge the night before and try to drink them throughout the day.
8) Work on my top priority
I have three priorities every week so every day I try to do something that will help me complete that priority.
9) Vitamins
Gotta take them!
10) Meditation
Even if its 30 seconds of shutting my eyes. Quiet is really hard to find in my house!
11) Green smoothie
Spinach every day!
12) Devotional
Reading my bible or daily devotionals that I get sent to me every day. Habits make them easy for you.
Come follow my Instagram accounts, Classy Career Girl and Anna Runyan to see the behind the scenes of me doing these habits each and every day!
One last thing: Remember this. You can create your future! You are in control of your calendar, your day, your response to what happens in your life. And you can make your dreams happen. I believe in you! Let's make do it!
Your Action: Share in this Facebook/Instagram post your daily habits list. For example, two of my daily habits are to take my vitamins and review my goals every morning. And don't forget to tag us @classycareergirl.
Do These 4 Things Daily to Stay Productive Every Day
Please feel free to ask questions on Instagram! I will be happy to answer them.
Step 1: Brain Dump All Your Priorities, Then Set Your Top Priorities
I know you have a ton of to-do's whirling around on in your head right now. Am I right? Now it's time to list them all out. Do a brain dump of all the things you "should" do today. Don't worry! You won't be able to do them all, but it will help decrease your stress to get them out of your head and onto paper.
Step 2: Set Your Priorities 
If you woke up feeling like you have a million things to do, you aren't alone. They key is to write down your priorities. What are the most important things that need to get done? What are those small baby steps you can do that will help you reach your long-term goals? Those are your priorities!
Step 3: Create Your Affirmations 
What are affirmations? They are something you do daily that describe a goal in its already completed state. We believe so highly in the power of affirmations that we added them to our new Create Your Future 90-day Planners (they are back in stock NOW!!).
Step 4: Share Your Gratitude
When you aren't grateful, you won't receive more in return. Gratitude is all about giving thanks. Ungratefulness is taking the things in your life for granted. You are taking instead of giving if you are ungrateful.
NOTE: We just launched the brand new physical planners today! You are welcome to buy the Create Your Future Physical Planner if you prefer. They are discounted specifically for this challenge! www.classycareergirl.com/createyourfuture