Since 2010, I've helped thousands of overwhelmed working moms plan out how to find their perfect career so that they can be happier, have more time with their family and provide for their family. As the CEO of one of Forbes 35 most influential career sites, Classy Career Girl, and founder of the PLAN course, I've been helping women of all ages identify, plan and find dream careers in pretty much every type of industry.
And through it all, I've discovered a few small steps that most women miss in career transitions and business startups that can make the biggest difference between finding the career you were meant for and getting stuck in another dead-end job.
In this workshop, I'll be teaching you the best way to stay focused on your goals and find direction so you can make your perfect career and life happen.
Subscribe on your favorite platform below: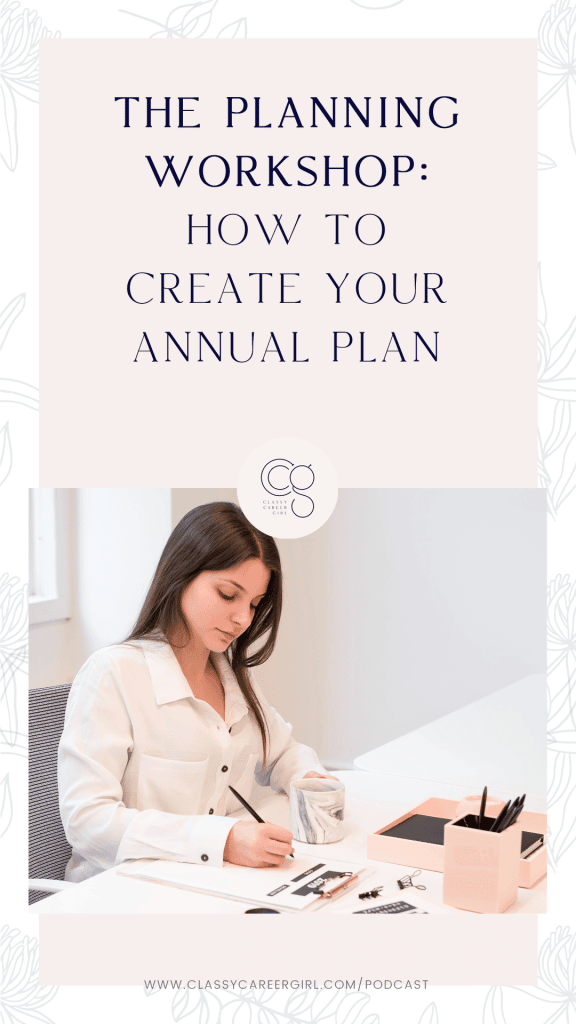 How To Create Your Annual Plan
I want to take you deeper into this area and I'm going to show you how to know what to focus on first and how to set attainable goals that you actually complete so you can find your perfect career.
We're going to be covering a lot of ground today, so be sure to download the PDF, The Annual Plan Roadmap, on this page so you can follow along and take notes.
To get started with creating your annual plan… the first thing to do is to write today's date. See, that was easy. This doesn't have to be hard!!
Step 1: Write down 3 goals for the next year.
Now you've already done the hard work that is going to make this task so easy. Go back to what you wrote down in your vision journal. What do you want to create in the future? When you imagine completing your goal, what does your life look like? 
[RELATED: 10 Best Planners For Women]
Step 2: What the heck do we need to do and when to reach those goals?
Here's the thing, we can't do it all at one time. We need to work in focused sprints to reach our goals. We need to know what is our priority for each quarter to help us reach those goals. So here in our planning system, we work in 90-day increments. So we break down the next year into four quarters. So go ahead and write down the dates of the next four quarters, so three months. 
What about a lot of people telling me that they weren't born productive so this might not work for them?
No one is born productive. Instead, think about how being more productive is a skill that you can develop.
I've also heard from people who fear that they aren't disciplined enough to reach their goals. But here's what I have to say to that, Working in your passion doesn't require much discipline when you love what you do.
Spend your time focusing on doing work you love, discipline comes easy.
And lastly, I also heard that you've tried to reach your goals before but it didn't work. Me too! I've failed much more than I have succeeded.
You absolutely cannot give up no matter what. Change things up. Try different things. Ask for help. You can get better results by trying something different.
Other Podcast Episode You Might Like:
4 Things We Did To Grow Our Classy Career Girl Brand
How This Busy Mom Made a Plan To Quit Her Job and Become a Life Coach
4 False Beliefs About Reaching Your Goals