In today's podcast, I want to help you learn how to grow a side hustle from home. And how you can juggle it all when you have a day job and you're trying to grow your side hustle as well.
You may be struggling with time management and balance and feel like there are so many things that you need to do.
Subscribe on your favorite platform below:
How To Grow a Side Hustle From Home
When I was working my day job, I was also growing my side business from home. I really struggled with time management.
It was hard and I had to learn a lot!
I'm excited to share my tips with you today on how I found more time so that I could grow that side hustle from home and turn it into my full-time career.
TIP #1: Batching
To grow your side hustle and have it not affect your day job, we have to make sure that we put some time management strategies in place. And the first tip that I want to share with you is something called batching. You must batch the activities together for your new side hustle. And when you're growing that side hustle, we're going to keep similar activities together.
You kind of want to categorize the things that you do in your side hustle, the things that you do in your business, whether it's responding to emails, whether it's posting on social media, or creating your social media images. For me, it was taking calls with clients. So I had to make sure that I categorized those calls and determined which were very important, right? That was how my business was going to grow. 
The more I got to talk with potential clients, the more I got to serve my clients. And so I prioritized those calls on Mondays and Tuesdays. That was the time I was going to talk with clients. So I want you to think about what are those activities that you're doing in your business over and over again repeatedly. We don't want to just do it a little bit here for 15 minutes in the morning, and then a little bit here for 15 minutes in the evening. We want to make sure we block out times in your calendar for batching those activities together.
We want to make sure that we have these systems in our schedule. So we batch these things together. And then that leaves us the most important time for client interaction or for preparing your product or for delivering your sale. We want to make sure we block out as much time as possible.
I know when you're juggling a side hustle and a day job, you have limited time.
Here is how to make more time to grow your side hustle from home:
Add up all those hours that you have.

Batch those activities that are more administrative together and block out those bigger parts of your time.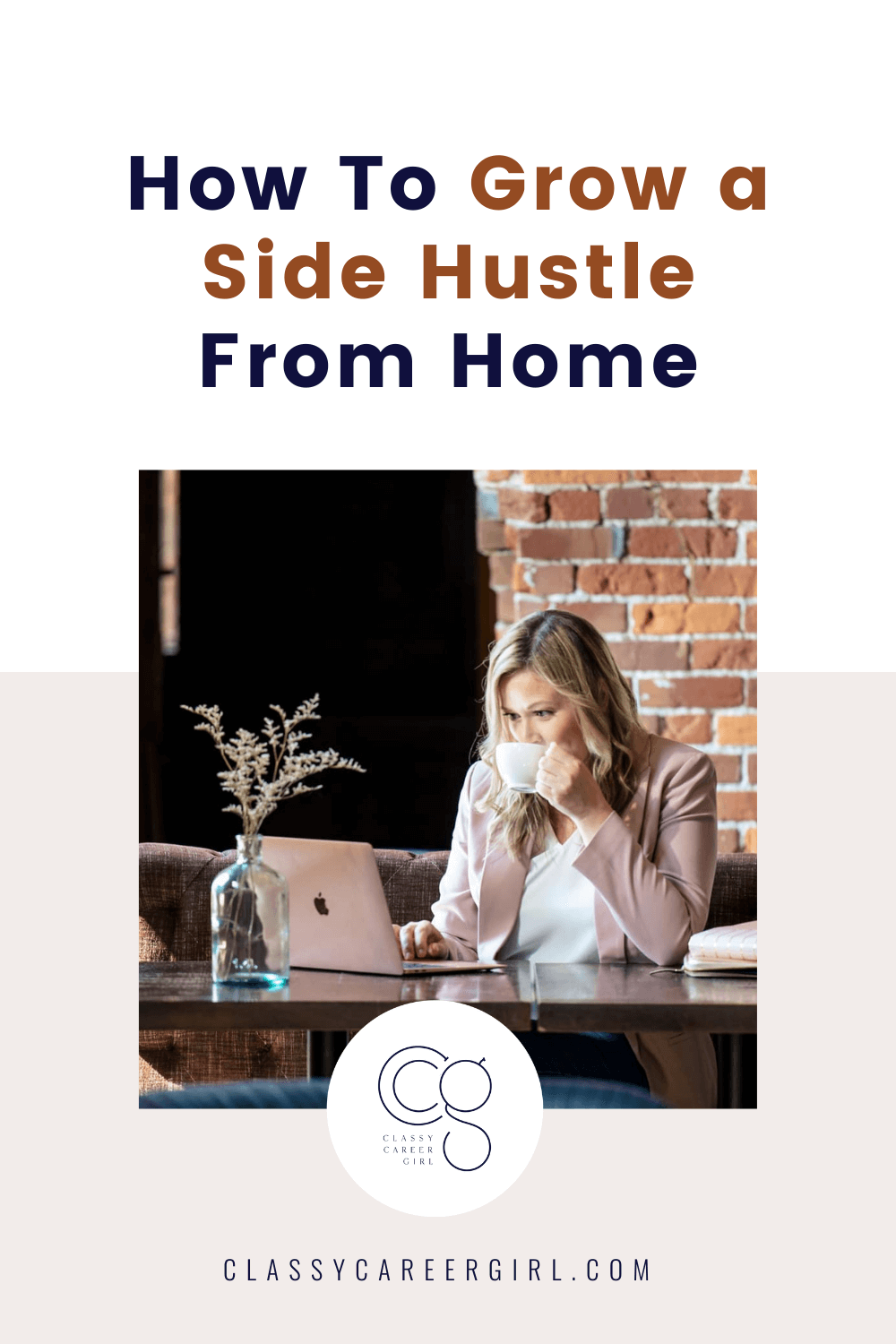 TIP #2: Categorize Your Time Into Three Different Time Blocks
My second tip for you in order to manage and prioritize your side hustle on your busy schedule with your day job is to categorize your time into three different time blocks.
SACRED TIME
Your time for your new business is going to be categorized into sacred time. So this is like reading time, quiet time, time with your family. That is extremely important. A time that is very valuable to you. That is sacred. We're not going to mess with that time. 
ADMINISTRATIVE TIME
Then the second area that I want you to categorize is administrative time. So, administrative time is your time where you're doing email, you're doing social media, talking with your bookkeeper or the bank, or you're mailing something and headed to the post office. These are administrative things.
These are not going to move the needle on your business. These are not going to grow your business so you can quit your day job and work on your side hustle full time.
FOCUS TIME
The third category is focus time. Get clear on the activities that are in focus time. Focus time is your revenue-producing activities. Writing a sales page, doing a webinar, talking to a potential client, doing a speaking event, networking with a partner. These are all things that are going to help you make sales. And that's what we want to get clear on because a big mistake is wasting time doing things that are not going to get you those sales.
When I started, I loved to blog. Like I could do it for hours and hours and never get bored, but I realized writing a blog post and pressing publish was not getting a sale.
It was building a relationship with my audience and building trust. It was important for content marketing. And it was important for my brand, but it was not going to allow me to quit my job tomorrow.
We want to make sure we spend as much time focusing, time doing the work that's going to allow us to quit our job tomorrow because that is the ultimate goal. Also, we want to have freedom and flexibility. We love every single day and are in charge of our schedule. And so that's why keeping that vision in your forefront and knowing that is where you are headed is extremely important as well as batching these times together into your calendar.
So make sure you are creating a schedule for your days.