It's that time of year again and there's always a reason to give a holiday gift, right? Whether it's your best friend, sister, mentor or co-worker, here's a list of ideas to help you out just in time for the holidays!
Last year's gift guide featured some great ideas but we wanted to take it up a notch this year.
What if you could give a gift that actually makes the recipient think about you positively for the entire next year? What if you give a gift that allows you to have an easier conversation and get to know each other even better.
Your gift can have a direct impact on your career success so it really is important to buy the right thing.
Here's a roundup of the 5 best holiday gift ideas for women: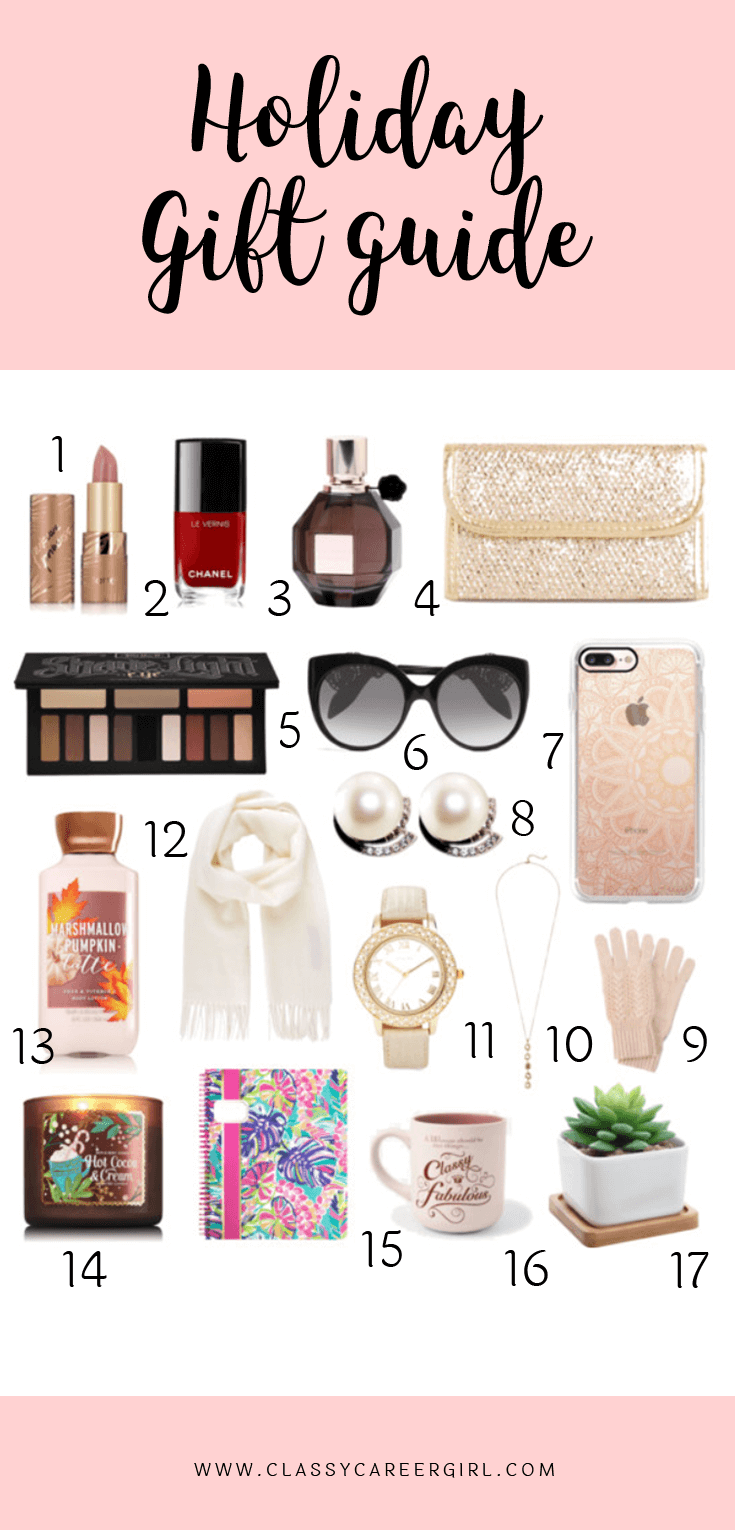 1. Lipstick (Example: Tarte Cosmetics Amazonian Butter Lipstick)
2. Nail Polish (Example: CHANEL LE VERNIS Longwear Nail Colour)
3. Perfume (Example: Viktor & Rolf Viktor & Rolf Flowerbomb Eau Extreme Eau De Perfum Spray)
4. Travel kit (Example: Ashley Stewart Glitter Make-Up And Nail Travel Kit Gold)
5. Eye Shadow Palette (Example: Kat Von D 'Shade And Light' eye shadow palette)
6. Sunglasses (Example: Alexander McQueen Cat-eye filigree-embellished acetate sunglasses)
7. Phone Casing (Example: Ochre Mandala Lace – iPhone 7 Case)
8. Earrings (Example: Glittering pearl stud earrings)
9. Gloves (Example: Knit Gloves)
10. Necklace (Example: Cole Haan Linear Stone Necklace)
11. Watch (Example: Penelope Watch)
12. Scarf (Example: Vivienne Westwood Accessories Orb Tassel Scarf)
13. Lotion (Example: Bath and Body Works Lotion)
14. Scented candle (Example: Bath & Body Works Candle)
15. Planner (Example: Lilly Pulitzer large notebook)
16. Mug (Example: Lettered Mug – Classy & Fabulous)
17. Indoor Plants (Example: Modern Decorative Small White Square Ceramic Succulent Plant Pot w/ Bamboo Draining Tray)
What's your favorite gift to give a classy woman?