Do you create a daily plan every day? Today I'm going to share with you the BEST daily planner template to help you feel more productive. This daily planner template has been helping me focus and decrease my stress. I highly recommend doing this daily plan every night before the day starts. This way when you wake up, you know what you need to get done that day to reach your goals and create the life you really want.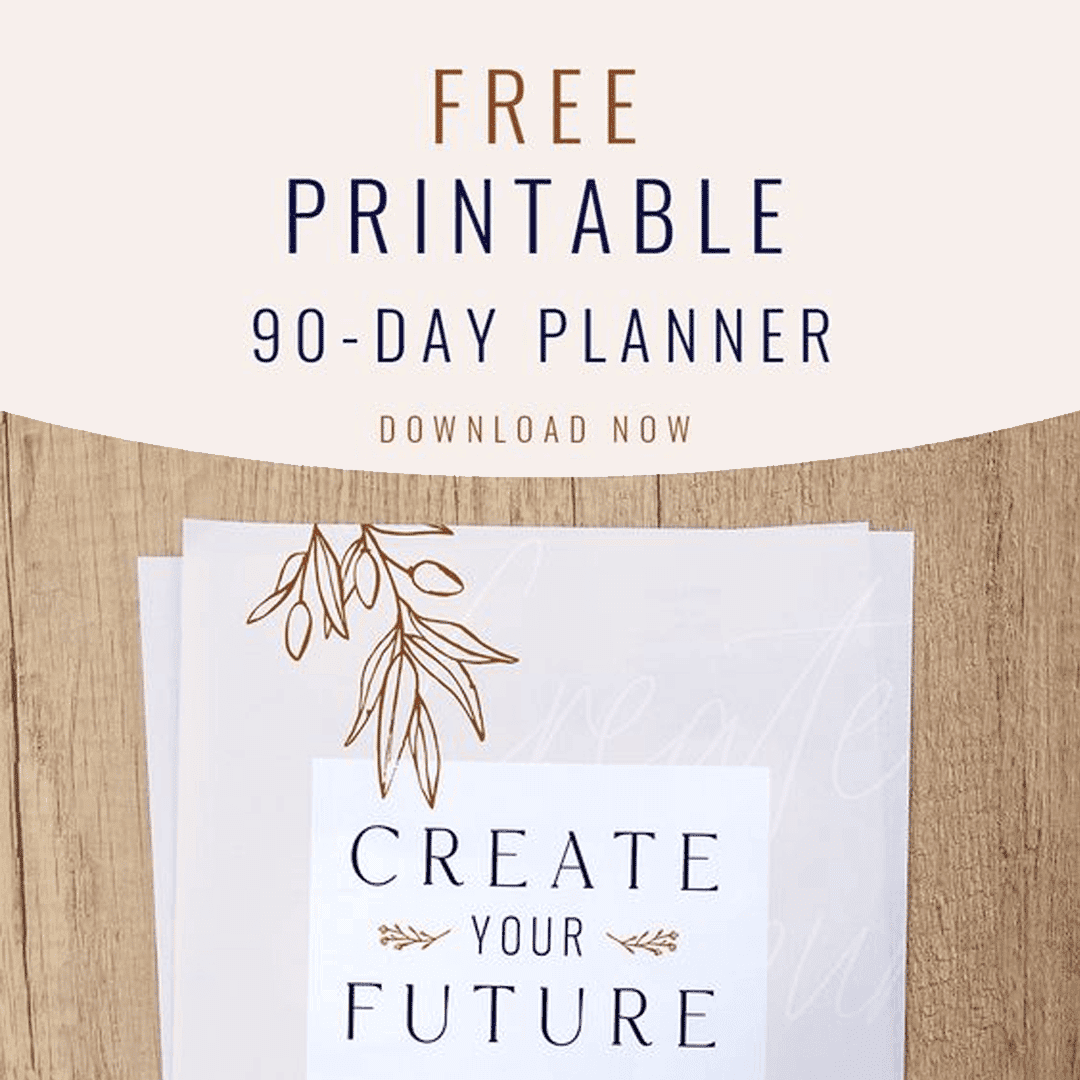 The Best Daily Planner Template You Can Use to Achieve More Freedom and Less Stress
Step #1: Set Your Top Three Priorities For The Day
Your first step is to set your top three priorities for the day. If you wake up feeling like you have a million things to do, you're not alone.
A lot of people have the same exact issue of a million things on our to-do list and feeling overwhelmed. Instead, you need to know what you need to work on and what your priorities are for the day. You want to work on your top 3 priorities before you start everything else that comes your way. You want to work on your priorities first before all those emails that flood your inbox, all those phone calls, and all those distractions on social media.  You want to know what your priorities are before you start the day.
Here's a great question to ask yourself to help you identify what your top 3 priorities are:
What are those small baby steps that you can make today that are going to help you reach your long-term goals? Those are your priorities.  When you know your priorities before the day starts, it's going to help you decrease your overwhelm of all the things that you feel like you need to do.
I complete my daily to-do list the night before so that when I wake up, I know exactly what I need to do. I always also asked myself a question that I learned from the book, The One Thing. I ask myself, "What is the one thing that I can do that will make everything easier or even unnecessary?" This question really helps me prioritize for the day.
Your first action is to write down your top three priorities that you want to get done today.
NOTE: You can download my daily to-do list template right here.
Step #2: Make a List of Other Items That Need To Get Done
The second thing that I always do is to make a list of all the other things that I need to get done today. So if you're like me, you have, like, 20, 30, 40 things that you probably should get done today. But there's just no way that we can do them all, right?
After you have created your top three priorities, I usually do a brain dump of all the other things I really want to try to get done that day. Now I don't always get these items all done, but at least they're written down and they're not in my head. Remember, these are not items that are your top priorities, these are just tasks that you should do. These are the items that make us overwhelmed and feel like we can't get ahead. Maybe it's doing the laundry or going to the grocery store or emailing someone back. It could be posting on Instagram or Facebook. These are all tasks you should do. But, they're not exactly going to help you reach your goals today.
Each day you'll start with your top three priorities and then when you finish those items, you'll go to the list of all the other things that you need to get done that day. I also recommend setting a timer for yourself. Once you're done with the top three priorities, maybe you have 15 minutes left. Set that timer for 15 minutes and try to get all the things from your other list done in that amount of time. Often, I don't get all of these done, so the things that don't get done at the end of the day move to the next day or I will move them into the next week.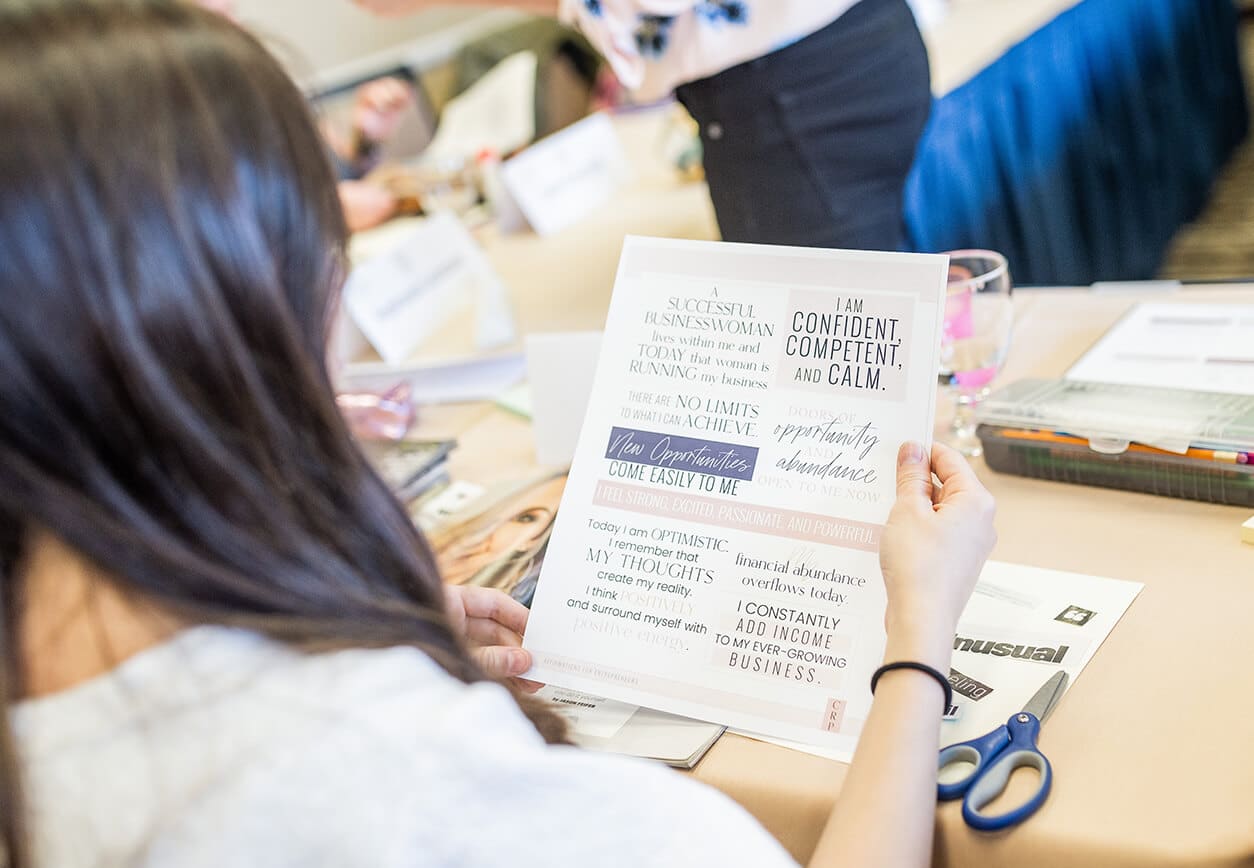 Step #3: Write Your Daily Affirmations
The third thing that you're going to do every single day is you're going to write down an affirmation. Affirmations have made such an impact in my life, in my work, and in my business. This is something I wanted to add to our planners so that I'm reminded to do this every single day.
An affirmation is a positive sentence that you're going to repeat to yourself that's going to help you achieve your vision and your goal. So on your daily planning sheet (click here to grab a copy), we have created a section for you to write down your affirmation of the day. Now, this could be the same affirmation every day. If this is something that you have been repeating every single day for yourself, it's totally fine to use the same one. I like to change it up daily.
Every day I write down a different affirmation that is going to help me that day. I have a big, long list of affirmations that I really enjoy and that I use daily. Get in this habit of having one affirmation that you repeat every single day.
A few of them that I use very frequently are…
My goals are possible.

I will create the most extraordinary life I can imagine.

There are no limits to what I can achieve.

And this one's a favorite one that I tend to use a lot. I am 100% committed to becoming the person I need to be.
This process and journey of making your big goals and dreams happen aren't always easy. This affirmation is designed to motivate and push us. Help us believe in ourselves and what we're here to do.
Step #4: Write Down What You Are Grateful For
The fourth thing that you're going to do is write down what you're grateful for today. When you aren't grateful, you won't receive more in return.
Gratitude is all about giving thanks. Ungratefulness is taking things in your life for granted.
When you're grateful for all the things in your life, no matter how small they may be, you will see these things instantly increase. You will be happier when you count your blessings. The more gratitude you feel, the happier you will be.
Studies have shown that people who practice gratitude have closer relationships, are more connected to their friends and their family, and are viewed more favorably by others. And that's because they're happier people. When you're grateful, it's hard not to be happy. So this is a common practice that I have done for years and years.
When I was stuck in my day job, I had a gratitude journal. Every single day I was writing down three things that I was thankful for. That really got me through a very tough time in my life.
This is why I built a gratitude section into our free planner so that every day I'm reminded of all the things to be grateful for. If I didn't have this section in my planner, I wouldn't do it. I wouldn't remember to count my blessings. But, it's so important when you're making a career change or growing your business that you remember those small things to be grateful for. Practicing gratitude makes me happier and it gives me a better outlook for my day.
FREE Daily Planner Template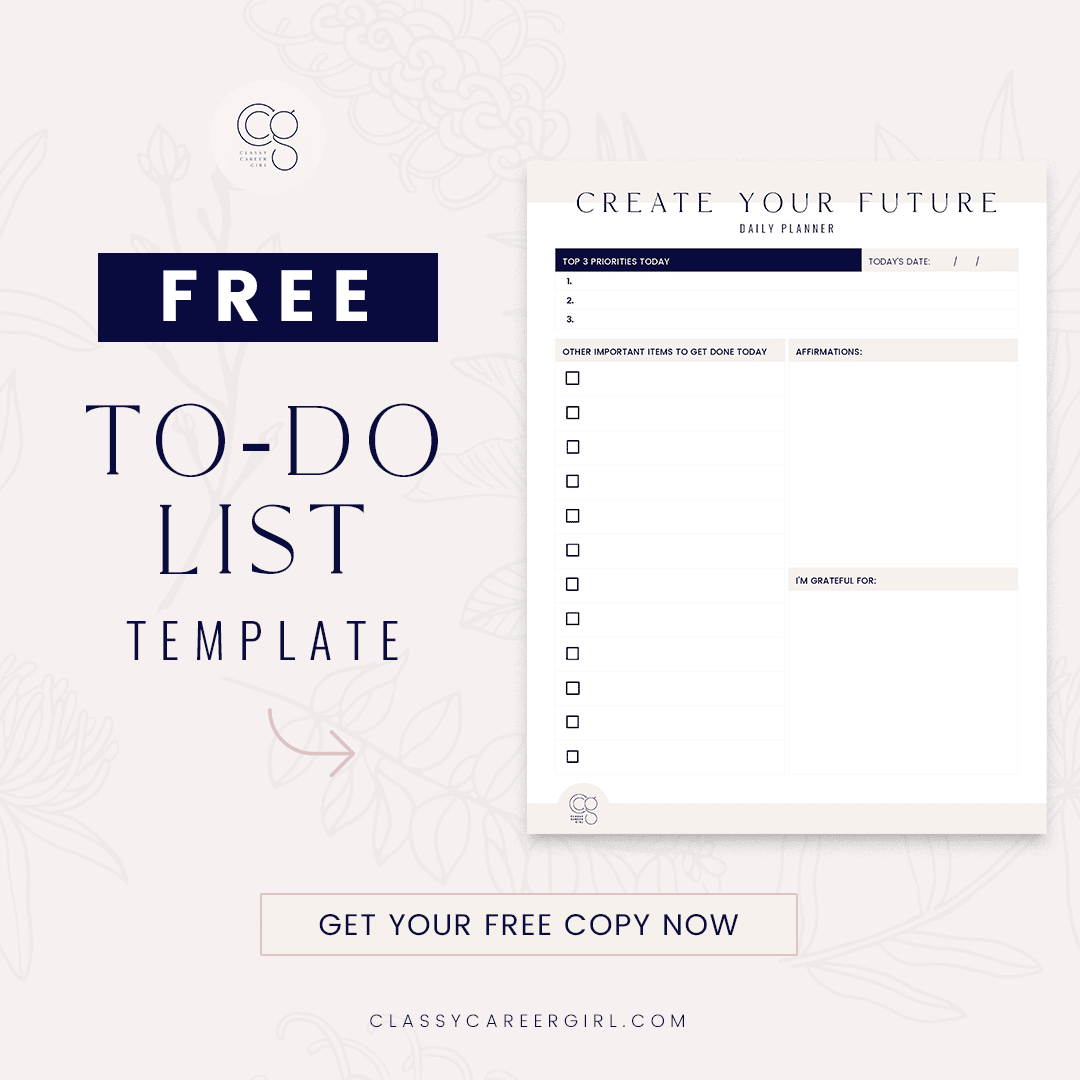 Summary
To summarize, the four parts of your daily plan are to create your top three priorities for the day. The second thing is to write down the other important items that you need to get done that day. The third thing is to write down your affirmation of the day, and the fourth thing is
to write down what you're grateful for.
I hope you will enjoy my daily planner template. So go download the daily plan and make sure you share your completed daily plan in the Facebook group.