Tomorrow my family starts a new adventure. Over the past two weeks, we have packed up everything we own and gave it away, stored it in a storage unit or fit it into our little Honda CRV. We have moved out of our little apartment in San Diego and are hitting the road.
What's next? Runyan Road Trip 2015. Tomorrow we start the journey of driving around the US visiting friends and family.
Here's the key…..WHILE WORKING!
We have received so many questions about our road trip that I thought I would answer them here. I also want to document this too because it is just too exciting not to remember this abnormal moment in our lives forever.

What made you decide to either sell or pack up everything and hit the road?
We were always planning to drive to Minnesota for the month of August to spent time with family. Then, less than a month ago, my brother was in town and randomly threw out the idea that we should swing by Des Moines, Iowa on the way back and stay with him. He really wanted some help fixing his house up, so it was kind of a win-win for everyone.  John, my husband, and I talked about it a lot because our rental agreement was month to month since our apartments were going to be converted to (VERY HIGHLY priced) condos over the next few months. So we knew we were going to have to move anyways.
Then, we realized since over the last year we have both quit our jobs to work on our business, that we truly are our own employers. We designed a location independent virtual business that allows us to work from wherever there is wifi. We always dreamed of being able to travel and work so why not now? What was holding us back?
So I asked myself the three most important questions I always ask myself when I am faced with a scary goal and life decisions:
1) What is the best that can happen?
2) What is the worst that can happen?
3) Is it worth it to go all in?
How does your business allow you to work from the road?
All of my business meetings and coaching calls are done over the phone or through Skype.  My students can access my courses and training from anywhere they have wifi and I can record the courses and trainings on my laptop.  I used to do lots of speaking events, but since I had my daughter, my marketing is almost exclusively done through social media and free webinars.
One of the big things we will be working hard on and launching on the road will be our Love Your Career Formula 2.0 program. We are completely redoing every single video, worksheet and lesson to make it unbelievably amazing. My dream is that being on the road and seeing new places will help me create an even better product for you.  Getting outside the norm for me and seeing the beauty of nature has always given me such great ideas in the past. I am really excited about how this road trip will influence the success of the program launch and the quality of the product as well.
How are you going to travel and work with your one-year-old daughter?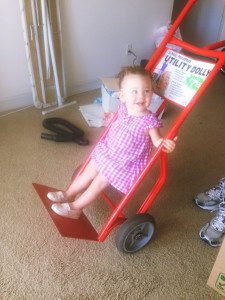 Ok, so no one asked this yet but this is what I am asking myself!  I know this is just something I will figure out as we go. I have reached out to friends and family to set up some childcare, but we will be sad to leave my mom in San Diego who watches her frequently.
When are you returning to San Diego?
This is the most common question that we keep getting asked, and it's the hardest to respond to because we don't know! Our current plan is to hang out with my brother in Des Moines until we are ready to head back.
I am sure once the weather gets colder we will head on back, but who knows?! The one thing I AM SURE OF (I promise mom and dad) is that we will be coming back to San Diego eventually. San Diego is home to us. It is where we want to be. We love traveling, but I know we will be ready to have a place we can call home again shortly.
How did you create a business that gives you so much freedom and flexibility?
One of the most important things I did in the very beginning of my career transition even before I knew I wanted to be an entrepreneur is I documented what I wanted my ideal workday to look like. I also created a vision board of my ideal work life and it involved my husband and I working together while drinking coffee in Paris. Here's the big thing…I let myself dream! Often, we are so wrapped up in our day jobs and what all of our friends are doing and fitting in with them that we don't realize what else is out there. That is exactly why I wanted to write this blog post. I want you to know that a career with freedom and flexibility is totally possible.
How do you work with your husband? If I worked with my husband, we would probably kill each other.
I can't tell you how many times I have heard this. And I can't even tell you an exact answer besides it just works.  We were married for eight years before we officially went into business together, but John has always been my number one fan and someone I have turned to help me grow my business over the last few years. It was just such an obvious choice for him to use his passions, talents, and skills to help us grow the business rather than sit at a 9-5 all day in a job that wasn't the best fit for how great he actually is.
I am not saying it's always been easy because it hasn't. It is getting easier that's for sure. When John started, there was a lot of trial and error going on. I think we tried like five different schedules of when we would work and when each of us would watch our daughter and each schedule lasted two days…if that. He also had to start re-creating processes and systems that I had just in my head for so many years. It was beyond frustrating to John to start helping me when I was hard to be helped and delegating your "business baby" is not something that is easy to do at first. I had grown my company to two amazing and life changing courses with hundreds of students all by myself, but I was in some serious need of some systems and processes! I was drowning and stressed, and that doesn't make a very good start to any work relationship.
Things finally started to click about three months in when John started putting those systems in place and we started a weekly Friday review where we went over our to-do list for the following week. Then, John would know what was priority, and what wasn't and how he could help the most as Chief Operating Officer.
There is no doubt that because of John coming onboard in January, I have been on fire with creating amazing new things in my business. I have WAY surpassed my dreams and goals for 2015 already and I am excited about lots more to come this year.  With the launch of the brand new website back in May, then the launch of my brand new self-study course,
Dream Career Launchpad,

those were our two biggest wins as Team Runyan here at CCG.  I could not have done any of those without him and of course my virtual assistant, Lor.
So long story short, here's how we work together….we are each other's cheerleaders. When he does something awesome like figuring out something I have never been able to figure out with one of our systems (probably happens daily), I get super excited and tell him he rocks. When I create a really pretty looking sales page, he tells me it looks amazing.
We tell each other as much as possible that we are awesome parents.  We are constantly having dance parties in our living room when we reach a goal in our business. We make it fun and keep it positive as much as possible. Trust me, there's been tears and fighting, but what matters most is that we communicate as much as we can. And oh yeah, we also make sure we get alone time, too!
What are your tips for becoming and being location independent?
1. Don't say it's not possible for your business or career. Ask HOW can you make it possible instead. Visualize that it is possible. See yourself working in the café abroad that you want to work in.
2. A location independent lifestyle is not for everyone and that is ok! Be honest with yourself. Is this something you truly want or does it just sound cool?
3. Simplify your life. Take a step toward a simpler life. Sell the stuff you been collecting for years, let's face it, you don't need most of it. If you don't use it, get rid of it.
4. Create systems and processes for everything you do. Start thinking about how you can turn your in-person networking and events into online networking instead. What are some ways that passive income strategies could work better for you? Also, think about how you can hire a virtual assistant to help you out!
5. Save your data in the cloud. Use Google Drive, Dropbox, and the like to save your data in the cloud, but always have a backup, too.
6. Focus on recurring revenue. This way you can get paid more than once for doing something. The most successful businesses are built on recurring revenue.
7. Get ready to work hard even while on vacation. As an entrepreneur, you are in control of your time, but it doesn't fall into the normal hours that most people work. You can set your flexible hours but the most important thing is that you need to do whatever it takes to move your business forward every single day.
8. Make sure you use your time to enjoy your life and travels. You don't want to go to a once in a lifetime location and then work the whole time! You get to wake up early and explore all day and then get back on the computer at night.
9. Consider keeping a home base. Even location independent entrepreneurs can benefit from a home base. It is not an absolute must, but it might help you eliminate debt. Debt is almost always hurtful. Reduce your debt quickly and get rid of all of it. Few things are more liberating than debt free living.
10. Keep overhead low. Avoid the pressure to scale up your expenses so you can maintain your freedom.
11. Utilize co-working spots around the world. There are so many, and you can often get day passes and you can meet some pretty amazing people from around the world,  too!
Have you ever thought of having a location independent business? What does your dream work life look like?