15
Sep
Today we are diving into our second day of the Fall in Love With Your Work and Life challenge. I had a ton of great questions that came in about how to figure out what step to take first when you are making a career transition. This podcast today shares exactly what you need to do that will make all the difference in creating amazing results for your career success. Click here to access the discussion about the first challenge.
Alright, let's dive into today's podcast!
Today's podcast is a previously recorded Facebook Live but I hope you enjoy the informal nature of these podcasts because I get to be myself a little more. I hope you realize I am just like one of you. I started where you are and just took baby steps to getting the knowledge and expertise that I needed to launch my dream career.
So hopefully you get to see the goofy fun side of me in these Facebook Live recorded podcasts too. That is my hope!! Also, note that depending on when you are listening to this, our Love Your Career formula membership community may be open. We only open it at select times per year but if you love what I teach her in this podcast and want to dive deeper and get my specific action plans each week to determine what your ideal career is and then find it, Love your career formula is definitely for you. You can learn more and add your name to the waiting list or see if it's open right now at www.loveyourcareerformula.com, from stuck to jumping out of bed!
Alright, let's dive into today's podcast!
Challenge #2: Make a Non-negotiable Commitment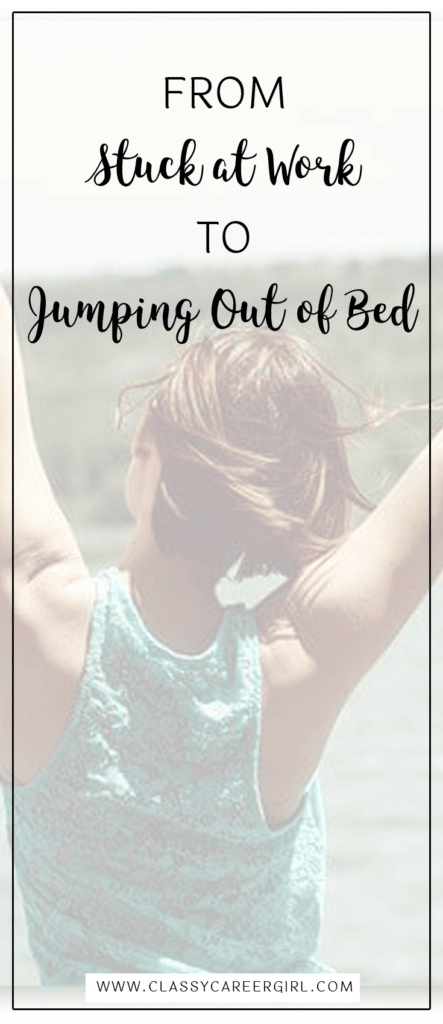 From Stuck at Work to Jumping Out of Bed
Q&A
Making the commitment always opens up a world of possibilities. It just takes you to say right now, "I can and I will be a success no matter what." Make it a non-negotiable that I will use my "best self" from day 1 in my work and life.
It is hard work! But the least hard work is this commitment process!
Share in the Classy Career Girl Network Facebook community what your commitment is. Here are some commitments some of the women are making:
Leah: I am committed to living my dream life which will use my God given gifts to help others become their authentic selves!
Cynthia: I am committed to completing my business plan, learn with a mastery mindset as I create, and work diligently to make my business a meaningful success.
Stefania: I am committed to staying positive no matter what setbacks I may have to my goals
Yolanda: I'm committed to being who God says I am and being diligent to making my dream a success
#
mrsworldwide
Temi: I am committed to getting my dream job as financial controller /CFO. I am committed to completing my CPA certification exams no matter what.
Keep them coming! Let us support and help you!
How to Know If You Are Ready for a Career Change?
Here's how you know you need a change.
1) You are not valued, rewarded or appreciated.
2) You are no longer challenged.
3) You don't trust your company.
4) You have lost your excitement and passion for you job.
5) You just know in your gut.
Commit to practicing. You won't be the best at day 1. Imperfect action. The world needs what you know!

Anna is the founder of Classy Career Girl, named by Forbes as one of the top 35 most influential career sites of 2014. She helps millions of women design and launch their dream careers, businesses and lives through her website, online courses and social media channels.

Latest posts by Anna Runyan (see all)