Did you know that there are over 33 million business presentations every day in the United States alone?  With so many presentations, can you imagine how many actually have the audience's attention?
No matter how smart you are or what wonderful things you have to say, if you can't communicate effectively, you will not be able to succeed in getting your point across. They key is to start thinking of not just giving another boring speech or presentation like everyone else.
But instead, you want to stand out by giving the best speech ever.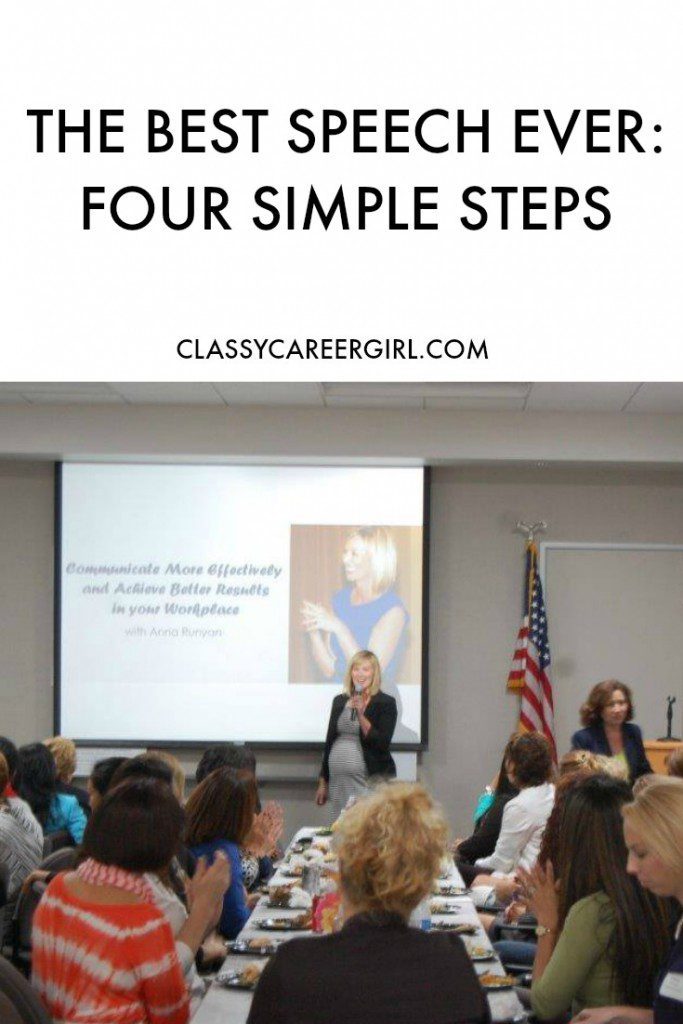 The Best Speech Ever
I had never seen my dad give a speech in public before so I was a little worried about what he might say at his big speech on my wedding day.  I was especially worried when he asked me the day before what he should say and that he should probably start
writing

his speech.  My dad pulled off what I think was the best speech ever because well…he TOTALLY nailed it.
Why?  Because he was actually very well prepared and was just trying to stress out the bride-to-be the day before her wedding.  Thanks, Dad!
Get a mirror, a couple note cards and find five minutes to rehearse to yourself or a friend. You will do so much better! The most important part of a speech is the first impression because you only get one chance to make a great impression.
The Most Important Speech Ever
My professors in business school taught us to have an elevator speech ready that consisted of what
industry

we were in, what position we were looking for and why an employer should hire us.
An elevator speech is clear and concise and can be delivered in the time it takes someone to ride from the top to the bottom of a building in an elevator.  You give an elevator speech every time someone asks you what your interests are or what you do for a living.  You should be enthusiastic and passionate and make sure it is clear enough that anyone can understand it.
4 Simple Tips to Help You Give the Best Speech Ever:
1. Tell a story 
A story can help you grab your audience's attention and help them remember what you said when they leave.
2. Less is more
Did you know this rule about PowerPoint presentations: Rule of 5: no more than 5 bullets per slide and 5 words per bullet.  Are you a presenter who reads exactly what is on the PowerPoint? Consider the 1:2 ratio which means one slide for every two minutes of talking.
3. Know your audience
Have a purpose with the audience in mind.  If you are a rocket scientist, don't talk about how to build a rocket in a room full of potential investors who are only concerned about your financial statements.
4. People buy from people
You have to be personable and connect with your audience.  Your audience will not be convinced by anything on your PowerPoint slides, but they will be convinced by you if they like and trust you.
Think of a great speaker that you have heard.  What are some things they do they did that made their presentation great?  The best speakers I know are relaxed, prepared and funny.  What about you?