It's time to create an annual social media calendar to grow your business. In this post, we'll cover how to plan out your social media and launches over the next year to set your business up for long-term success.
You must have a plan so you don't have to stress about income. We recommend using Google calendar or a Google spreadsheet and start plugging in the important events for your year.
How To Create a Social Media Calendar
STEP 1: MAP OUT YOUR PERSONAL PRIORITIES FIRST
Vacations, family, health, weekly dates to the gym or reading. Map out your personal priorities first. When posting on social media, are there certain days you want to take off and have as personal time? You don't have to post everyday but you do want to plan ahead. So when will you prioritize rest days in your calendar and what times of day will you post on social media?
It's a good idea to analyze when most of your audience is going to be online. We tend to post on social media between 10am PST – 1pm PST since that is when most of our audience is online. Analytics in Facebook and Instagram makes this very easy to uncover.
You can also schedule your posts ahead of time using Facebook Creator Studio and Facebook Business Suite. This is FREE! So if you are going to be on vacation or not available at the best times to post, no worries! Just schedule it ahead!
[RELATED: How to Start a Business: A Step-by-Step Guide]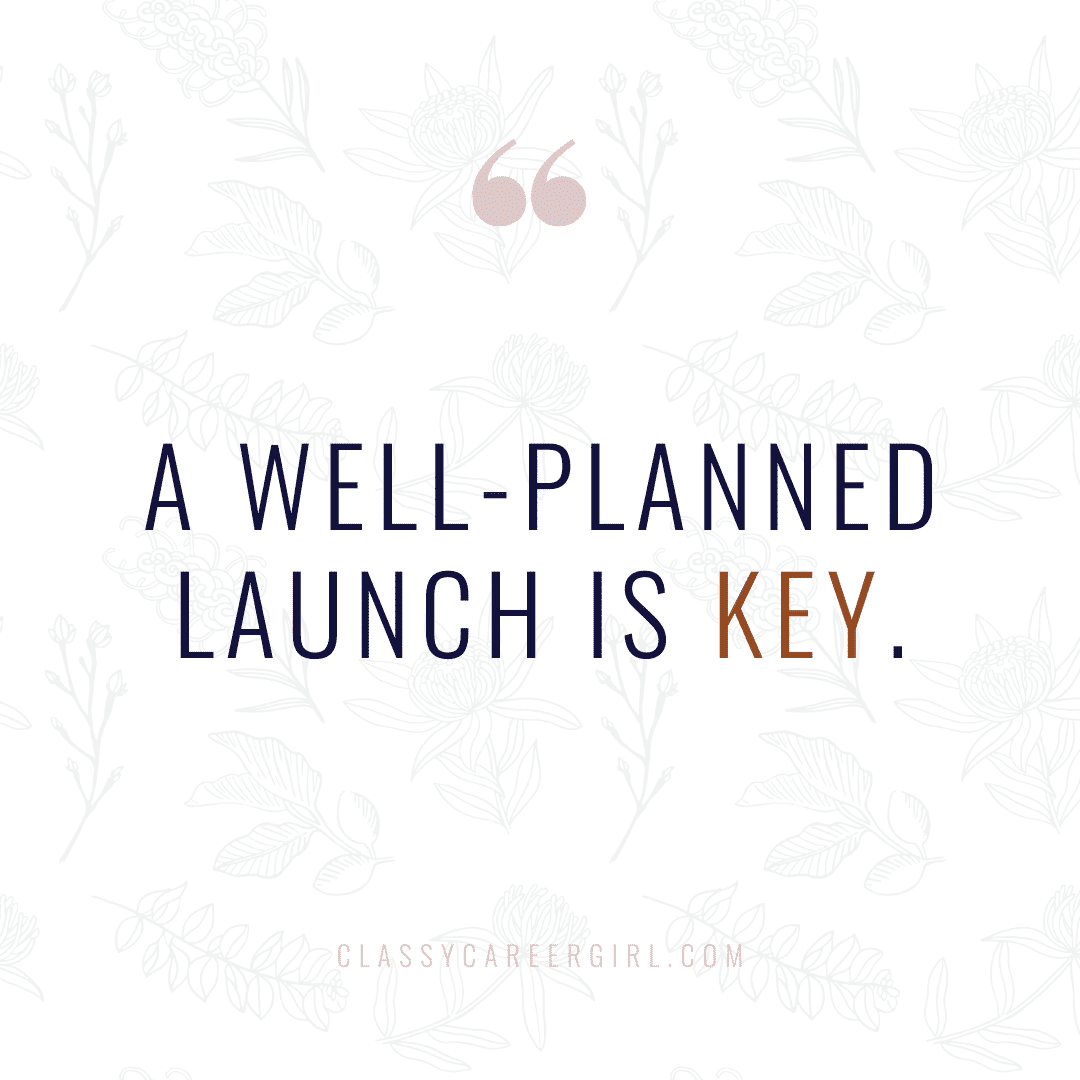 STEP 2: MAP OUT YOUR BIG LAUNCHES
When creating a launch plan, I recommend one bigger launch per quarter. Then, you can have small sales like waitlist launches, webinar launches, FB Live promos, or challenge launches throughout the quarter as needed. Launches take a lot of work, so you want to have a 90 day plan ready to go before launching on social media.
You also don't want to always be launching. A well-planned launch is key. So each quarter of your annual plan, I would plan one bigger launch in my business. When you are creating your social media plan, it's really important that you plan these launches ahead for the year.
For example, I have a membership site, an online course and I have a planner. So those are my 3 main products to promote throughout the year. Right now (this probably will change) I plan to publicly launch the course once per year, my membership site twice per year, and the planner once per year. So the tentative dates are launching the course in November, launching the membership in January and June and launching the planner in April. This means I will have 4 main launches per year sprinkled in with waitlist promotions, webinars and FB Live launches as well which are more relaxes and less planning is needed.
STEP 3: PLAN YOUR CONTENT AND SOCIAL MEDIA LEADING UP TO YOUR LAUNCHES
When planning your blog content, make sure you create content that shares your values as you lead up to your launch. You want to start building trust and a relationship with your audience.
Make sure to include case studies and client interviews (or other people who have achieved a result you helped them achieve). Do Facebook Lives and answer client objections and solve problems. Teach your audience parts of your system and share stories of your clients. The most important thing you can do is to plan these types of posts ahead because then you can batch your social media content ahead of time.
I like to plan one month of social media content ahead of time and then schedule it one month ahead as well.
Make sure you grab my 71 must- have business tools to uncover the easiest way to schedule your social media.
Are you wondering which social media platform should you use? Pick one social media platform where your ideal clients are on and post the content daily. If you don't have a regular blog, video, or podcast going out every week, do a FB Live and Instagram Live instead each week delivering helpful content.
After you have mapped out your launches and promotions, you want to plan out your monthly social media calendar. We suggest planning out a month ahead of what you are going to post when. I know this is hard in the first month but it gets easier as you develop systems in your business and eventually can hire people to help you with design, management, and content. If you make a system now, it will be much easier to ask for help when you are ready!
Here are the steps to take to map out your monthly social media calendar:
Identify Lead Magnets, free webinars or challenges that you will be promoting for the next month to grow your email list.
Identify what your main monthly goals are. Are you growing our audience or launching a new podcast? Your social media should reflect the goals of your business too.
Identify the blog posts/podcasts/videos that you will post over the next month. Set the same day each week and time that your post or video will go live. The content doesn't have to be done completely but you should have a title and outlines ready to go a month in advance.
Block out time in your calendar before the month starts for your FB/IG Live Dates/Times and the titles of your lives.
Doing this in advance will reduce so much stress and you'll finally create better content that you are proud of that also connects with your audience.
At this point, you should now have a plan for how many days you want to post each week. Your next step is to open up a google sheet and map out what content you are going to post each day of the month. For example, if you are going to post every weekday, write down 5 things you are going to post about that week.
Here are some ideas for your social media calendar template:
Holidays and events
News articles relevant to your industry
Sharing your values, your mission, and your why
Client success stories
Lead magnets
Quotes
Tips
Questions
Personal updates
When you are done, every date of the month you should have a plan to post a certain category. For example, every Monday you post quotes and every Tuesday you post a lead magnet. Now you have a plan! Great job! Doesn't that feel good?
If you are feeling advanced, you can start actually creating the content in Canva or writing out the copy ahead of the month. Then, you can schedule it into Facebook Business Creator. We highly recommend this so you can focus on running your business first and then engaging spending 15-20 minutes in stories and comments throughout the week. This will set you up so you can focus on revenue-generating activities and making relationships with your audience which will lead to more sales.
I am excited for you to have a social media calendar!