Many years ago I really needed this "Should I Quit My Job Quiz" because I almost quit way before I was ready. I had my resignation letter written and I was just going to make the leap.
But, I was in debt. I wasn't ready. It's not something I am proud of but what I am proud of is that we got out of debt. We decreased our expenses and were eventually both able to both quit our jobs to pursue our business goals. This did not happen overnight!
Today I am going to walk you through some financial basics that we learned in order to decide whether we should quit our day jobs and actually make a living out of our business.
So if you are considering quitting your day job and starting your own business, this episode is for you!
Subscribe on your favorite platform below:
Ground Rules Before You Quit Your Day Job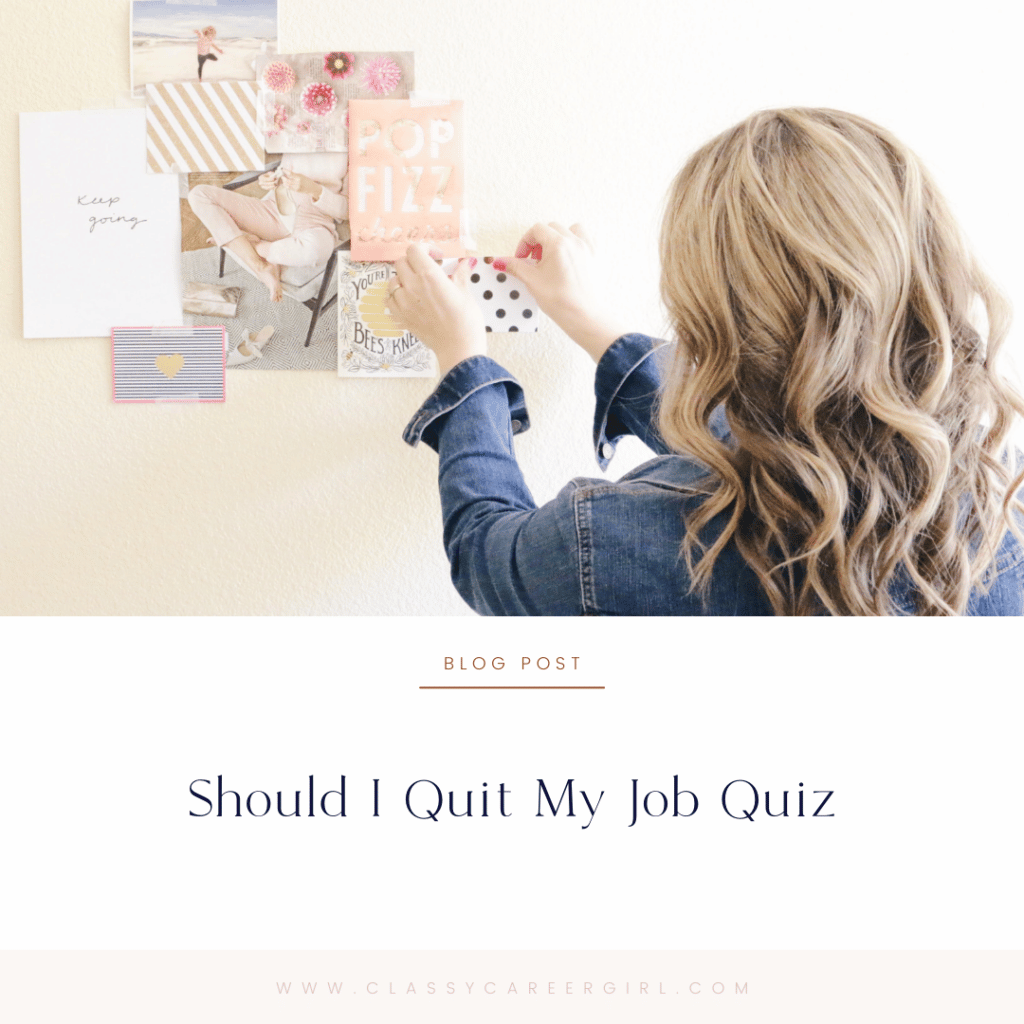 Before you quit, there are some ground rules that you'll want to follow to make sure you are ready for the adventure ahead.
1. Do everything you can to grow your business on the side of your day job.
Use your mornings, evenings and weekends. The longer runway you have still working at your day job, the easier it will be. You can generate the income to build up your savings so you have a financial cushion when you quit. You can also use your paycheck to make investments in your business as well. This will help you grow your business so you won't be stressed when you make the leap.
I know it's hard to stick it out when you hate your job. Just remember it will be worth it! Make sure you are working on your own goals in the morning before your employer's goals. Your morning routine is crucial here! Stay positive, review that vision board daily and do your affirmations. Those baby steps will add up.
Click here to download my FREE Resignation Action Plan with the 5 critical pieces that must be in place before you quit your day job.
2. Consult With Trusted Family Members and Other Entrepreneurs
Ask and consult with other entrepreneurs and your family. Don't make the decision to quit alone. Listen to wise advice. But, don't listen to the people who don't understand your business and offer you a lot of negativity. These people don't believe in you and what is possible.
3. Do Your Research.
You CAN figure out insurance, benefits and retirement. It's not a reason not to go after your dreams. I always recommend doing your research beforehand so you are ready when you make the leap! I had a bookkeeper and a Virtual Assistant ready to go so when I made the leap so I knew I was ready.
Need a list of business tools? Download my free guide with the exact tools I used to grow my business.
4. Don't Let Fear Hold You Back.
Ask yourself: "What is the worst that can happen if I go after my dream? What is the best that can happen if I go after my dream?" Is it worth it to go all in?
I asked myself these questions and the answer was a big YES! It was worth it to go all in and I am so happy I did it!
[RELATED: 3 Questions To Ask Yourself To Overcome Fear]
Should I Quit My Job Quiz
Take the Should I Quit My Job quiz. Answer yes or no.
YES OR NO: Do you have a budget?

Take inventory of where you are at right now. Look at what you are currently bringing home at your day job and what your current monthly expenses are.

YES OR NO: Do you know what you need to make in your business to quit your day job? You want to have a goal to work towards.
YES OR NO: Do you have 3-6 months of savings? If not, how much can you start saving this month?
YES OR NO: Do you have work expenses that you can cut right now to invest into your business? (clothes, lunch, gas, etc.) What expenses you can cut right now that you don't really need? Eventually, you want to invest your money back into your business so decrease as many expenses as you can in your personal life.
The more times you can answer yes to the questions above, the more ready you are to go all in on your business idea. The best actions you can work on today are to create your budget, identify what your business financial goals are and identify what you need to earn. Then, generate a savings and review your expenses to see if there are any that can be decreased so you have a cushion when you make the leap!
Remember, take care of your money and it will take care of you. Get on a budget and work to get out of your debt. The more you track what is coming in, the more you'll receive. Don't ignore your financial situation when quitting your day job. You got this!
NOTE: When you are ready to create your 90 day plan to quit your day job, make sure you download my free 90 day planner to make it happen!