Keep reading to be inspired by one of the REAL classy and ambitious ladies who are driving change, inspiring others and making the world a better place. The more we know that other women are making the impossible possible, the more empowered we will be that we can do the same.
We were ecstatic to see how excited you all were to read about our top 20 Classy Career Girls  so we wanted to dive even deeper into these working women making a difference.
How Emerald Morrow Earns a Living Making Stories
In this interview, we meet Emerald Morrow, a journalist who earns a living making sure stories are heard. And it seems like she was destined for the job: her mother named her after a reporter she saw on CNN named Emerald Yeh. She's currently an EMMY award-winning reporter for WTSP-TV, the CBS affiliate in Tampa, Florida. Prior to arriving on Florida's Gulf Coast, she reported and anchored in Lansing, Michigan, where she covered everything from politics to sports at Michigan State University.
Her work has earned multiple honors, including awards for her series on the sudden and untimely closing of a mobile home park that forced hundreds from their homes during a cold Michigan winter. Her mobile home park series helped spark legislation that was signed into Michigan law. Her work has also been recognized by the Michigan Association of Broadcasters, as well as the Michigan and Florida Associated Press organizations. Other professional highlights include covering Michigan State's 2014 trip to the 100th Rose Bowl, the Democratic National Convention, as well as Oscar, GRAMMY and Fashion Week coverage.
Her work extends beyond the broadcast realm; she is also a magazine writer, with articles appearing in Black Enterprise, Crain's BtoB and Black MBA Magazine. All of these experiences would not be possible without her alma mater, Northwestern University's Medill School of Journalism (Go 'Cats!), where she earned both her bachelor's and master's degrees. In her free time, she loves to sew and explore the beautiful beaches along the Gulf Coast.
So today we dig a little deeper into what her goals are, who inspires her and what motivates her to work so hard.
Name: Emerald Morrow
Title: Journalist
Education: Northwestern University in Evanston, Illinois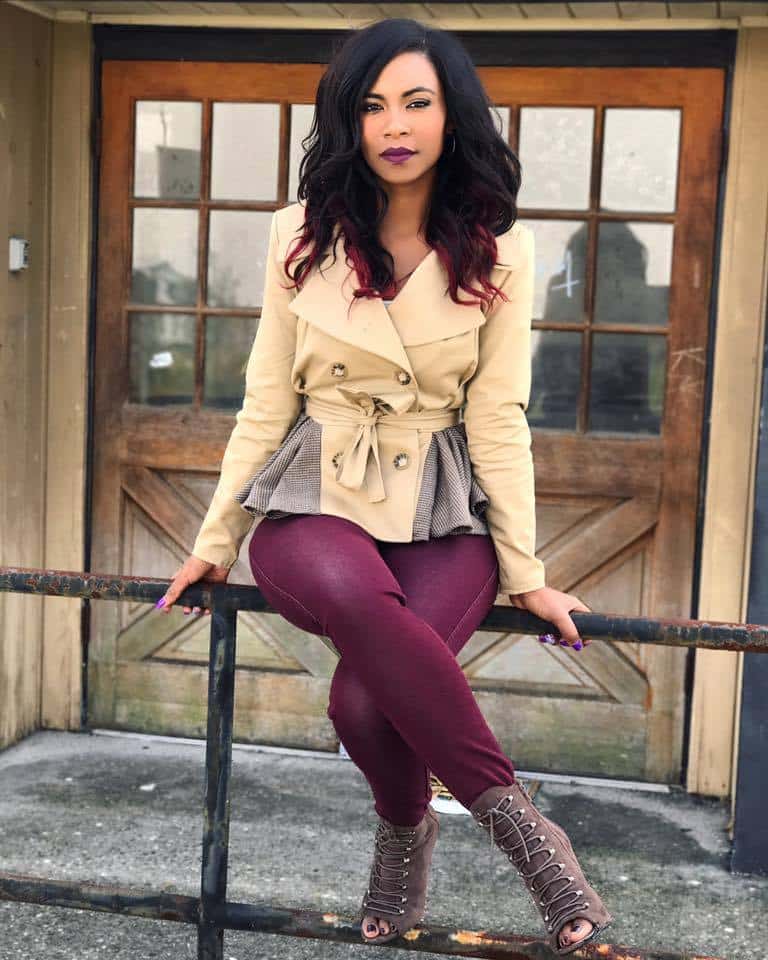 What's your typical day like?
No such thing! And I love it! As a TV reporter, every single day is different and changes based on what the news of the day is. But there is some structure in the chaos: I am at work every day by 3 a.m. and on the air by 5. When I come in, I'll review my assignment and start researching, writing my scripts and editing video for my live reports. Then, I'll either head out to my live location in a huge news truck with a photographer, or prepare to deliver my reports in the studio. I will typically do 3-4 or even more live reports each morning, depending on what the story is.
Things calm down a bit around 7 a.m. after our morning show ends. At that point, I'll take a quick break if I'm lucky, and start to work on my story for our noon show. So, there's a lot to juggle! I'm also always scouring social media and updating my Twitter and Facebook feeds to keep our viewers abreast of what's happening in our world.
Journalists are hugely important to a well-informed society, and I take great pride in what I do.
What does success mean to you?
That's an easy one! The answer is always evolving, but it boils down to having a good balance of personal and professional satisfaction. The personal is just as important as the professional, and as much as I love achieving goals, I realize there is much more to live than what I do for a living and how I am recognized for that.
We focus a lot on money and accolades, which are fine, but they could never be the sole components of success in my life. I've checked many goals off my personal success list, and the ones that deal with having good relationships with family and friends are the ones that are most fulfilling.
So, I would say I try to prioritize having peace of mind and a high level of satisfaction with my personal life first. That allows me to strive for success in my professional life with a healthier mind and realistic expectations.
What motivates you to work hard?
My father opened my eyes to the beauty and power of education as a young child, and I probably had to work harder than most children to earn a good one. Starting at age 10, I was bused from my home in St. Louis city to a suburban school as part of a voluntary desegregation program. It meant waking up earlier and getting home later than other children. It meant sacrificing certain activities. It meant not always being able to do everything that my friends were doing. But I knew if I wanted to do well in life, doing well in school was a must.
I stand on the backs of people who fought and died for the opportunities I have today. I am proud of my history, I've always been motivated by that history to do well. On a macro level, that means being motivated by the struggles African Americans have faced and still face in this country. On a micro level, it means being motivated by my own lineage, and wanting to make my family proud. On an individual level, it's about having an innate desire for excellence, and a relentless ambition for achievement. I credit my family for planting those seeds.
Did you have any frustrations along the way on your career journey? How did you move past those?
I've had many frustrations throughout my career journey that have knocked me on my face. I sometimes wonder how I had the perseverance to continue.
Television news is an extremely competitive industry and it's already tough enough to get your first job, but I came out of college during the recession when TV stations were not doing very much hiring. It was a humbling experience coming out of school with a master's degree to no job offers in my field.
 Many of my classmates who wanted to be reporters moved on to other industries. I sometimes feared I would have to do the same. But I had a lot of encouragement from my dad, who gave me hope that everything would work out.
He was always there with an encouraging word when I just felt nothing would work out. He always reminded me that the recession put countless people in similar or worse positions, and there was nothing I was doing wrong.
And as I worked and waited for the right position to open up for me, he encouraged me to spend my time in gratitude. He encouraged me to bask in the blessings I did have in my life—big and small. It was not easy to do when you felt like everything was going wrong. But I learned valuable lessons about what is important in life. I turned my frustration into gratefulness and now look back on that time in my life as one where I learned the most about myself and overcoming adversity.  Hardships and worries don't test me in the same way as they used to because of the mettle I built during that time in my life.
So, to anyone reading who is facing a tough time in their career, please be encouraged. Things will get better. In the meantime, redirect your energies on the positive parts of your life. Spend time with your parents, rediscover the library, perfect a new hobby, deepen your faith…in working on yourself you'll learn things might not be so bad after all.
What is your all-time favorite book?
Too many to choose from! At this moment, I will have to say Ralph Ellison's "Invisible Man." I stumbled across the book as a child, before knowing what a literary gem it was. I was engrossed in every world, and can remember thinking how relevant the themes were to society at the time. Many of those themes still ring true today.
What is your favorite vacation spot?
"Be it ever so humble. There's no place like home." – Henry Bishop
What is your favorite restaurant/food?
I don't discriminate on the dinner plate! I love most types of foods, although I do love a great Mexican dish. However, my favorite dishes are anything that comes out of my dad's kitchen.
What was your first job?
Many years ago, I was a summer camp counselor for my neighborhood church! I made fifty bucks a week and somehow managed to stretch it so far! I'm forever grateful for that opportunity; the church leadership was great about working with children in the neighborhood.
What is your favorite TV show?
That's a tough one. I watch a ton of news and documentaries because I love learning, but I must admit I my guilty pleasure is BET's "Being Mary Jane," probably because it's about a journalist navigating the competitive world of TV news.
What is your favorite thing to do on the weekend?
Exploring Florida's Gulf beaches. The majesty is endless!