Keep reading to be inspired by one of the REAL classy and ambitious ladies who are driving change, inspiring others and making the world a better place. The more we know that other women are making the impossible possible, the more empowered we will be that we can do the same.
We were ecstatic to see how excited you all were to read about our top 20 Classy Career Girls of 2015 so we wanted to dive even deeper into these working women making a difference.
In this interview, we meet Kyshira Moffett, Founder of This is Her Movement, a website centered around career, branding and lifestyle topics. What we really are excited about is Kyshira has lots going on like most of us do too! She has many job titles, many passions and many interests. So today we dig a little deeper into the best advice she has ever received, her future goals and how she balances multiple jobs with her everyday life.
Name: Kyshira Moffett
Titles: Career Consultant, Blogger and Assistant Director of Career Management at the University of Pittsburgh – Katz Graduate School of Business.
Education: Hampton University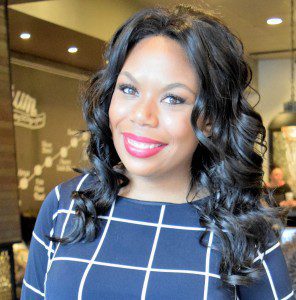 What is the best advice anyone has ever given to you?
The best advice I've ever received was that waiting is rarely the best decision. Waiting for someone to recognize you, give you something, etc. is not enough. Waiting for the perfect moment is an excuse to not start. You must go out on a limb as that's where the fruit is. I have a motto now, feel the fear & do it anyway, that guides a lot of my decision making. Fear is what's truly holding you back. Let it fuel you, not stop you.
How do you balance work with your everyday life?
Scheduling and prioritization is key. I create tasks list every week and action plans for everyday. Additionally, I pay close attention to my calendar when scheduling meetings. I do my best to ensure I have at least 2 business free evenings a week for my own sanity. When it comes to my personal life, I make time for those close to me. You make time for what you want to make time for honestly.
What are your goals? Where do you see yourself in 5 years?
My goals center around both my personal life and business. Personally, my health is a huge focus. This year I'm looking to implement a consistent exercise regimen and meal prep for my busy on the go days. If there are any readers out there with tips, contact me please!! Additionally, I want to see #HERmovement grow and become a globally recognized brand. I want to expand my blog and partner with brands that appeal to the busy bombshells of the world. Within the next 5 years, I see myself taking on more national speaking opportunities to share career development and branding tips with millennials around the world.
What is your all-time favorite book?
Never Eat Alone by Keith Farrazzi & You are a Bad Ass by Jen Sincero
What is your favorite vacation spot?
South Beach Miami!
What is your favorite restaurant/food?
Italian food is my all-time favorite. I love Maggiano's Little Italy in Chicago.
What was your first job?
My very first job was at age 16. I worked as an intern at a private equity firm in downtown Chicago called UIB Capital.
What is your favorite TV show?
WWE Monday Night Raw
What is your favorite thing to do on the weekend?
Sleeping in!!