I'll be honest. Snapchat really is a little tricky to figure out to begin with. It almost felt like a secret society and I was on the outside. It took me a couple of weeks and some frustration to actually figure out how to use Snapchat. I can usually pick things up fairly quickly so this was pretty annoying.
Finally, someone who knew Snapchat showed me on their phone and walked me through it. I was finally able to figure it out and it's totally easy. You can do it too!
How To Use Snapchat
You are not too old for Snapchat. It's quickly growing and becoming one of the top social media sites. It is definitely something to look into if you are considering creating a brand for your business or for creating a brand for yourself to get hired and stand out. This quick overview will make it easier for you to get started and figure out how to use Snapchat.
The Basics
What you are going to do first is open up the app. At the top, there is this little ghost. That is what is going to bring you to your profile settings. At the top right there is a little flower/circle and that is where all of your user settings are like your name and your username. This is where you can decide who can send you snaps and who can view your story. In the beginning, this was private until I was ready to make it public.
Add Friends
Then, you can add your friends and see who has added you.
If you go to the left, the little button on the bottom left will bring you to your friends list. These are the people that you follow. You have to go back to the picture and the bottom right of the picture to find the people you follow are and to see your story. This is where you can see recent updates from other people that you are following.
This is where I spend most of my time. Snapchat makes your pictures go away after 24 hours which is nice. It makes it feel like not everything has to be perfect and you can be more casual.
Take Pictures and Videos
Then, you can take a picture. You can click the button and take a picture or you can hold your finger down and take a video.
Once you have taken the picture, click on the right arrow and that will save it to your story. This is how you publish your picture.
To follow someone, the easiest way is to just go to search, and type in the username. You can follow us at @classycareer.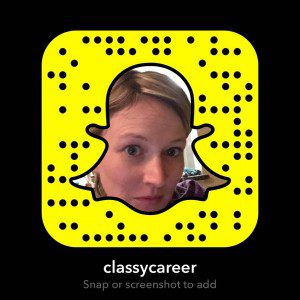 You can also follow us by taking a screenshot of the below photo and going to add friends and add by snapcode.
That's about it. It's just getting in there and playing around and figuring it out as you go! In the future, I'll be sharing more about how you can brand yourself and your company on Snapchat.