Today I have such a great guest that I am so excited to introduce you to.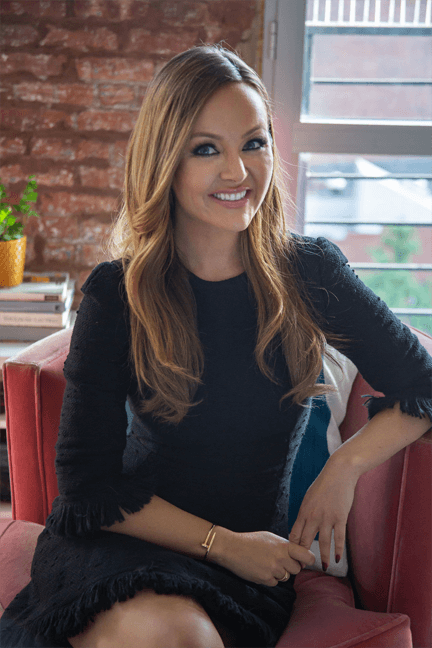 Nicole Lapin is the New York Times bestselling author of Rich Bitch: A Simple 12-Step Plan for Getting Your Financial Life Together . . .Finally and Boss Bitch: A Simple 12-Step Plan to Take Charge of Your Career. Nicole is no stranger to breaking down complex business principles for all to understand, utilizing her signature sassy style. From anchoring business shows on network television, including on CNBC, Bloomberg and CNN, to contributing money reports to TODAY and MSNBC, Nicole has a long history with speaking the language of money fluently and using that language to empower an entire generation of women to take control of their lives and their finances.
Nicole is also the author of Becoming Super Woman: A Simple 12-Step Plan to Go from Burnout to Balance to help women reach greater heights by prioritizing their own well-being. Nicole shares my vision to empower women to find balance, fulfillment, and happiness. And I am excited about this opportunity to chat with her and hear her insights.
So welcome Nicole and thank you for joining us today!

Subscribe on your favorite platform below:
How to Put Yourself First and Battle Burnout with Nicole Lapin
Today we are going to be talking about how to put yourself first and battle burnout.
Here are the Questions I Asked:
How did you get started in your career and how have you managed to grow to where you are now today?

In your latest book "Becoming Superwoman" you talk a lot about burnout which has been a big topic in the news. Can you tell us about your personal journey and how you got to the point of burnout, how you recovered, and what advice you have for others?

As I understand, something that you're speaking out about for the first time is your experience living with migraines and how that impacted your career as a news anchor. When did you first start experiencing migraines?

How has living with migraines impacted your career?

Did you find that your bosses/coworkers were understanding of your illness?

What advice do you have for employees on how to speak to your boss if you're living with a chronic illness, like a migraine?

What's your number one piece of career advice for those who are going after a promotion or looking to take their career to the next level, while living with a chronic illness?

How do you put yourself first and battle burnout?
Now you are the Star of the CW's business competition reality show Hatched, and you help a fresh wave of entrepreneurs to get their businesses off the ground with smart advice and actionable feedback on their products. What is your best piece of advice for women who want to get their business off the ground?

What resources are out there for people looking to learn more about migraines?

What is one action our listeners can take to find more balance in their life and battle burnout?
Other Podcast Episodes You Might Like:
How Do You Make Your Next Career Move Your Best Move Ever!