If you're stuck, you have to figure out what's going on and the only thing that could change is if you disrupt it.
In this podcast episode, you will learn how to pick which idea to go after, how to fine tune your ideas and find your passion to narrow down your career ideas and offer.
Subscribe on your favorite platform below:
How to Narrow Down Your Direction
How To Pick Which Idea To Go After
Here are 3 questions to ask yourself to figure out your career direction:
What is your zone of genius? When are you truly fulfilled? When does work not really feel like working?
When you are at your best, what are you doing?
What could you do for hours and hours and not get bored?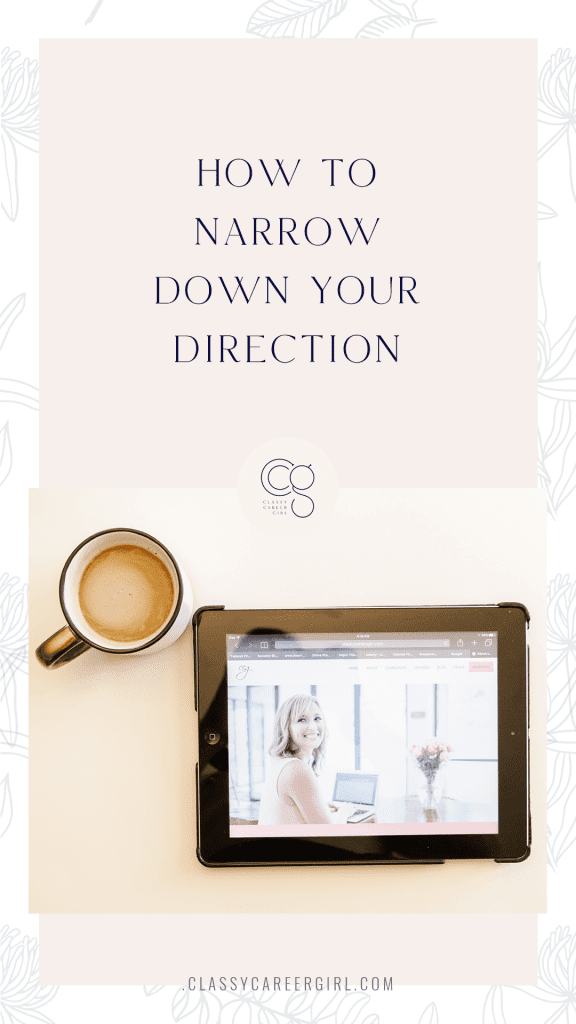 How To Fine Tune Your Ideas
Make a list of career ideas and evaluate your passions.
List all of your ideas of possible future career targets or business ideas. The sky is the limit!!
What ideas above are you most passionate about?
What ideas above are the most important to you?
What ideas sound the most exciting to you?
Which idea are you going to focus on right now in the short term?
Which idea are you going to focus on later in the long-term?
Who are you going to model or ask to be mentored by?
What networking events or social media networks can you find successful people to learn from?
How To Find Your Passion
If you are happy at work, you'll be more successful. What's not working in your career right now? What is working in your career or business right now?
How do you like to help and serve people?
Is there a cause you are passionate about?
When are you at your best self? What do you naturally do well? When do you feel 100% yourself?
Who do you admire?
What work would you do for free?
What blogs, books and magazines do you read?
What TV programs do you watch?
Where does your money go?
What are your free time passions and hobbies?
If you won the lottery but had to continue to work, what would you do?
Asking others!
What do you think is my greatest strength?
What do you see as my special talent, ability or gift?
What do I do naturally or effortlessly that is special?
What are the common themes?
How to Narrow Down Your Career Ideas And Offer
You know you are headed in the right direction when:
You are working on your strengths and in your zone of genius as much as possible. We recommend getting the Strengthsfinder Assessment.
You have picked a problem that you want to solve. Don't create a business you think others will love without solving a problem.
Your business allows you to live your ideal workday. When you wake up in the morning until the time you go to bed, what is your absolute dream workday? Then, we can start designing the right business for you.
You are creating an asset, not a liability. Create a business that brings in cash and doesn't just take out money every single month.
How To Narrow Down Your Idea
Here's how you can narrow down your ideas in just 5 minutes:
Write down all of your interests.
Cross out interests you don't love enough to start a business in. Is it a business or a hobby?
Talk to other people. Ask for feedback.
Create a Pros and Cons list of your business ideas. This will help you see the positives and negatives of each of the business ideas.
Pick a horse and ride it. Start doing it. Spend less time thinking and more time testing it. Pick a direction and move forward.