We are back with this lesson on how to create the vision now for your dream business and to create your brand identity. And this is important because this is how your customers are going to see you. And it's the first impression that they're going to have when they interact with your business and your brand, when they come to your website, when they see you on social media. That's what we're going to talk about today, that impression you want to create and where you want to take your business in the future.
So a lot of you guys know that we recently went through a re-brand for the Classy Career Girl brand. So today I'm going to walk you through the steps that we took to really uncover who we are.
Subscribe on your favorite platform below: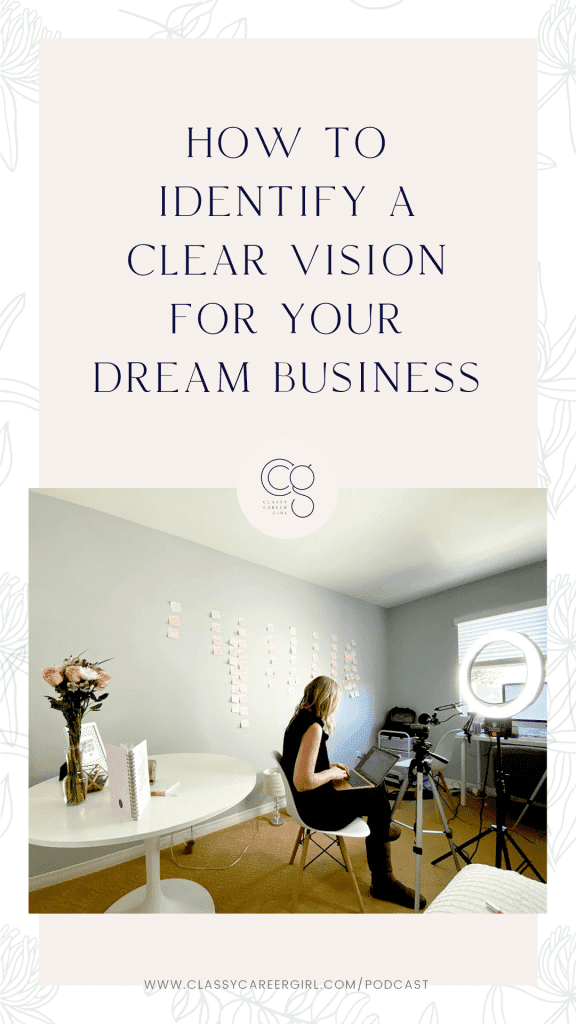 How to Identify a Clear Vision For Your Dream Business
We've been doing this for nine years, but like now, who are we really? What do we want our customers to think about us right when they come to our website and they interact with our brand? We worked with a designer before we even started the membership site upgrade process. We worked with a designer to figure out what does our brand mean because she can't figure out what colors and what our logo looks like if she doesn't really know what our brand really needs. And she really, really challenged us to dig deeper. This isn't just like we want to be classy. Like what is deep down inside? Why is your brand different? And what do you want your customers to feel when they interact with your brand?
1) Uncover What Your Core Values Are
I want you to pick out those values that describe your brand. You can pick out a ton of them. Don't worry about limiting them, just pick out as many core values that represent your business and your brand right now. So some of our values are happiness, inspiration, growth, balance and class.
2) Know Your Business Vision
Some ideas for us is we want to be known as the full guide. We want to walk you every step of the way and be the full guide for you. We want to be encouraging. We want to be motivating. And so hopefully you would describe us that way. We've worked hard, but that is how I want our community to describe the Classy Career Girl brand. So this kind of helps build your business beyond just you when you can pass this off to someone else and they know how you want your community to describe you.
3) The Benefits That Your Audience Get
So once your customer interacts with you, how do they feel? We want you and everyone who interacts with Classy Career Girl to be hopeful and to be motivated, to be inspired and encouraged. And that's why we don't post negative things.
4) Your Impact To The People You Work With
What impact do you have when someone comes and you work with them? What do they leave with? What is that benefit? What is that transformation that you do? Long term we want to help paint that picture of that vision for your client of where you're going to take them, whether they buy a product, whether they buy some service that you have. Whatever they buy, you are solving a problem in some way.
5) Identify What Makes Your Vision Unique
What makes you different from everyone else out there? Now I can't tell you what yours should be. But for me, ours are stories. We want to share a lot of stories of progress. That makes our brand different. We want our brand to be very focused and very about the follow-through. We want our trainings to be very high quality. That's very, very important to us because that matches our brand.
And so those are our differentiators and you'll want to think them through in your vision. Remember, the vision for your dream business. It could be 5 to 10 years from now. What makes your dream business unique? It might not be now.
Other Podcast Episodes You Might Like: