[vc_row][vc_column][vc_column_text]
Many companies had to make significant changes to their HR programs during our prior recession including layoffs, salary cuts and hiring freezes.  The companies that were more strategic though used innovative human resource practices to weather the storm. Today, we want to dive into what some of these strategic practices are so you aren't scrambling last minute to make last minute decisions in your HR department.
A key principle for innovative companies is to only hire the best employees. But how do you do that? That's what we are exploring today!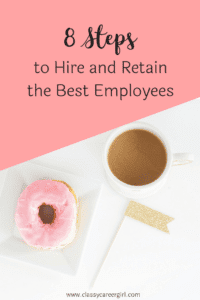 Here are 8 essential steps to hire the best and retain the best:
1. In order to hire the best, make sure that you only hire people that are too good to let go.
2. Hire when business is slow so layoffs are not required during the slow times. 
3. Think twice about laying off someone if you would hire them back when business picks back up.
4. Visualize recruits having a 40 year career at your company instead of a stepping stone to the next job.
5. Ask yourself if you could see the applicant contributing in new ways that are unknown today. This is a very crucial part to hire the best.
6. Don't overlook the red flags in interviews!  Recommendations and referrals are very, very important!
7. Create individualized, customized training plans that allow your employees to learn faster than your competitors.  Companies must continue to be flexible to changing customer needs which means continuous learning is required.
8. Ensure your company is a fun place to work to keep employees happy.
The Best Practice Recruiting excellence awards are also a great place to see examples of companies following these principles. The award recipients have each started new approaches to recruiting and
talent management,

despite the tough economic times.  Here is a bit about the winning companies.
CACI International, Inc.
CACI International, Inc. supports the Department of Defense and intelligence communities' IT needs, it plays a vital role in keeping America safe.  CACI has allocated $500,000 in bonus compensation to motivate managers to make hiring a top priority and only hire the best.  In addition,31% of all hires came from referrals and the company has a great employee mobility program allowing employees to transfer to different jobs around the company.  It has effective search engine optimization on Google, Yahoo, and Bing which successfully increases the visibility of CACI jobs.  Finally, it has implemented a successful social media strategy which includes visibility on Facebook, LinkedIn, and Twitter.
Sodexo USA
The winner, Sodexo USA, is an integrated global food and facilities management services provider with over 110,000 employees.  This company has had a 300% organizational growth since it started four years ago.  The company invests in training and has organized its recruiting function to support remote work.  Its web presence effectively communicates Sodexo's company, culture, and opportunities across a Careers blog, Facebook page, LinkedIn group, You Tube Channel, Twitter, and Flickr.  Its associated sites and social networks contribute an additional 127,000 page views and over 5 million media impressions annually and it has launched a major boomerang program known as the "Alumni Program" resulting in 123 rehires in 2009.
Maybe next year your company will make the list with your help!
[/vc_column_text][/vc_column][/vc_row]