Are you ready for my all-time favorite career books! These books played a pivotal role in my career when I just started out. I wanted to pass along these books to other professional women.
Make sure you also listen to my interviews with the authors as well on the podcast links included below too! It's great to read the books but when you can actually listen to the advice as well, it will really sink in.
Book #1: The Secret Thoughts of Successful Women: Why Capable People Suffer from the Impostor Syndrome and How to Thrive in Spite of It by Dr. Valerie Young
Read

this book

if…. you have fear or insecurities and feel undeserving of your hard-won success. (You are not alone!) The imposter phenomenon in high achieving women was actually studied by psychologists who found that women have a pattern of dismissing accomplishments and believing that their success would disappear once others discovered the awful secret that they were, in fact, "imposters."
Catch my podcast interview with Dr. Valerie Young on podcast #48.
Book #2: A Woman's Guide to Successful Negotiating by Jessica Miller and Lee E. Miller
Read this book if….you need some 
negotiating techniques, more confidence and strategies to
 ask for the things you want. Read this book if you never want to be taken advantage of again. Catch my podcast interview with Jessica Miller on podcast #14.
Book #3: Nice Girls Don't Get the Corner Office by Dr. Lois Frankel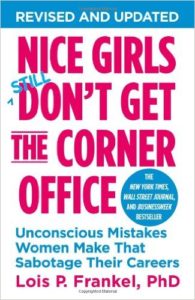 Read this book if…you want to become more aware of distinctive behaviors that women learn in girlhood that ultimately sabotage them as adults. You'll want to learn how to not make "nice girl" errors that can become career pitfalls such as avoiding office politics and asking permission. Catch my interview Dr. Lois Frankel on podcast 38.