Trying to start a successful business that matches your purpose and makes a difference?
If you said yes, then I'm sure you'll agree that it isn't always as simple as people sometimes make it seem.
When you are a new entrepreneur, everyone else makes it look so easy but it's just not.
What Being a New Entrepreneur is REALLY Like?
Entrepreneurship is HARD, right?
It's so easy to get distracted by the pretty photos on Social Media where it looks like entrepreneurs fly to Paris last minute, drink champagne in Italy and live a luxurious laptop lifestyle from the beach. They make it look so easy, so why is it so hard for us!
The truth is, entrepreneurship comes with a lot of challenges. So, let us know what is stopping you from growing a business!
Subscribe on your favorite platform below:
Roadblocks That Stop You From Growing a Business
I've definitely had a lot of roadblocks in my way. So, I wanted to share what I have faced growing a business over the last 10 years.
1. How Will I Stand Out?
How do I stand out from the competition?
You may be afraid to create a service or product in markets that are already flooded. It is so easy in the digital world to get overwhelmed by all the other stuff out there.
If there are other people in the market, that is good; that means it is a profitable market! Switching your fear into a positive makes you think this is possible.
You have your own strengths, and no one else has that. Many clients come to me because of my background in corporate, they know I understand where they are coming from and I can connect with them better.
[RELATED: How to Grow a Side Hustle From Home]
2. Afraid I Won't be Able to Monetize
Are you afraid you won't be able to monetize what you're doing for your business? Are you afraid that you will put your family into financial uncertainty and not be able to pay your bills? You're not alone, I had those uncertainties too.
Take that first step to see if people will purchase your product. You have to be willing to take the imperfect step and focus on solving people's problem. Not everything you do will work, you may have to pivot and you might fail.
3. Scared of What Others Will Think
I understand if you're scared of what other people will think of you. I am also on the fence about putting myself out there.
We all have these people in our lives telling us these things that might not be true. If I had listened, I would not be where I am today.
Make sure you are listening to the right people, the people who can help you. And when you ask for advice, make sure you are asking the right people for advice.
4. Technology
You want build a website but you have no idea how to do it. Does anyone relate to this?
I hate tech. I know this held me back a long time. In this day and age, most of the tech stuff has been figured out for you.
Most of the time you can figure out how to do this stuff for free or at a cheaper price. You can also outsource the tech stuff,  so don't let this hold you back. Don't be afraid of it, and also try not to worry about the finances. There are some simple tutorials and cheat sheets you can find.
I really don't recommend spending thousands of dollars on your website at first, because it will change! My site and my messaging have changed so much over the years.
5. Personal Finances
Are you scared that you won't be able to contribute enough to the family budget? I totally understand.
Some people grow really fast, others take their time. Start by trying to live on less. If you have a paycheck, try living on half.
Here is the thing, when you want to grow you need to be able to reinvest in your business. Start by figuring out how much you need to make each month, then figure out how many clients you need to make that.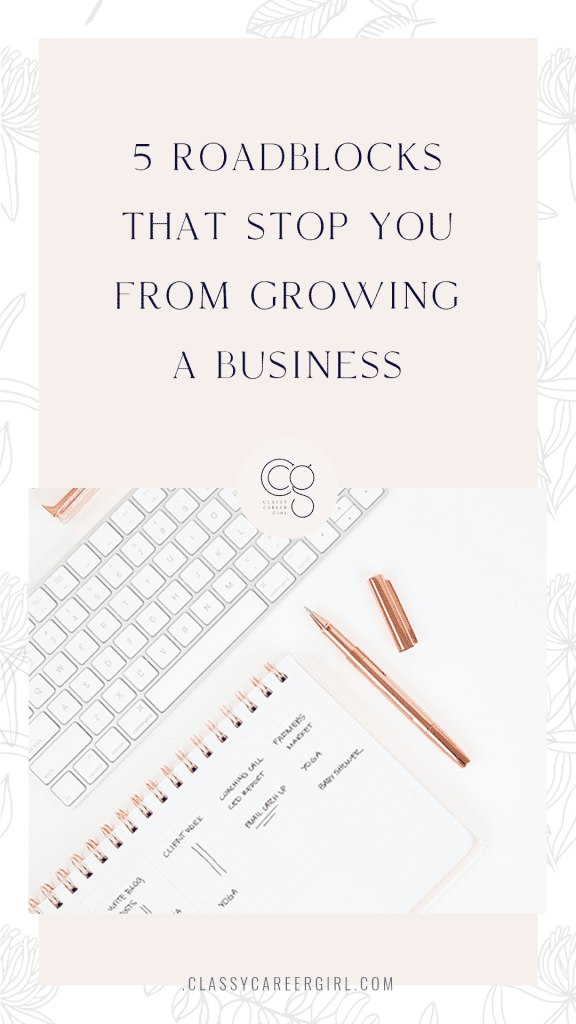 If you want to start a business you love, make sure you register for our FREE MASTERCLASS on How To Plan, Design and Launch Your Dream Career or Business WITHOUT Wasting Time or Money!
My goal for you is that you will know the exact steps you need to go from work you HAVE to do…to work you LOVE to do. See you there!