I know that writing content on a consistent basis can be a struggle, so I've created this guide to walk you through the process of creating the perfect blog post. I think it will help you create better content in less time.
Step 1: Research Your Topic
Before you start writing, take a few minutes to research what you want to write about. Google is a great place to start, just type in the topic you want to cover and see what others have written. How can you write something better? Is there a different angle you can take? Can you offer a more in-depth guide? Is there a sub-topic that hasn't been covered?
Write all this down! Remember, you don't want to write the same articles that are already out there. Think about how your article can be unique and how you can add your special touch to the content to make it yours.
Step 2: Get Feedback From Your Audience
The next step is to find out what your audience is looking for. Where are they struggling? Can you offer a solution? Ask on through email, in a survey, or through social media. (I like to use Instagram stories and Instagram or Facebook group polls to ask questions!)
Step 3: Start Writing
Seriously, don't overthink it! Don't spend forever trying to get one sentence just right. Instead, just get all your ideas out. Try to create a basic outline, then fill in more information about each point. Once you get a rough first draft, go back and edit, reword, or rework. Be okay with your writing not being perfect the first time.
The Perfect Blog Post Template
These are features every blog post should have, including a few tools to help you create a search-engine friendly posts.

Title
Your title should be catchy, descriptive, and include a key term you are targeting. Coschedule will help you develop a catchy title. Remember, the title needs to grab your reader's attention, but it also needs to tell search engines what your post is about. We use the plugin Yoast for tips about being search engine friendly.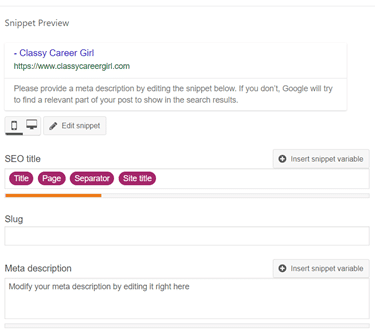 Meta Description
The meta description is the short two or three lines of text you see under site when you search in Google. If your post turns up in someone's search, this is the line that should tempt them to click and learn more. Summarize your post and make them want to read! Meta descriptions should be around 150 characters, including spaces!
URL Slug
Your URL slug is the end of the web address that is unique to your post. For example, www.example.com/perfect-blog-post-template. Some WordPress themes or site builders generate an arbitrary slug, which doesn't tell your reader what the link is!
Make sure to edit your URL slug to reflect what your post is about. Make sure to include a key term and take out stop words.
Introduction
Before you start giving out tips and advice, give an overview of what you are going to cover and relate it back to why the reader should read your article. This is where you want to share a story so that the reader can get excited about what is to come and get to know why it is important to read in the first place.
Main Post
Now you are ready to write! A few of you have asked me how long your blog posts should be. The truth is, the right length will depend on your topic and what you have to say. Longer content (1,000+ words) does tend to get more traffic, but you should be aiming to write useful content, not hit a certain word count.
Make sure to include these elements in each post:
Headings: These help break up your text so it is easy to read and have SEO (search engine optimization) benefits as well. Aim to add at least 2-4 headings (H2, H3) to each post. Include key terms you are writing about when possible.
Images: Images are a must for every blog post! You create your own on using a site like Canva or use a stock photo site.
Alt Tags: Alt tags, AKA alternative tags, are text used to describe images. They are read by screen readers used by visually impaired persons and by search engines to understand images. You need an alt tag for every image. Make them descriptive and include key terms. For example, in this post, I might use the alt tag "perfect blog post checklist featured image with journal and succulent plant"
Internal/External Links: Internal links are used to send your readers to another page on your website. External links send users to other websites. Aim for two to three internal links and one to two external links per 1,000 words. Links can be used to suggest tools, offer in-depth information about a certain topic, or link to sources for definitions, quotes, or statistics. Links should be useful to your readers, but they also send a little signal to search engines that you are a trustworthy source of information.
Lead Magnet: If you have a lead magnet, make sure to include a link in your blog posts! If possible, relate it to the topic you are writing about. You can also include a short blurb between paragraphs, in a pop-up, or on your site's sidebar.
Conclusion
This is where you wrap your post up. Summarize your points and include a call to action (CTA). What are the next steps? Do you want readers to share your post on social media? Ask a question in the comments? Sign up for a webinar? Tell them what to do next.
I really hope this blog post template is useful to you! If you have more questions, feel free to shoot me a message in the Facebook group! I'd love to help.