Go tell your boss that you need to take a vacation from work right now. Vacations promote creativity, productivity, rest and relaxation. Vacations can improve your performance at work.
Your boss just can't say no to that, right?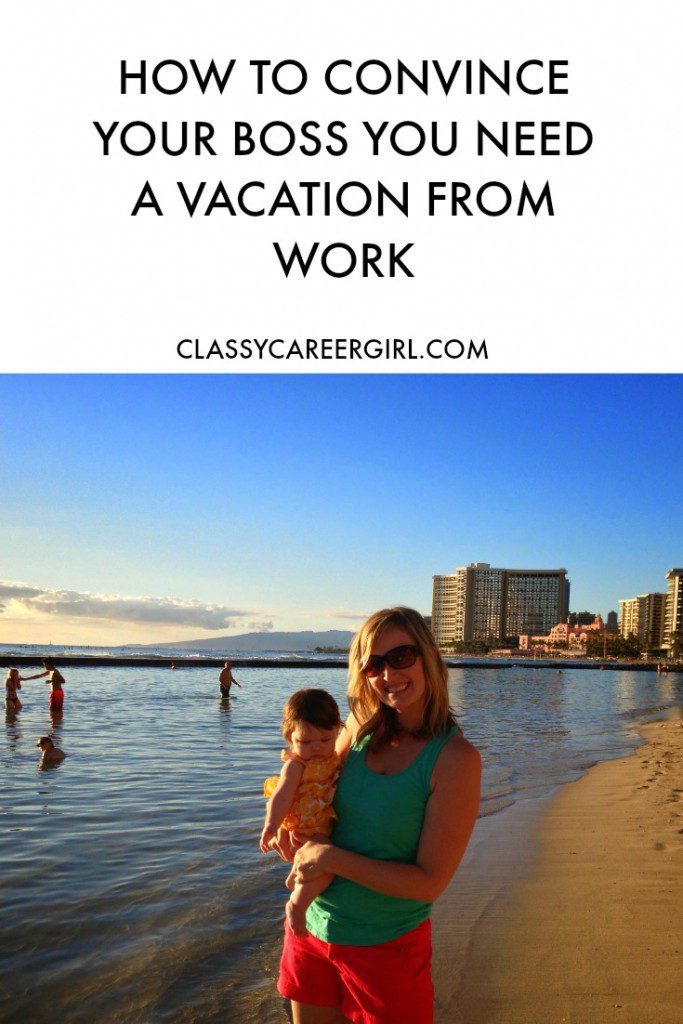 Now to another problem…56 percent of the workforce does not take advantage of all their vacation time. This was an issue I had when I was working in my corporate job. I had way too much vacation time because I couldn't find the time to get away from the office. It was just so hard to step away and go on a vacation but when you are away it just feels so good and you never want to go back?
"For a lot of workaholics, work alleviates anxiety, and when you are not working, the anxiety bubbles up," says Dr. Robinson, a Professor at North Carolina.  I think I am one of those people that likes the adrenaline rush from stress which makes me gravitate towards high-pressure jobs.
Ialso feel guilty when I go away.  BUT, there comes a time when we just have to get over it and relax because we will be more successful in the long run if we just take a break.
Here's how to convince your boss that you need a vacation from work:
1. Less Stress
According to a Careerbuilder survey, more than half of workers say they work under a great deal of stress, and 77 percent say they feel burned out on the job.  Research shows that it takes up to three days to relax when you go on vacation and longer vacations (seven days or more) are associated with better psychological outcomes than shorter vacations.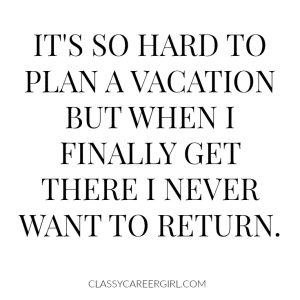 2. Team Involvement and Training
Going on vacation provides your co-workers with opportunities they normally would not have.  If you are anything like me, you find it so hard to step away because of the desire to be needed, to answer client questions and to do a great job.
Well…you might be surprised at how smoothly things run when you leave!  Taking a vacation allows your co-workers and employees to step up and show what great employees they are.  As long as you help them succeed as much as possible by preparing before you go and passing over everything that you think of.  Also, trust that your employees will get the job done right and don't check in every minute.
3. Increased Creativity
When you are away from your desk, your brain will still be working. But in a different way. Getting out in a new environment and meeting different people will expand your creativity and you will come up with new, even better ideas!
So your boss approved? Yay! Here's a quick tip before you head out:
The WSJ says that you shouldn't work right up until the moment you leave and head back to work right off the plane. If possible, schedule an extra day off before you depart and another when you come back to dive back in slowly.
Do you find it hard to take a vacation from work or your long list of responsibilities?