Finding meaning is the #1 reason that people recently had changed or would like to change their careers.
The first principle of your ideal career fit is your purpose and passion. Having a purpose gives you a reason to get out of bed every morning and go to work. It's the reason you and I are both still alive. If you are unhappy in your work life currently, there is probably something about your purpose that needs to be evaluated either with the purpose of the work you do or the purpose of the company or industry that you are currently in. Once you determine your purpose, use it to help you make an impact and difference in the world, generate your mission statement and find that career you were born to do that no one else on this earth can do but you. This is what will set you apart from the competition.
Subscribe on your favorite platform below: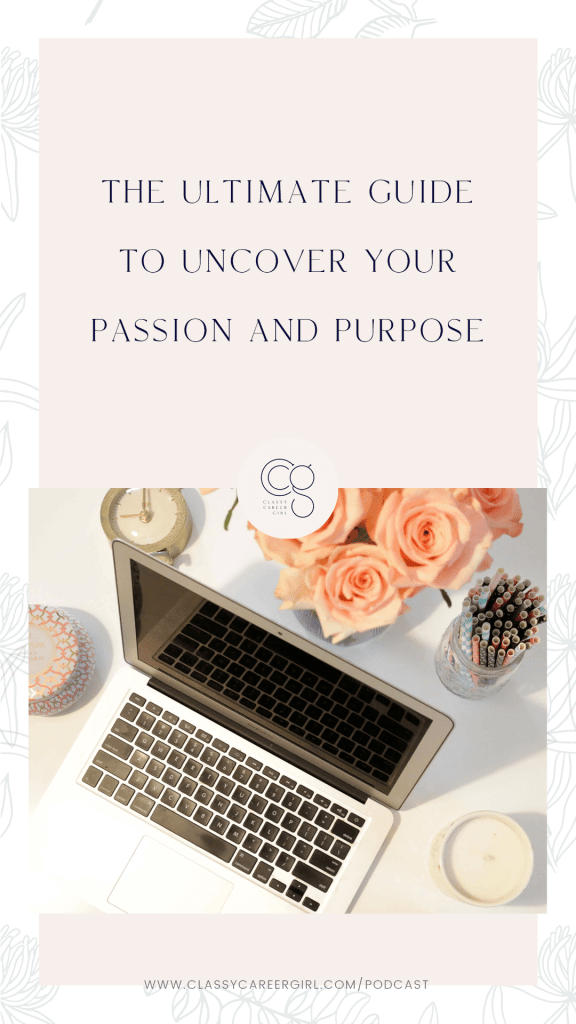 What are Your Passion and Purpose?
Each of us has a unique purpose that cannot be replaced by another person.

Work for a purpose, not a paycheck.
Want to find happiness in your career and find your purpose and passion? The irony is that it isn't something you need to search for. The whole concept of trying to figure out what you are passionate about or finding a shortcut to your right career path is really about stepping into your calling to be the best you can be. This means creating the best work you can do. Being as productive as you can be and serving others by sharing your gifts with the world.
Only you can be you and your most important "job' is to be you the best "you" that you can be.
You have talents within you that you are aware of and others that you aren't even aware of yet. You have a calling which is what you would do whether you were paid for it or not. Your calling needs to be evident in your life for you to be happy.
I'm giving out my Purpose Planner on my upcoming masterclass. In the first 10 minutes, you can register here and grab a copy of The Purpose Planner: A 7-Day Planning Guide To Uncover Your Purpose and Passion.
7 Steps to Uncover Your Passion and Purpose
Your purpose, passion, and calling is not something that you are going to find one day while job searching.
Jobs come and go but your calling is for life and cannot be taken away. The best way to do your calling is to start evaluating how you can serve with your gifts and talents you are aware of now, having faith and surrendering your stress and all of your career anxiety.
Take a deep breath and dive in!
1) Identify Your Purpose To Serve
Focus on what you do best.
Start being in service to yourself by taking care of yourself. Start serving others with your gifts and talents and focus 100% on what you do best. Not only will you start bettering your life but you will start improving other people's lives such as your clients, customers, bosses, and co-workers when you focus on what you do best. You'll even start changing the lives of your family and friends as you step into the calling of your life.
2) Identify Your Unique Gifts for a Purpose
When are you at your best self?
What is the best work you've ever created?
When do you feel 100% yourself?
What do you naturally do well?
When I realized that my best self was when I was teaching a group of employees on anything, even topics I hated, I looked for more ways I could add "training' to my role as a financial analyst. I volunteered to lead the training team and to teach a course for new employees on how to navigate their careers in my spare time. From there, my true calling emerged.
3) Identify the Purpose Other People See
It's time to interview your friends, family, colleagues and relatives.
Gather as much information as you possibly can and thank them for their time and input. You can do this in-person, by phone or by email. Then, see what common themes appear.
Sample Interview Request Template
Hi Boss,
I am looking to improve and become even better in my work and I was wondering if we could have a short meeting to give me feedback on my current work. I would truly appreciate you helping me to be even better in what I do.
4) Identify Your Purpose As Your Mission
I will be a person who ____________________
My most important future contribution to others will be: _____________
I will stop procrastinating and start working on: _____________
I will strive to incorporate the following gifts and talents into my life: _____________
You don't have to "know' or "find" your calling right now. The key to overcoming your fears and finding your ideal career target is to focus on what you do best.
5) Identify The Purposes You Admire in Others
Admiration reveals what you secretly wish you could have or be and is a useful tool for discovering your deeper desires, dreams, and values. Make a list of all the people you admire and what specifically you admire in them.
"We do not exist for the sole purpose of paying our bills, grooming our kids to be able to do the same, and, maybe, someday, retiring to finally enjoy life, should we ever reach that point. We are here to let our lights shine as brightly as possible, to drink in the joy of friendship and family, to serve and better the greater community and to tap into and inspire passion in everything we do. We are here to come alive."

– Jonathan Fields
6) Turn Your Passion into Your Purpose
What work would you do for free?
What blogs, books, and magazines do you read?
Where does your money go?
What TV programs and movies do you watch?
What are your free time passions and hobbies?
If you won the lottery but you had to continue to work, what would you do?
If you could talk to someone about something all day long, what would you talk about?
What did you do for fun as a child?
What do you absolutely love that you lose track of time when doing it?
Something life is about risking everything for a dream no one can see but you.
7) Turning Your Purpose Into Action
What fears and roadblocks are in your way of living your purpose?
This week, what is one thing you can do to serve others with your gifts and talents?
What is one thing you can learn this week that is directly related to your purpose and calling?
What areas of stress do you need to let go of?
I'm giving out my Purpose Planner on my upcoming masterclass. In the first 10 minutes, you can register here and grab a copy of The Purpose Planner: A 7-Day Planning Guide To Uncover Your Purpose and Passion.