Many of you are planning to make a career transition into a different industry and so I'm going to take this entire episode and walk you through the steps that you can take to help you transition to another industry.
Subscribe on your favorite platform below:
How To Transition Into a New Industry
I used to be in finance and I used to work for the government and I wanted to make a switch into a completely different industry which was Human Resources, training or career coaching and it was really, really tough and I will tell you the toughest part was the mindset, the belief that I can do that and that's why that's my first tip for you is to start changing your mindset and start believing that you can make that transition and you can make it happen.
Chances are you are planning a career transition into a brand new industry. First of all, congrats! I made this same bold move from financial analyst to career coach and professor. It can be done. You have the hard part taken care of which is making the decision to leave something you are comfortable in. It's a bit harder to make this career transition to a new industry but I love that you are up for a challenge because it certainly has been done by me and many of the Love Your Career Formula alumni and millions of other people.
4 Steps to Make Your Dream Career Into New Industry
Here are the 4 steps to take to make your dream career into a new industry happen faster than you could ever imagine:
Step 1: Believe It Will Happen
Visualize yourself already in the dream career. What does it feel like? Do this morning and night. Create a vision journal and keep reminding yourself that you can and will make a move to your dream industry happen.
Step 2: Get Clear On Your Transferable Skills
Transferable skills are the talents a person gathers throughout their career and through other real life experiences which can be applied to a new job or a new career. These talents might seem insignificant when a person is looking for new employment, however they're often just what an employer is looking for when they're hoping to hire a new employee. The interpersonal communication, and organizational skills a person obtains while undertaking volunteer work, playing a team sport or completing a university degree might not be listed within a particular job description, but they are the essential elements to employment in the labor market.
Step 3: Surround yourself with people in the new career field.
Go to every industry networking event in the new career field. Stop going to the events in your old or current industry you are trying to get out of. Listen to speakers and podcasts in the new field. Conduct informational interviews with everyone you can find that is in the new industry.
Step 4: Read every book you can about that industry.
A true expert needs to have both expertise (book learning) and experience (real-world practice). So if you don't have a degree in the career field you want to transition to, no problem. Make your own degree program. Create a list of the most recommended books on your topic.
Go on Amazon. Download them on your Kindle. Get them all sent to your house. Or order them all from the library. Have a stack of books about your new topic. This WILL inspire you and excite you. It will feel like a degree. Instead of watching the latest episode of your favorite show, you can look at your stack of books and your dream career degree program and I think you will make the better choice of learning more about your dream career.
Just take baby steps. Get closer. You might not land the job of your dreams in the industry of your dreams next week. But you may be able to land the "stepping stone" that will get you much, much closer. Slow and steady will win this race!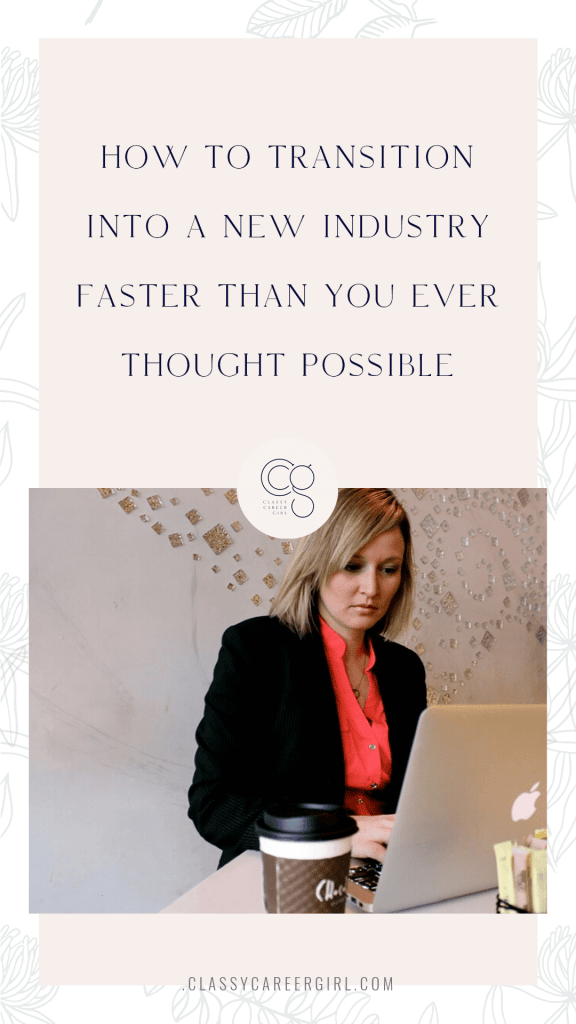 More Ways to Gain New Skills and Experiences
No matter where you are in your current career, it's never too late to learn and develop new job skills. Whether you're just entering the workforce or hoping to change careers, developing new abilities will help set you apart in the job market. Learning different skills can also make you more productive and successful at your current job.
1) Taking Online Courses
You definitely don't always need to get a degree but of course sometimes you do. I highly recommend online courses to learn more about your topic.
Take a course to learn the required experience and add it to your resume.
2) Volunteer
Volunteer for a project to demonstrate you have the required experience and add it to your resume. And volunteer work can broaden your experience and exposure to life where work can't or doesn't.
There are so many ways to get experience so that you can make the move into a new career field. When I was switching career fields, I found the time (even though I was already busy with a job and school) to do my very best at an internship in a field that I was excited about. When you are excited about the work you are doing, you make the time. Mornings, evenings, weekends. Instead of thinking, there is no way I would have the time to volunteer. Think instead, how can I volunteer. How can I make it happen? How could this be possible to make the time to volunteer in a career field I am interested in?
Once you decide and commit, the opportunities will come. You might have to do a little networking or online searching but when you offer to volunteer at a company, but often a new opportunity is what you will receive. I hired an apprentice at my company because she volunteered. Most people do not say no to additional free help from people who are motivated by the mission of the company.
So show the person in the new industry how excited and passionate you are to learn about what they do and HELP them as much as possible. You will quickly learn and pick up so many things just by volunteering.
3) Internships
If you'd like to develop new skills while also learning more about a specific career, consider pursuing internship opportunities in the field. You'll gain important work experience and valuable insights into the industry. You'll also be able to network with different professionals in the field, who could later serve as a reference or even notify you of a job opening.
4) Create a Blog or Side Business
Creating a blog or a side business helps you learn the skills required for your dream job and add it to your resume.
5) Work With a Mentor
Building a relationship with a mentor in your career field can help you learn more about the industry from someone with direct experience. The right mentor will be able to offer realistic insights and valuable advice on how to meet your career goals and guide you on the path toward success in your field. Sometimes all you need is a little extra guidance and support.
6) Job Sculpting
This involves looking for ways in which you can leverage your interests in your current job. A good analogy here is if you think of a sculptor. They have a clump of clay and can add to it and take away from it. Think of your job description in the same way. You can make small adjustments here and there to adjust your alignment of your interests and the tasks that need to get done. This works best when you can identify win-win situations, where there is benefit to you but also where you can add value to your boss and company.
The goal for job sculpting is that your career interests are aligned with your team's needs and what you need. So how does this work? Employees take the lead to navigate their own career and managers also do their part to help their employees. When both are doing this and you have really productive career conversations that is when things get aligned. So we are going to roll up our sleeves and talk about how you can job sculpt. Think about the aspects of your work that you love even if they are hard and then the other parts that you aren't as satisfied with that maybe you have outgrown. Think about what is on your plate, and where can you make small adjustments. This is not about applying to a new job or project, this is really about small adjustments in your current job.
How will you gain new skills and experiences?
What transferable skills do you have that you can use in your new role?
What online courses and training would you like to take?
Thanks again for leaving podcast reviews. We so appreciate them!! Do me a favor and head on over to iTunes and leave us a review. And also share this episode on your instagram stories and tag me and I'd love to give you a shout out and thank you personally.