This is scary. This is hard. There's a lot of weight on our shoulders so take a deep breath. This is unchartered territory. No one knows exactly what to do. I don't have all the answers. But I do feel prepared. I do feel like I am called to lead my team and you guys through this difficult time. I do feel that I've been doing this for 10 years and now is my time to really serve. For me, it's the extra pressure of homeschooling, figuring out food for my kids, checking in with grandparents and distancing ourselves from grandparents, but we are all going to be ok. You guys are going to be ok. Your career is going to be ok. Your business is going to be ok. If you are in a career where you have a purpose and you are doing work that you are meant to do, this storm will not shake you. There's maybe a pivot or transition or patience needed, but there will be an open door for you.
[ Related Post: Handling Career Uncertainty ]
You have a gift of time right now. A gift of time to bridge the gap between where you are now and where you want to be in the next few months. You can get there faster and easier than EVER before. My team and I are pumped to help you get there. You have to remember why. Why you joined and why you want this life? Why do you want to have a life that can weather a storm? A career where you are in control and have the freedom and don't have to be stuck. 
Subscribe on your favorite platform below: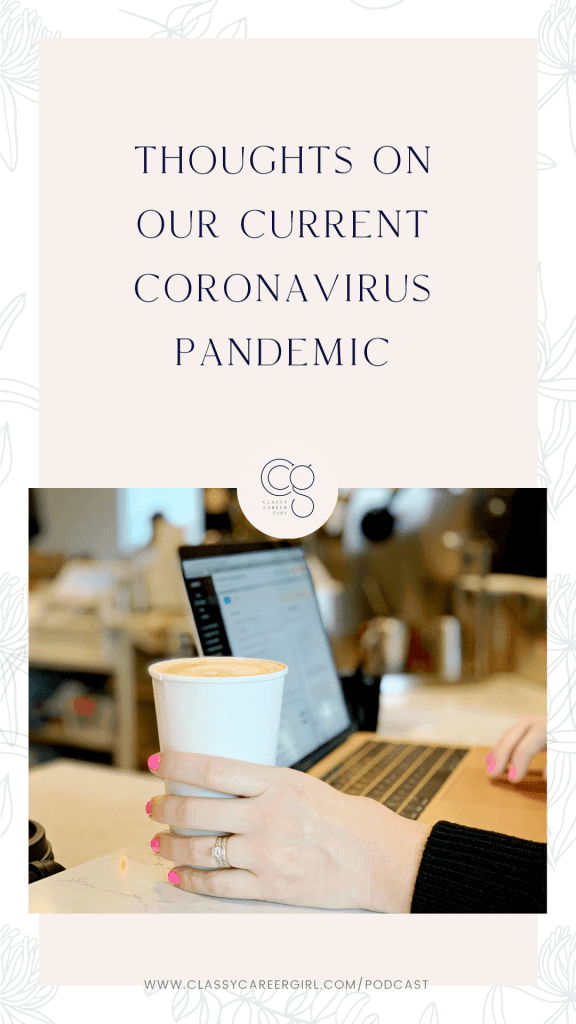 Thoughts On Our Current Coronavirus Pandemic
You have a passion and a dream. And now you have the time. For a long time, you've thought about really making this a career and business you love. Now you have the time to go through the modules. Ask questions. Our team is here for you more than ever to help you navigate this time. You don't want to watch Netflix all day. Let's make this time matter. You don't have to feel guilty now for spending time on you. For learning and growing. Treat this as a gift.
What does this make possible?
Companies ARE hiring. Businesses ARE growing. Now is the best time to make your dream career happen. This is the time when you need to show up the most. There might be a new problem that you need to solve. I've been filled with ideas of new business opportunities. We show up, serve and identify problems and we solve problems. 
We are called to serve.
So how can you serve right now virtually? We need you to step it up. People need a leader right now. You are prepared for this. You are here. This is the best place you can be to ensure your career and finances can withstand this time. Take advantage. Dive in. Remember why you joined and let's bridge the gap with the time you have NOW. It's going to be ok. Pivots. Changes. 
Control what you can control.
I control how I start my day. No news. How many news headlines can you read? The more you listen to the news, the more worried you will be. I wake up and then I read my bible. I pray and write down what I am grateful for. Read my vision and personal development book. I am grateful. I am praising God for his blessings. So many right now. So much to be thankful for. There are so many answered prayers and lessons. 
It's time to get to work on that dream.
2020 is your year to make it happen. Email lists are an excellent topic this month because every business owner CAN weather this storm virtually. There's always another income stream. There's always a new opportunity to serve no matter what you do. Our email list has grown. I've heard FB ads cost are at the lowest in 18 months because companies are pulling out. 
People need jobs.
We are called to lead a team. Can you imagine if we could serve these people who are losing jobs with jobs? I want to hire hire hire over the coming months. I want to pay for people's groceries and for people's paychecks. This is bigger than making money. This is changing other people's lives. 
As we approach CCG's 10 year anniversary, we have some exciting events coming up. So stay tuned for something brand new I've got to celebrate. March 24, 10 years to the date.
Get Your Career Unstuck and NEVER Dread Monday Again!
Coming March 24th, 2020, we'll guide you to the career or business that you were meant for with our all-new CLASS experience and community. World's Leading Career Coach, Anna Runyan, shares how to instantly get your career unstuck in 3 simple ways.
Other Podcast Episodes You Might Like:
Changes in the Economy: 4 Things You Need To Do To Prepare Your Career
How to Go from Employee to Entrepreneur Successfully