We are all about saving time here at Classy Career Girl! The best way you can save time when it comes to updating your resume and cover letter is starting with downloading a template, so you don't have to start from scratch!
This is for you if you have ever been so utterly frustrated trying to get all your bullets lined up and want to throw your resume in the trash because it looks terrible.
The 10 Best Resume Templates You'll Want to Download Now
1. Please "Teal" Me I am Hired
At CCG, we strive to stand out from our competition and we want you to do the same. This is one of our favorites. Now, we don't advise a pink and black resume like our branding at CCG but you can have teal!  Next best thing, right? Stand out and be different.
2. It's All Black and White
We love the symmetry of this template, especially the profile and key skills section that stand out.  If we weren't career bloggers, we would just write resumes all day long if they look like this one. This resume is perfect for those corporate classy career girls in the conservative environment, but who want a little edge above the rest when it comes to all the other boring resume templates.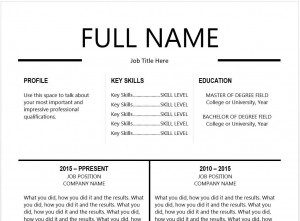 3. Never Be "Blue" With Me On Your Team
Could this scream more, I am the one you need to hire! This is the resume template you need to get your hands on if you are in a creative field and are applying to a startup, an innovative position or for a marketing or branding role.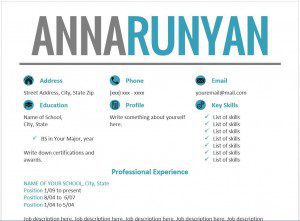 4. Never a "Gray" Moment With Me on Your Team
This is a feminine resume that can work in any type of industry. We love the larger than life LinkedIn profile button for those of you who are killin' it on LinkedIn with endorsements and recommendations galore.
5. I Will Not "Beige" You To Hire Me
Short and sweet. We love this color that stands out from the rest of the black and white resume templates that you will be piled up against. We also love the large profile section to really sell why you are the perfect fit for this position.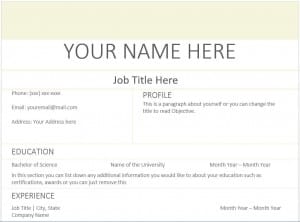 6. The Grass Will Be "Greener" When You Hire Me
7. I'll Keep You Organized If You Hire Me
We love the simple and clean organization of this resume. This is for someone who hates clutter and wants to shine by saying truly the most important things…and that is it.  You don't need to say it all. The key really is for this resume to just say the most important items. That's why this template stands out from all the rest of the resume templates out there.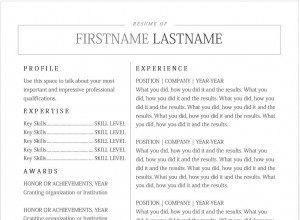 8. Monogram Me
You are so special that YOU have your own logo and monogram. Treat yourself like a business. You are the real deal and you have to sell yourself so why not logo your name. That's why we love this one!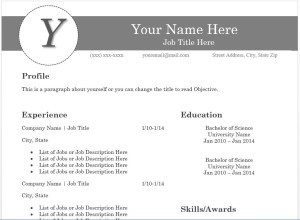 9. Simply Hired
Saving the best for last, aren't we! This is just easy on the eyes and makes us want to hire you. This says, simple, classy, hired.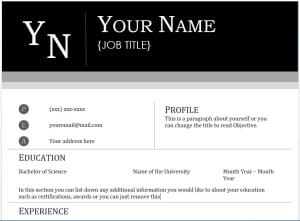 10. The Old Fashioned
Simple and clean. This resume template got our CEO and Founder, Anna Runyan, hired many times before she started this company. You can have her exact template that has been reviewed and revised by hundreds of career coaches and executive-level professionals. Rinse and repeat is the name of the game!
Seriously, you CAN love your resume with these templates.