Your mornings matter. A morning routine checklist can change every area of your life (including your health, happiness, finances and relationships). A morning routine will give you more focus and less reactivity. A good morning routine will help you have more in control of your day and you'll be able to operate less on urgency. The best part is that you'll be able to get everything important done by 9am and it will feel amazing to have so much control of the most important items in your day!
You can increase your income and change your life before 9AM when you are doing the right things. You don't need to be stressed and overwhelmed with your to-do list and trying to get everything done in the morning. You can create a routine you love that gives you the clarity, focus and energy to have a great day.
Today's post is an introduction to one of our best selling mini-classes, Master Your Morning – Change Your Day. It will teach you how to increase your income and change your life by 9am. So let's dive in!
Subscribe on your favorite platform below:
This Morning Routine Checklist Changed My Life
As a busy mom of 3, I've discovered it's impossible to get everything done "later". The kids take forever to go to bed. I'm exhausted at the end of the day and just want to watch a movie and relax.
When I used to have my corporate job, I was exhausted when I got home too. Nothing gets done if I wait and do important things later.
I created this "Master Your Morning" system because after becoming a mom I knew I wanted to continue pursuing my goals but I had very limited time. I was a stressed-out mom and not getting what I needed to get done. I had a growing business, but I couldn't devote entire days to my business. I only had the hours in the morning.
I did not have childcare and was homeschooling during the pandemic, so I needed to figure something out.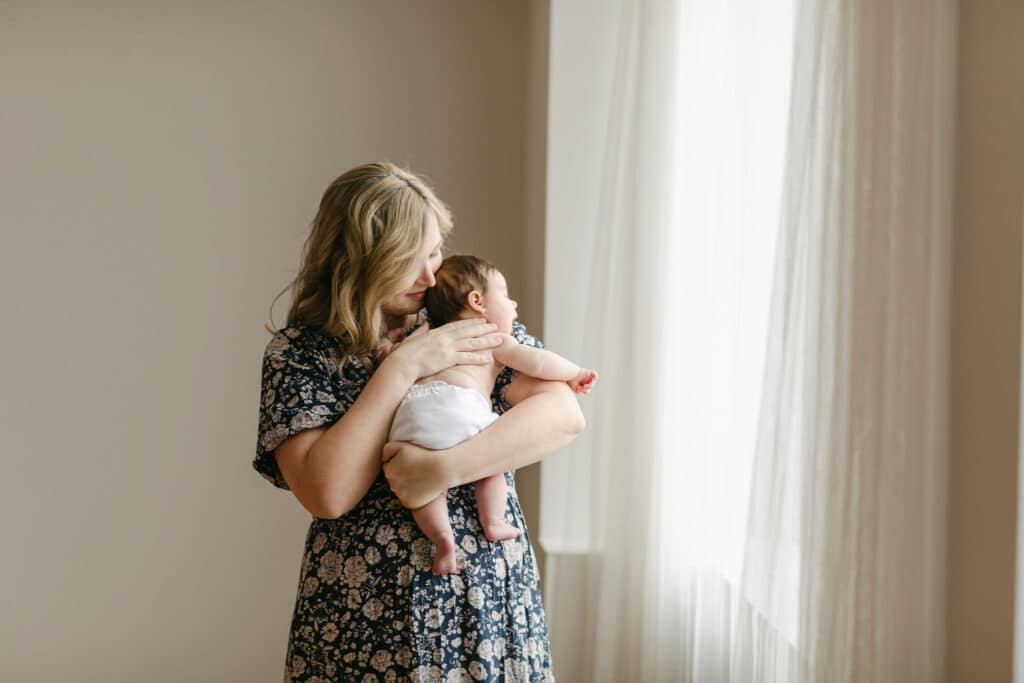 1. Wake Up Early
IMPORTANT: Do the best you can with what you've got.
There are factors (like those cute kids that aren't that cute at 2am) that make mornings tough. But even a small morning routine CAN make a big difference even if you are holding a baby on your lap which I often do! Just 5-10 minutes is all you need if that's all you've got.
Remember, use your morning routine to work on YOUR goals before your employer's goals. This is the advice I give over and over to people who are stuck in a job they dislike and want to make a career change. You are in control!
Click HERE to get a copy of my daily to-do list that you can create as part of your morning routine.
2. Plan Ahead
When your alarm goes off in the morning, you won't be thinking clearly. Trust me!
The most important thing you can do the night before is to make a plan for your morning before the alarm goes off.
Create a checklist right now of items that you want to complete when you get up tomorrow morning. It could be a list of 5 things.
This way you won't have to think tomorrow morning and you can just start taking control of your morning right when the alarm goes off. The goal is that you'll have to make zero decisions. When you are making decisions and making lists, you are losing precious morning time that could be used to make progress on your goals. Every 15 minutes counts!
3. Eliminate distractions when you start your day
Now part of this morning routine checklist is that there is absolutely no email, slack, news or social media distractions to start the day.
I want you to do focus time before you hop on email or social media and start putting out all the fires and see what everyone else is up to. You matter most. 
So put your phone on airplane mode before you go to bed. Set a Pomodoro timer which is 25 minutes. I usually do 50-minute sprints so do what works best for you! 
Remember to let others know that your mornings are important. If your husband frequently distracts you by telling you the stock or political news, you'll need to have a chat! Also, try not to plan any meetings in the mornings. My goal is no meetings before 11am. Finally, set alarms to keep you on track. For example, I have an alarm on my phone when it is time for me to work out and an alarm when it is time for me to throw the laundry in…otherwise I would forget!
4. Review your finances and take one financial action every morning
If you are an employee to business owner, remember that you can increase your income by focusing on your financials every morning.
Business owners: Increase your income by working on revenue generating tasks first thing in the morning.
I recommend reviewing your personal financials and cash balances in the bank every morning. Then, take one action to get a new client, make a sale, practice your salary negotiation or find a new career every morning. Those small steps add up! It doesn't take long to set up your retirement, create an automatic distribution, work on your side hustle or read a a few pages from a financial book. Each of these actions can really help you increase your income if you stay consistent.
My Morning Routine Checklist 
Journal
Review vision board
Affirmations (Here are 25 daily affirmations that you will love)
Gratitude – Write down 3 things I am grateful for.
Financial review – check bank balances
Vitamins
I hope these 4 tips help you create an incredible morning routine you love! I can't wait to see your life changed with this simple checklist.
Today's post is an introduction to one of our best selling mini-classes, Master Your Morning – Change Your Day. It will teach you how to increase your income and change your life by 9am. So let's dive in!