[vc_row][vc_column][vc_column_text]
When I was in business school, I attended a seminar on the benefits of story telling during business presentations to grab attention and create an immediate connection.  In the book, Leading out Loud, authentic communication begins with asking yourself the following question:
"What single value is so important that you would teach it to your children as the most important foundation of a happy life?  Once you discover what matters most to you, you can convert it into inspiring others." 
So to honor my mother and mother-in-law, I am sharing stories about the lessons these moms have taught me which have guided me through my life and career.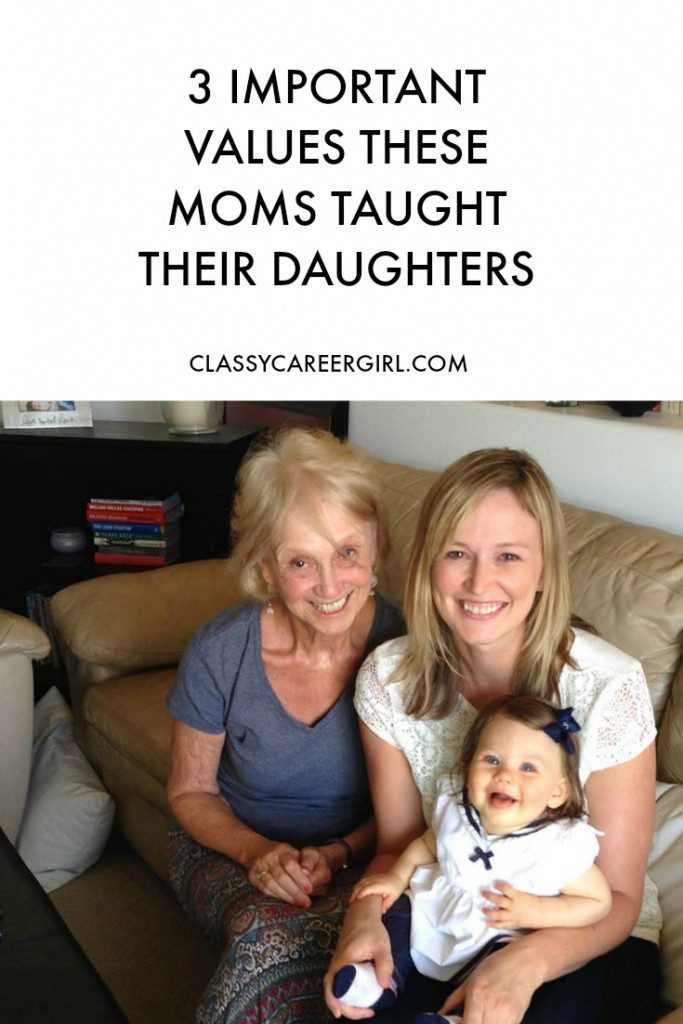 Here are three important values these moms taught me:
Lesson #1: Honesty
I know you won't believe me but I once snuck out of the house in the middle of the night to hang out with my friends.  Of course it was harmless fun and we did nothing but hang out outside my friend's house.
Little did I know that my mother was completely aware that I had left and was waiting up for me to get home.  How she handled my little adventure made me learn the importance of being honest.  She didn't yell or get mad but instead made me think about how I had hurt her when I lied and how she stayed awake all night worrying because she did not know where I was.
Applications in business: Always be honest.
Without honesty there is no trust. Without trust, no one will want to work for you or help you out when you need it.
Lesson #2: Dedication
When I was younger, we lived only 5 minutes away from school.  You would think then that I would have a short bus ride, right?  Nope, I was the first to be picked up and last to be dropped off.  I spent 45 minutes on the bus to and from school!
One day, we had a substitute bus driver and he FLEW past my stop.  When he finally stopped, I jumped off and went behind the bus to begin my walk back home.   I later realized that it was completely against the rules to walk behind the bus.  This was the very first time (and of course the only time) I got written up, detention and bus safety school. I was mortified!
At bus safety school, I had to ride around with the Principal teaching us all how to correctly ride the bus.  I was so upset and my mom was furious that I was in so much trouble for something so stupid.  She called the Principal and told him how I was a good student and that I did not deserve the treatment I received.  The lesson that my mom taught me was to stand up for what you believe in and not give up.  From the very beginning she was on my side and never wavered.
Applications in business: Instill trust in your employees.
Employees need to be able to trust that their boss and co-workers have their back no matter what.
Lesson #3: Inclusiveness
I have known my mother-in-law for over 10 years now.  From the very first day I met her she was warm, welcoming and inviting.  She has taught me to be inclusive by welcoming me into the family from the very first day we met.
My mother-in-law is always serving others whether it is her kids in her home economics class or her five kids and TEN grandkids.  No matter how many people she already has over for Thanksgiving dinner, if someone doesn't have a family to be with, they are more than welcome at her house.
Here are some words that her students describe her as "Fun, energetic, sweet, always happy, nice, amazing teacher, generous, helpful, kind and fabulous cook."  Doesn't she sound like an AWESOME mother-in-law!!  Lucky me!
Applications in business: Be inclusive always.
You need to ask your employees what their opinions are and involve them in business decisions.  People want to help make a difference in the company and improve processes.  Why not include them in important discussions rather than have the meetings behind closed doors?
I hope to become a mom just like these two fabulous women.  Happy Mother's Day Moms!!  Thanks for teaching me these valuable life lessons.  Love you!
[/vc_column_text][/vc_column][/vc_row]