If you're starting out in your career or making a transition, there are a lot of factors to consider when job searching.  To help you find a job or switch careers, get a raise or promotion or start a business,  here are some great books for every job seeker!
Note: I am an Amazon affiliate and will receive a commission if you purchase any of these books through my link. Thank you!
10 Best Books Every Job Seeker Should Read
As Jeff Goins explains, the search begins with passion but does not end there. Only when our interests connect with the needs of the world do we begin living for a larger purpose. Those who experience this intersection experience something exceptional and enviable. Though it is rare, such a life is attainable by anyone brave enough to try.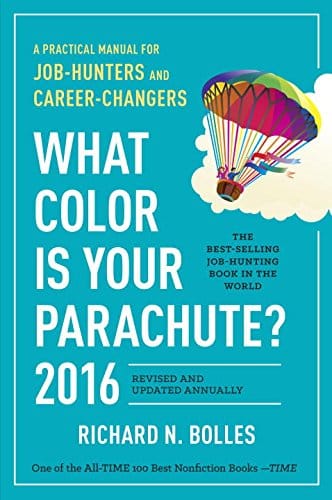 This helpful manual shares proven tips for writing impressive resumes and cover letters, as well as guidance for effective networking, confident interviewing, and the best salary negotiating possible. But it goes beyond that by helping you to zero in on your ideal job—and life—with its classic Flower Exercise. Whether you're searching for your first job, were recently laid off, or are dreaming of a career change, What Color Is Your Parachute? will guide you toward fulfilling and prosperous work.
Throughout the book, Acuff features inspiring and funny true stories—not merely his own, but those of friends who restarted their careers after a layoff, an extended maternity leave, or simply the realization that they were suffering fifty weeks a year just to pay the bills and enjoy two weeks of vacation. Everyone can benefit from Do Over, from new graduates to fiftysomethings and beyond.
Allen has rewritten the book from start to finish, tweaking his classic text with important perspectives on the new workplace, and adding material that will make the book fresh and relevant for years to come. This new edition of Getting Things Done will be welcomed not only by its hundreds of thousands of existing fans but also by a whole new generation eager to adopt its proven principles.
The 2-Hour Job Search shows job-seekers how to work smarter (and faster) to secure first interviews. Through a prescriptive approach, Dalton explains how to wade through the Internet's sea of information and create a job-search system that relies on mainstream technology such as Excel, Google, LinkedIn, and alumni databases to create a list of target employers, contact them, and then secure an interview—with only two hours of effort. Avoiding vague tips like "leverage your contacts," Dalton tells job-hunters exactly what to do and how to do it. This empowering book focuses on the critical middle phase of the job search and helps readers bring organization to what is all too often an ineffectual and frustrating process.
Whether you're a seasoned professional in search of a career change or a beginner just entering the working world, you want to make the right choices from the beginning. No matter where you are in your journey, if you want work to be more of a dance than a drag, "The Pathfinder" will expertly coach you through the process of designing a career you will love.
In the course of this book, Ferrazzi outlines the timeless strategies shared by the world's most connected individuals, from Winston Churchill to Bill Clinton, Vernon Jordan to the Dalai Lama. Chock-full of specific advice on handling rejection, getting past gatekeepers, becoming a "conference commando," and more, this new edition of Never Eat Alone will remain a classic alongside alongside How to Win Friends and Influence People for years to come.
WORK RULES! shows how to strike a balance between creativity and structure, leading to success you can measure in quality of life as well as market share. Read it to build a better company from within rather than from above; read it to reawaken your joy in what you do.
As relevant as ever before, Dale Carnegie's principles endure, and will help you achieve your maximum potential in the complex and competitive modern age. Learn the six ways to make people like you, the twelve ways to win people to your way of thinking, and the nine ways to change people without arousing resentment.
In this book, Bill Burnett and Dave Evans show us how design thinking can help us create a life that is both meaningful and fulfilling, regardless of who or where we are, what we do or have done for a living, or how young or old we are. The same design thinking responsible for amazing technology, products, and spaces can be used to design and build your career and your life, a life of fulfillment and joy, constantly creative and productive, one that always holds the possibility of surprise.
What other books do you recommend adding to this list of books for every job seeker?