Have you ever wondered if time management is a skill that you can develop?
Is it too late for you to become good at time management?
Will you ever be more organized?
Here's what you need to know:
No one is born productive. Being more productive is a skill you CAN develop.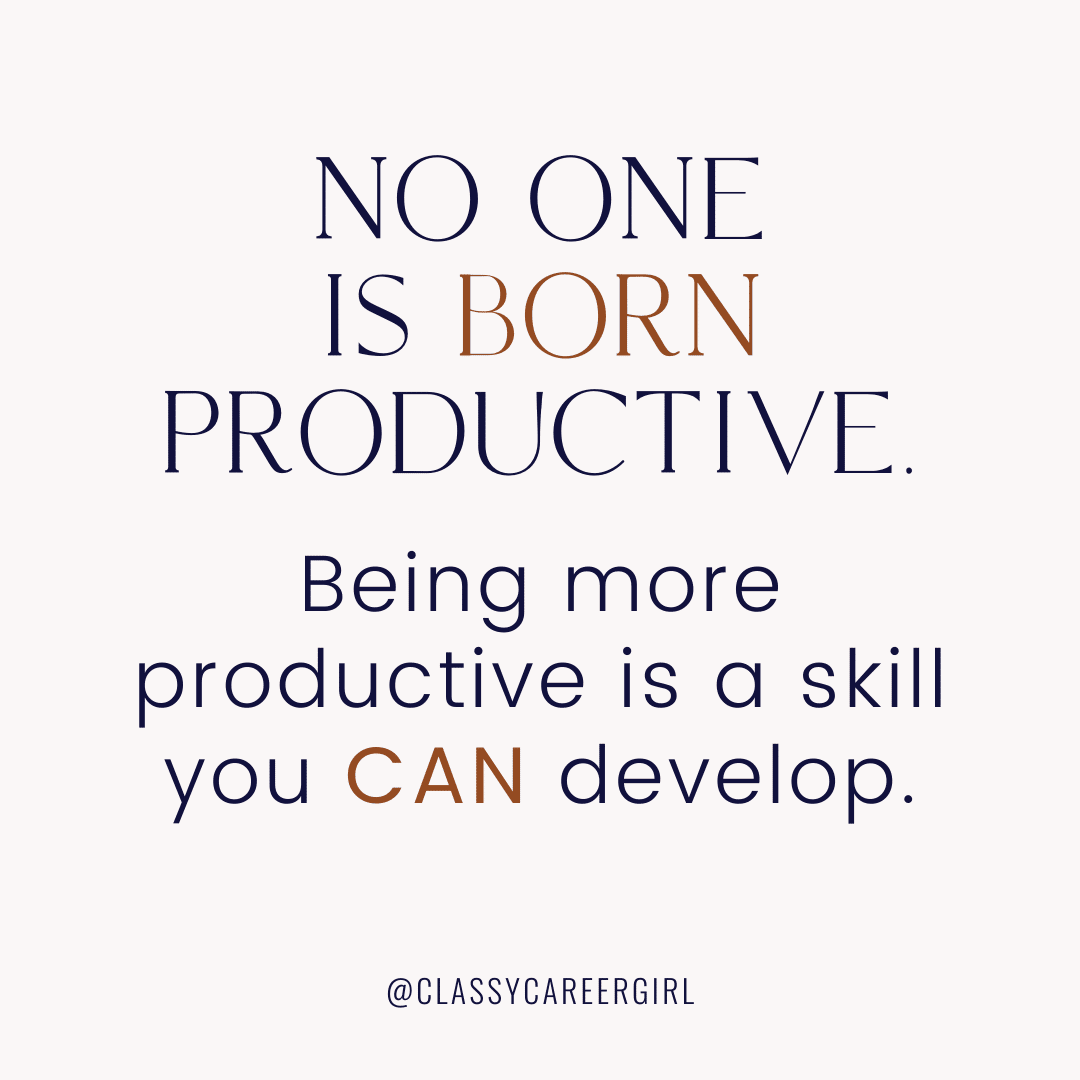 So how can you develop your time management skills? By practicing and putting habits in place and adding one new habit per week. it's important to stay positive and be open to continuing to learn, grow and improve.
Here are 5 ways to improve your time management skills:
1) Know Your Most Productive Time
Do you jump out of bed with energy ready to work on that exciting project, or do you get your ideas and "flow" right before bed? Use your most productive time to do your most important work.
My most productive time is the morning so as soon as my kids are at school, I do my best to focus on my priorities. It's important to know your priorities and use your most productive time to work on those priorities.
2) Identify Your Priorities Before The Week Starts
If you are having a problem with time management, prioritizing is most likely your problem.
Do you know what to focus on this week? Do you know what your priorities are?
Are you are wasting time on Instagram or Facebook before working on your goals each day? I know I am guilty of this! Remember, the 15-minute rule! 15 minutes working on your priorities can really add up!
If you are just doing what you "think" you should be doing or the first thing that pops into your mind, you are not prioritizing.
You need to ask yourself this question, "What is really going to move the needle for you and your goals? What should you REALLY be spending time on each week in your business?"
Before the week starts on Sunday night, I always make a list of my top 3 priorities for each day. That way as soon as those kids are off to school, I can get started and make some great progress in the first hour of the workday.
3) Take Control Of Your Calendar
This is so important! I remember the day when I took charge of my calendar. I scheduled what I wanted on it instead of letting everyone else around me put what they wanted on my calendar.
If you have a goal that you want to achieve, put the time to work on that goal into your calendar. Grab your calendar right now and put in focus time to work on your goals right now. Even if it's just 15 minutes per day, it will add up!
And I bet you can even find more time than 15 minutes when you plan ahead.
4) Plan ahead.
Plan a weekly review session in your calendar where every week you look at the week ahead and block out time in your calendar for your priorities. It will feel so good to plan ahead and not be so stressed last minute for important items. This is a habit you'll want to build into your routine.
Remember to take control and add in the important blocks of time to help you reduce stress and make small 15 minutes of progress towards your goals everyday!
5) Remember, Discipline is Required to Achieve Your Career Goals.
Remember, discipline is required if you want to achieve your career goals.
I have to continually remind myself of this when I want to sleep in or go to bed during a big time in my career or business. This is what will separate you from the rest. It doesn't require that much time, it's just 15 minutes per day and that is where your discipline comes into play.
So, is time management a skill that you can develop? YES!
Just keep taking those baby steps and taking imperfect action and you will quickly see that time management is a skill you CAN develop.
Since time management is a skill that you can develop, we've created a PLAN Success Path to help you see where you are right now and what you need to do next to keep growing in your skills.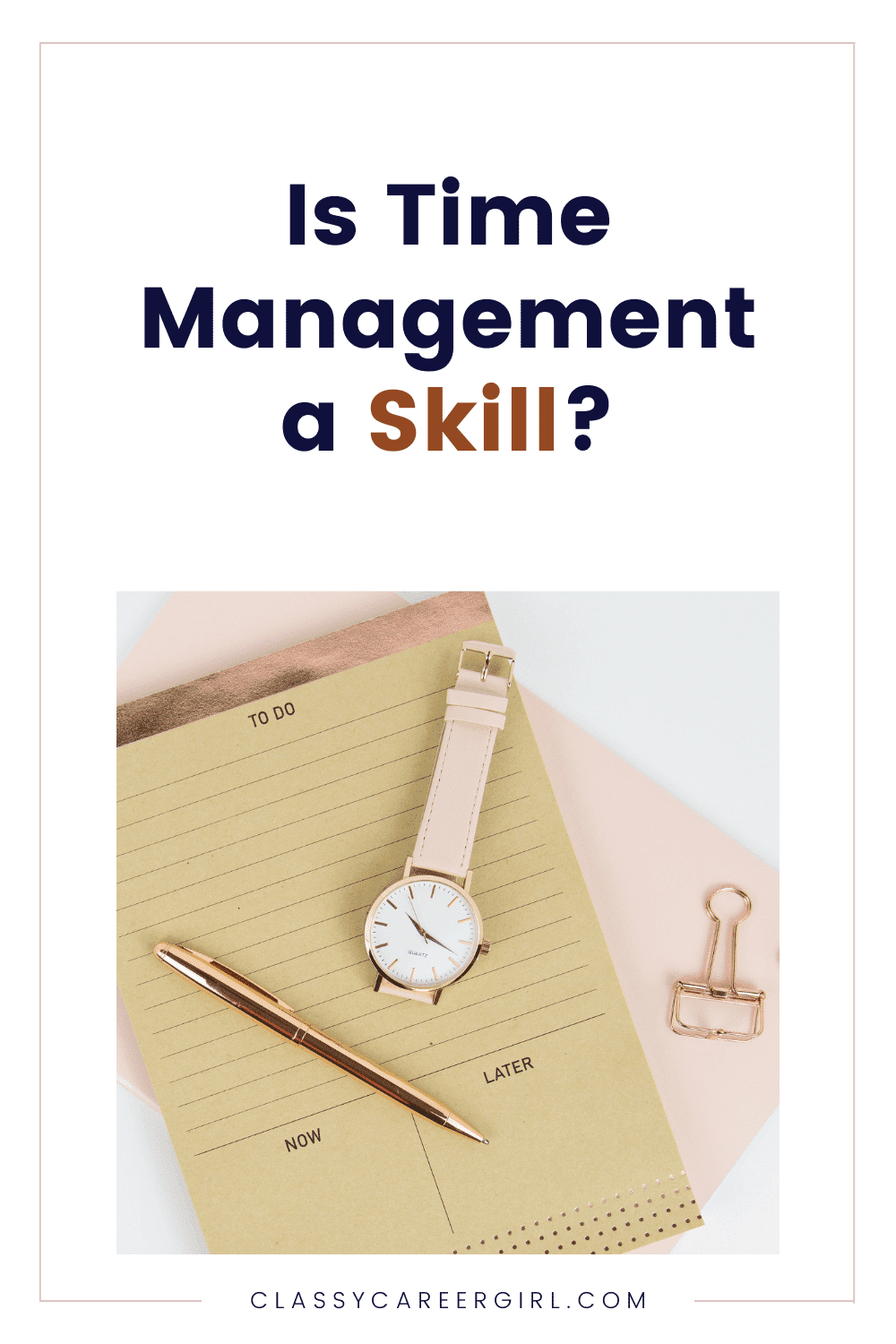 THE PLAN SUCCESS PATH
PHASE 0
You hate planning. You aren't focused and feel unorganized. You are stressed and feel like there is not enough time in the day to get your goals done. You aren't reaching your goals because you don't even have them written down. You are just trying to survive and have little time for personal goals and self-care.
PHASE 1
You are just taking baby steps forward. You miss some weeks and days but you are determined not to give up. You sort of know where you want to go in the future but it's pretty fuzzy and vague. You need help staying on top of your plans and figuring out what step you need to take first. You aren't quite sure what goals you should set or how to create your plan.
PHASE 2
You are starting to gain momentum and see how all the pieces of the planner fit together. You are taking consistent action and baby steps and starting to get some wins. You are starting to get a planning routine down and making habits that make you happier and more organized.
PHASE 3
You have a habit of filling out your planner daily, weekly, monthly, and quarterly. You feel on top of your goals and you are starting to reach your goals and dreams. You have more time and freedom now. You know your planning system works and that you can accomplish anything you want. Life feels easier. You have more peace and joy. You are living your dream life. The planner is part of your routine and you can't leave home without your planner.
PHASE 4
You've reached your goals in life but know there is more impact that you can make. You have a tendency to just stay here because it's easy and you know more work, delegation and dreaming is required to take it to the next level. You know you have more potential for income and more potential to make more of an impact. You also know you could even have more fulfillment. You know you need to set an example for your community and dream bigger.
PHASE 5
Your plans and goals impact the world and change lives. You have built a team around you helping you make your mission happen. Your plans are bigger than just you. You never could have dreamed of the impact and income you are making with your life and you are so grateful for all of the opportunities you have. You are leaving a legacy with your goals and plans and are so thankful you started.
Want to learn more about the PLAN Success Path? Grab my vision journal template, weekly to-do list and my entire 90-day planning workbook for free.