Dear Classy Career Girl, I am really curious how to wear your hair for an interview. Is it better to have our hair up or down for an interview?
CCG: My take is that it's more important to feel comfortable and confident. So if you are more confident with your hair out of your face and up in a ponytail, do it. If you feel more confident with your hair down, do that. There is no right and wrong.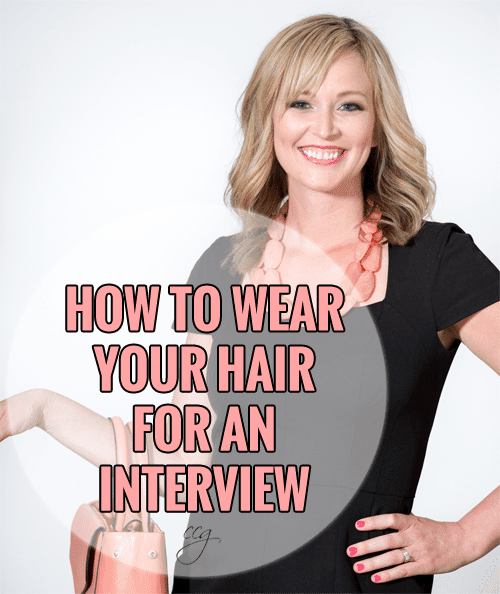 I also invited an expert recruiter with 15 years of experience interviewing candidates to give you even better advice than I could give you!
Meet Becky, our newest Love Your Career Formula Certified Career Coach and Founder of The Job Search Success Coach.
During her 15 years as a Corporate Recruiter for small and large technical companies, Becky has interviewed thousands of candidates. She understands the employer's perspective and knows what it takes to make a positive impression, get hired, and negotiate the best salary. She now shares her game-changing, insider secrets with coaching clients.
Here's what Becky has to say about wearing your hair during your interview.
How a candidate wears their hair to an interview is definitely a big part of the first impression.
You want to be able to make that first impression, not have your hair make it for you. 
Unfortunately, I have interviewed a few candidates, that when they walked out of the interview all I could remember was their hair. I was so distracted that I couldn't remember a word they said, so I could not move them forward in the interview process.
Here a few more tips on how to wear your hair to an interview from Becky:
Keep it simple and professional, know your audience.

If you have bangs, have them trimmed over your eyes. You want to be able to keep eye contact with the interviewers.

If one of your nervous habits is to play with your hair, pull it back. You don't want to distract the interviewers.

Your interview day is not the day to try out a new barrette or headband.

Wear a hairstyle that makes you feel comfortable and confident.