February Mindset: Get Uncomfortable
The first step is a little uncomfortable. It might involve volunteering for something you have no idea how to do. Or it might involve reaching out to someone you've never met before. It might involve getting up in front of a group of people and teaching something. And also, it might be posting on social media.
In today episode, I'm going to share the five things that can help you plan your social media accounts.
Subscribe on your favorite platform below:
How to Create an Effective Social Media Plan
We run some fun challenges for our CLASS members that we think would be helpful for them in planning and launching their dream career or business. And then we do a training and Q&A session in the middle of the challenge because halfway through is when it feels tough. So in today's podcast, I'll share a sneak peek from that session and share the five things you can do to create a social media plan that works. I hope it will motivate you.
Question from our Member:
"Should I dive into the social media plan now or wait until I have progressed through a few of the class modules?"
Answer:
You don't have to wait. This plan comes in Phase 2 of the Corporate Rescue Plan so if you aren't feeling ready, no worries. Just watch and get inspired to create your plan when you get to phase 2. If you are feeling ready to tackle social media, by all means, learn by doing and create a draft plan and ask questions and get feedback this week. You can always update it and improve it when you get to phase 2 you'll be farther ahead. So short story is, I would recommend everyone try to create the plan because it will help them prepare. Progress over perfection!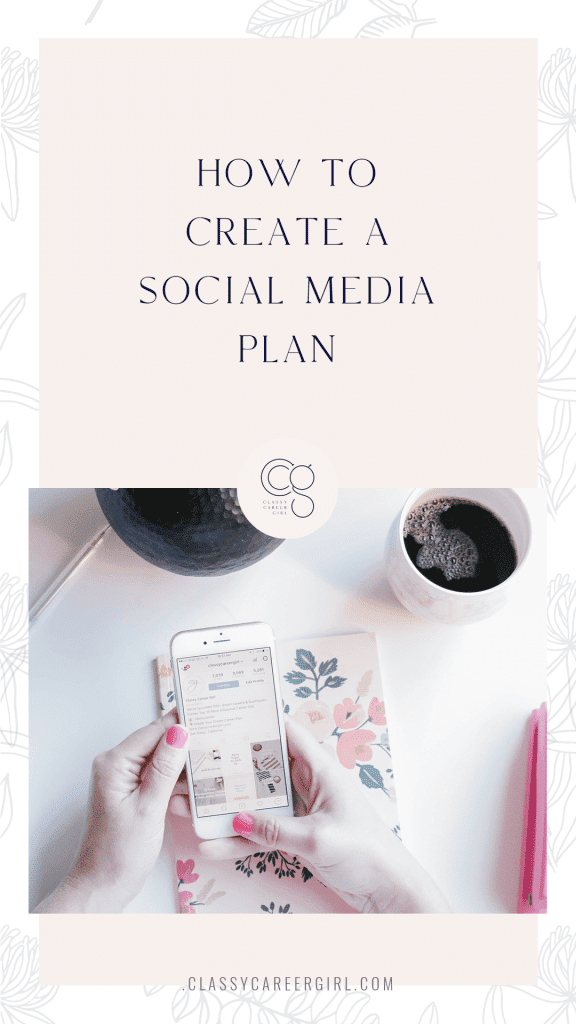 5 Steps to Create a Social Media Plan for your Dream Business
Here are the 5 steps to create your social media plan for your dream career or business:
1. PLAN YOUR TIME
We are kicking it off with the foundation of social media success, PLANNING YOUR TIME.
You don't want to waste time on social media. And you want a plan and schedule, so you get results with the limited amount of time you have. You want a business that makes a difference in the world and we are going to use Instagram to do that.
2. PLAN YOUR BRAND
We are moving on to an essential part of growing a business–a great BRAND.
If you are stuck figuring out how and when to post, here are five tips for when to post on Instagram:
1)  Think of words that you want to communicate in your stories and pictures.
2)  Identify the different categories and topics your posts will be about.
3)  What is your why?
4)  Think about what you would say to your followers if it was the last thing you could say on social media.
5)  Find an Instagram Role Model.
3. PLAN YOUR BIO
It's time to create an elevator pitch to attract your ideal clients and make them want to stalk you on your social media.
If you are stuck figuring out your bio, here are five tips to get you going:
1)  If you were riding an elevator with your ideal client, what would you want them to know about who you are and what you do? It can only be a sentence or two.
2)  How can you connect with  your  ideal  audience in your bio  and let them  know they are in the right place?
3)  How do you serve others and why is it important?
4)  What page on your website can you link to so you can continue to build trust and a relationship?
5) How can you use the NEW Instagram Stories Highlights feature to show the categories you talk about on your Instagram feed?
 4. PLAN YOUR CONTENT
It's time to figure out what to actually post on social media.
If you are stuck figuring out your content, here are some tips to help you figure out what to post on your social media accounts.
Learn from your own experience. Is there a time in your life where you experienced what your audience is going through right now? How did it feel and what did you do?
Do a survey. Figure out what questions does your ideal audience have and how can you answer those questions and show your expertise.
Figure out what you like to do. Do you like talking, writing, connecting or planning? Pick a social media feature that will work for you to create content!
Make a list of your favorite content. It can be quotes or anything that inspires you, then post them.
5. PLAN YOUR ENGAGEMENT STRATEGY
It's finally time to figure out how to find more customers on social media.
If you are stuck figuring out your strategy, here are two tips:
1) FIND: Are you spending as much time networking on your social media as you are creating content?
Go to other social media profile with a similar target audience to yours.

Check out their latest posts and start engaging.
2) ATTRACT: Are you using hashtags in all your posts?
Using relevant hashtags would definitely help. I usually mix it up and choose different hashtags on all my posts depending on the topics I am talking about.
Hope this helps you!
You can join us in our FREE private Facebook Group and share what you have learned from this podcast.
And if you want to be part of our CLASS  Membership community, make sure you join the waitlist!
Lastly, if you want help in planning and launching your dream career or business, I have a FREE MASTERCLASS. Register now and I will see you there!