I wanted to send a note today and let you know that our entire Classy Career Girl team is here for you. We know there's a lot of fear and uncertainty right now and that may involve your career and finances. 
As much as we love planning here at Classy Career Girl, we can't plan for things like this. 
But, there's one thing that we can plan for, change. 
Changes and pivots will always be part of our careers and lives. Unexpected events happen that make us realize that we need to change our path. That what we were working so hard on, isn't the right path for us. 
Closed doors. 
Long breaks and time to re-assess. Often other doors swing wide open but it sometimes takes a lot of patience. I want to say to you:
You don't need to worry… 
We are here for you… 
Your career is going to be ok… 
There might be some pivots that you'll need to make over the next few months but in the long run, it's going to be ok. If you follow the steps I've taught to thousands of women, your career can be even better than you could ever imagine.
In the last few days, I've heard from some of you worried about layoffs at your company. 
I've heard from people in my family who have lost their work for the next 2 months. 
And I've heard from small business owners who have lost customers.
I've also heard from people who are going to use this downtime to get started on writing a book…
to search for a new job…
to start a website…
to start a side hustle… 
My favorite comment was from my brother who said, "How hard can it be?!"
Many of us for the next few weeks are required to practice social distancing. Meaning being home a lot. Some of us with our kids out of school too.
I want to encourage you to use this time of uncertainty to think about whether or not you are happy on the path you are currently on. 
Maybe you were happy a few years ago, but are you now?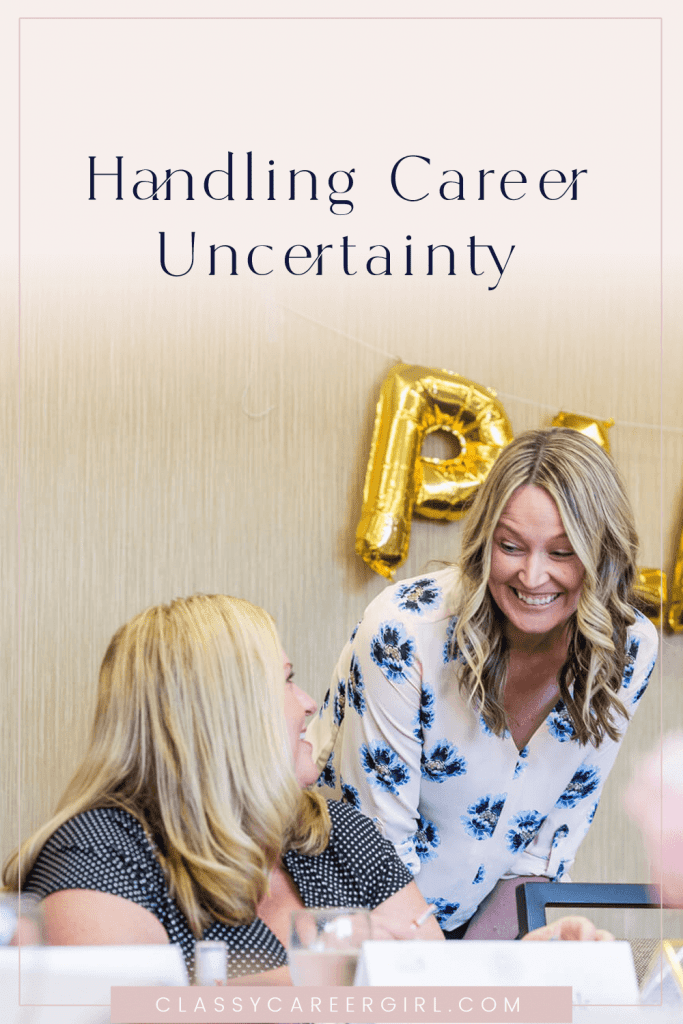 When we have these unexpected times, sometimes it gives us a chance to pause and reflect on the direction we are taking.
10 years ago this month (on spring break from my masters program), I had a few extra hours on hand. So I decided to write a blog post and publish it anonymously. It was a creative outlet that I thought would go nowhere but ended up changing my life and becoming my mission and legacy.
What's one idea you've thought about exploring in your career for a long time but never had the time? 
Maybe it's trying something new… 
Maybe it's taking a class or starting a blog or social media account… 
The world of work is about to change and there's so much opportunity available to create a career you love. 
I encourage you to use this time. 
As we've seen around the world and in our news headlines this year, life is short. There's no time for regret. There's no time to stop and think. You've got to take action on your dream today.
I've been thinking about how I can serve you during this time. Our team and I have decided to open up our brand new online course, Dream Career Launchpad, this week FOR FREE in our

Classy Career Girl Network Facebook group

. We will be uploading a new video Monday-Friday and it will be available to watch through the end of the month! You don't even need to register. Just join us in the Facebook group at 8 am PST each morning this week for the watch party.
This is a HUGE opportunity for all of us.
We have our 10-year anniversary celebration planned on March 24th (virtual of course!). We hope you can come. I can guarantee it's going to be a ton of fun and help you plan out your career direction during this uncertain time. 
I'm going to share how you can use this time in your life to plan for change, launch your dream career or business and get unstuck. What I can't guarantee is that my kids won't be around because the school's out! But we'll do the best we can.
On March 24th, we will be opening doors to the public for the first time to my brand new membership community, CLASS. This is the greatest achievement of my career and our vision for the next 10 years will be announced on March 24th. We can't wait to serve you, encourage you and support you during these uncertain times. We are here for you.
Sending you love and prayers. Stay healthy and may your coffee be strong and your kids be perfect angels while everyone is housebound! 🙂