In this episode, we're gonna talk about the false beliefs that might be holding you back from reaching your goals. We can't create a plan if we don't tackle those beliefs that are holding you back and might be like a roadblock for you. So we want nothing in your way in order for you to reach your goals. And this is something that has definitely held me back. All of the false beliefs that I'm gonna cover today I have thought of at some point too.
Subscribe on your favorite platform below: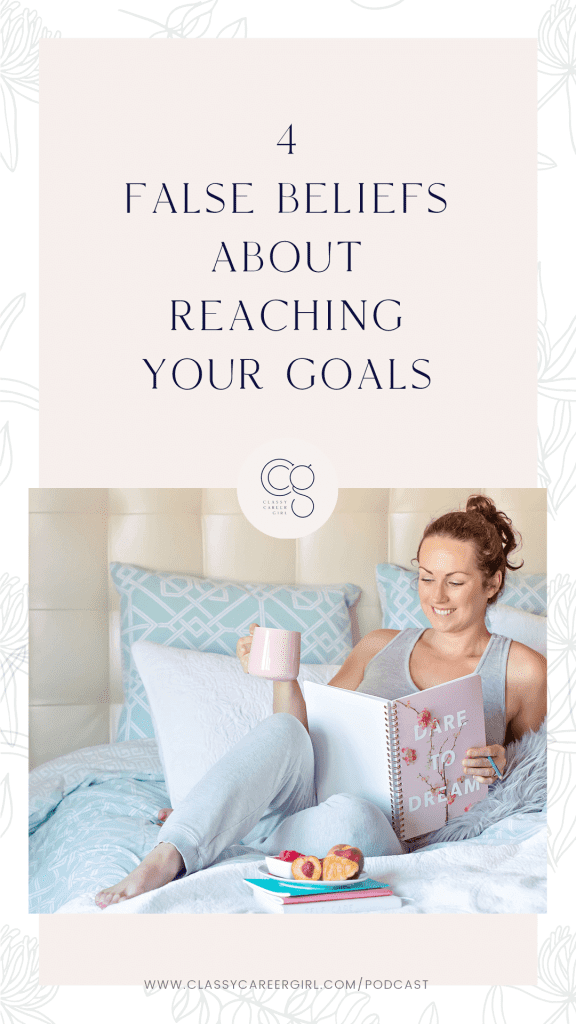 4 False Beliefs About Reaching Your Goals
One of the false beliefs that I have had since I've become a mom is that I can't build a huge business because I don't want to leave my kids. And if I grow my business, then it's gonna affect the time that I have with them. I'm not gonna be around. I'm gonna have to travel a lot. And so I can't go all-in on my business because it's gonna affect my relationship with my kids, and that is a complete false belief.
I was determined and I committed to myself that I wasn't gonna let this belief hold me back any longer because I want my girls to look at me as a role model. I want them to see me going after my goals and my dreams and growing my business. And impacting women around the world is a goal and is a dream and I know that I could do it. And I didn't want to let myself play small because I'm a mom. And I also want to be an example for other women who are moms to show them that they can grow a business as well.
Here Are The Common False Beliefs People Have About Reaching Their Goals:
1) I don't have enough time.
So one of the first common false beliefs that people have is they think I don't have enough time to reach my goals. And if you think this, I want to challenge you on this, because when it comes to creating your goals in the planning system that I'm gonna teach you, it's not about doing more. You don't need more time. You just need to be focused on doing the right things, your priorities.
2) Believing that you were not born productive.
The second false belief is believing that you were not born productive, and there's no way you can become more productive and become more disciplined because you just weren't born that way. And I want to challenge you on this, if you think this, because being productive is a skill that you can develop. No one is born this way. This is a skill that I have had to develop too. I wasn't born a great planner. This is something that I have worked on in order to make my goals happen. So think of being more productive as a skill that you can develop.
3) Thinking that you are not disciplined enough.
I've heard this over and over again. And here's what I want to tell you. It doesn't require much discipline when you are doing work you love. And when you are working on goals that you are excited and motivated for. So if you haven't had discipline in the past, most likely it's because you've had goals that aren't motivating you. They aren't pushing you. Because when you set the right goals, discipline isn't an issue. Spend your time focusing on what you love and discipline will be easy.
4) I tried before my goals and it didn't work. So I'm just gonna give up now.
You absolutely cannot give up no matter what. If something didn't work before, you just have to try something different. It's that easy cause we have all failed. Trust me, I have failed a lot. And the whole reason I am where I am right now is because of my past failures. I've had to learn from them so that I could grow personally and business could grow. So just think of some ways that you can change things up, do things a little different. You already are because you're in this course, and that's gonna teach you how to do things differently.
Other Podcast Episodes You Might Like: