First of all, you CAN do this. There is nothing stopping you from reaching thousands of clients just waiting for you to help them. Also, there is nothing keeping you from using Facebook Ads just like any other company out there. You have a large potential client population to start marketing to. Why not start today!?
A lot of people are scared of Facebook Ads, so today I wanted to walk you through it step by step so you can get over your fear.  The truth is you just have to start somewhere and you will learn so much about your potential clients and what works and doesn't work, you can't afford NOT to get started today.
Here are 6 easy Facebook Ads Strategies (Including Examples of Each):
Strategy #1: Retargeting
This is a three-step process.
Step 1: First, install a pixel on your site. Watch Facebook training here.
Copy the Pixel directly from Facebook.
Paste it into your website. This is different for every website. Please review Facebook's training for step-by-step process of where you should paste your pixel.

Step 2: Then, drive ads to a blog post. The key here is people are now pretty used to seeing ads to pages where they have to put their email address in or buy something. What you are doing here is just giving away free information and directing them to your blog. Of course on your blog you want to have an option for them to put in their email address as well too but the main focus of the article is just showing them you know your stuff and want to help! Oh and that you are a real person too!
Step 3: Then, take the people who came to your website and retarget them with an ad to a lead magnet. They already expressed interest in you and your website and they know you already so you are starting to establish a relationship with them. You will have a much higher conversion rate.
Strategy #2: Video Ads
What a great way for people to know you, like and trust you! Just give out great information and share your free lead magnet in the video link options.
Strategy #3: Carousel Ads
This grabs attention and is working great for me! You have multiple photos for people to click that all go to the same lead magnet page. More bang for your buck if you ask me!
Strategy #4: Don't Use a Call to Action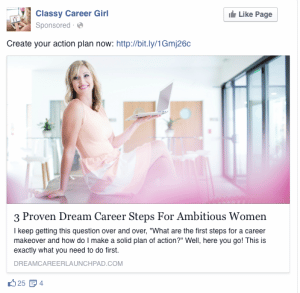 Take out the "learn more" or "sign-up" to have it look more organic. This way it won't stand out as an ad. People don't click ads if they think they are going to be sold to. Let them click the beautiful photo instead that is intriguing.
Strategy #5: Create an Ad to a Free Session With Retargeting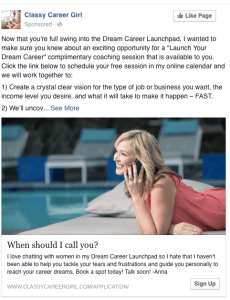 We create ads for people who have already purchased my introductory program to have a free session with me.
Strategy #6: Create a Lead Ad
Potentially a game changer, this is something you are going to be seeing a lot more of. Facebook rolled out Lead Ads (only for mobile) in October 2015 and we are just dipping our toes in. The whole idea behind a Lead Ad is to make signing up for something (ebook, quote, free PDF) as simple as possible without ever leaving Facebook.
Instead of tapping an ad and being directed to another site where they can fill in their name and email, the user would tap the call to action button on the ad (in our case "subscribe") then they would see a form with their name and email already populated and click submit, that's it! Two taps to sign up!
A couple of notes worth considering:
Lead Ads is only available on mobile and must be created using Power Editor.

You must download your leads, enter them into your CRM manually and make sure they get whatever they opted in for. This is a fairly clunky process if you are used to automation, but hopefully FB is working on a solution.
If you want to learn more about creating Facebook Ads and creating an automatic sales funnel for your business, join us in the Corporate Rescue Plan so I can guide you through it step-by-step!