I am so scared to lose all my money with Facebook ads! This is something I hear a lot. If you've ever wanted to know how to grow a popular Facebook page and not lose money with advertising, you are definitely going to want to listen to this episode.
Rachel has a TON of energy and this was a TON of fun! Rachel is the creator of multiple Facebook fan pages that have over 1 million fans and are profitable. You are going to love her!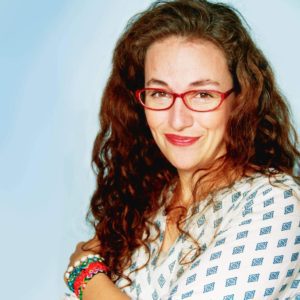 Subscribe on your favorite platform below:
Rachel Miller is the creator of multiple Facebook fan pages like Quirky Momma and Crazy Cat lady as well as dozens of other audiences.  These pages are profitable, over 1 million fans and a real source of income. She teaches Moolah: From Page views to Paycheck: How to Grow an Engaged Audience.
I got to meet Rachel in July at an event and you know Rachel is amazing when everyone else was watching a baseball game and Rachel looks at you and says do you want to just go mastermind in the stairway instead of watching the baseball game? She had even brought her sticky notes and all her notes and was ready to dive in. I was like YES let's do it and to this day I don't even know who won that game but don't tell anyone that. 🙂
Rachel shows us how to reach people without wasting money and tips for beginner FB ads.
Some questions I ask:
How targeted do you have to get in order to reach the right people? And is there any way to track Amazon sales from FB ads?

I have been frustrated with the demographics. This past time, I was very specific in my demographics. I have a head lice removal business and it is very local and I tried to cater to just families, moms, teachers, etc. Most of the people interacting with the post were still not those likely to be my clientele. Some were from out of the country and many were bald men. I feel like it is not getting to the right people no matter how I try and direct it.

The timing for new businesses — ads before you launch products to drive traffic/interest and create brand awareness? Or wait until after you have physical products available?

How to target certain audiences/your ideal client.

Should the ads be short and to the point? Longer? Serious or incorporate some humor. How frequently should one advertise?
In This Episode, You Will Learn:
How to use Facebook ads

How to not waste money

How to use Facebook ads at the beginning just starting your own page.
You may also like these episodes:
Thank you so much for listening to this episode!!! I am thrilled you are here and I would love to know what you thought of this episode. Please leave me a comment below. And if you enjoyed this episode, please share it on social media. You can also leave a 5-star review on iTunes so we can help more women find career fulfillment TOGETHER!