Digital marketing is one of the most exciting, challenging and fast-paced industries you can work in and I can promise you'll never be bored.
The digital economy is growing fast and there's no better time to get into digital marketing. Be prepared for a career that will keep you on your toes with no two days the same! It's a competitive industry, but there's some simple steps you can take to get ahead.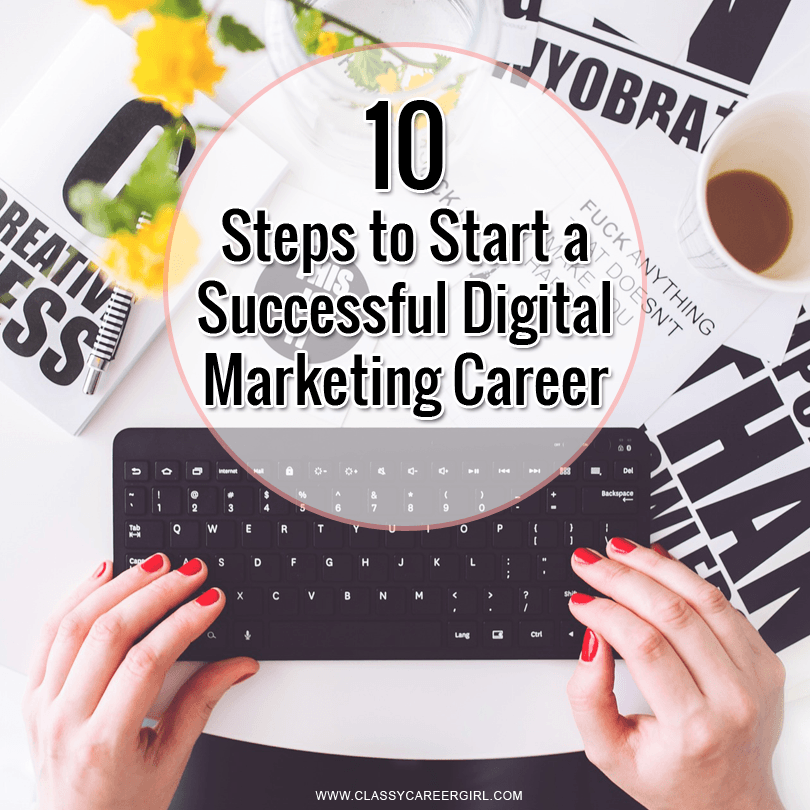 10 Steps to Start a Successful Digital Marketing Career
1. Get to grips with social media
Digital marketing is more than just finding the perfect filter for your selfies. You need to understand how brands interact with people on social media and use these channels to build relationships and make sales. Get up to speed with the science of it and you'll be on your way to success!
2. Build your LinkedIn profile
They say it's not what you know but who you know. LinkedIn is a professional community where you can connect with and learn from experts, as well as stay up to date with the latest news. Having an up to date profile will also show employers you really know your stuff.
3. Join a networking group
There are numerous groups on LinkedIn but look first locally for in-person networking events you can attend. Usually they have guest speakers which is a great opportunity to learn from experts and you might even meet a future employer there too.
4. Find a mentor
Nothing is more valuable than a mentor who has been there before and can help you learn from their mistakes. Having someone close to reach out for some advice can really help you get ahead. You'll find out quickly that most people are willing to give some time to others looking to get into the industry, so don't be afraid to ask.
5. Stay up to date with the latest trends
Things move fast in the digital world and you need to be up to speed with the changes. Twitter is one of the best real-time sources of news and LinkedIn Pulse is a great way to stay on top of industry trends. You'll probably be asked about recent updates in an interview, so make sure you brush up on what the changes mean and how you can use them to your advantage if you're job hunting.
6. Start a blog
Blogging is a great way to show your expertise and help you learn by doing. Blogging shows your commitment and skills to potential employers too. Be warned, I've often been asked how many followers or website visitors I have in job interviews and that means a blog is a great way to build an audience and attract the right kind of attention.
7. Understand how analytics work
Make sure you understand the basics of social media metrics and Google Analytics. You're going to need to evaluate performance and report on key facts and figures so make sure you know what this means and where to go to get the information. Google's Partner program is free which will teach you the basics and it'll be useful for helping you build your blog too.
8. Take some online courses
There are countless free or low cost learning platforms bursting with social media courses and digital marketing basics. If you're trying to break into the industry, free courses are a great way of learning the basics of the main platforms, boosting your resume and showing your commitment to potential employers when you're just starting out.
9. Learn to code
Learning the basics when it comes to HTML and WordPress will really help you stand out from the crowd. You don't need to become a web development expert but if you know your way around the admin panel of a blog or website and can make minor updates, you'll save yourself a lot of time and impress employers too.
10. Decide on agency vs industry
There's two main career paths when it comes to digital marketing. You can be an in-house marketer for one company (working in a specific industry) or you can work for an agency and handle lots of different clients. That's not to say you can't switch later on but deciding where you'd like to focus can give you a good head start.
Digital marketing is one of the most exciting, challenging and fast-paced industries you can work in and I can promise you'll never be bored! I regularly blog about hints, tips and industry news over on my website: www.rootsconsultancy.co.uk and I'd love to hear if you've got any advice for new digital marketers too.