Today's Live took me two months to figure out. A little break because last year is such a huge year for our business. It's our 10 year anniversary in March. So we are doing a ton of reflecting and thinking about the next ten years internally.
Personally here's what I've been up to: I started just being a mom again. I started reading again. One day a week at my parents. One day a week volunteering in my daughter's school. I started doing all the things I "said" I was going to do when I was so busy last year. 
A lot of what got us here won't get us there.
Subscribe on your favorite platform below: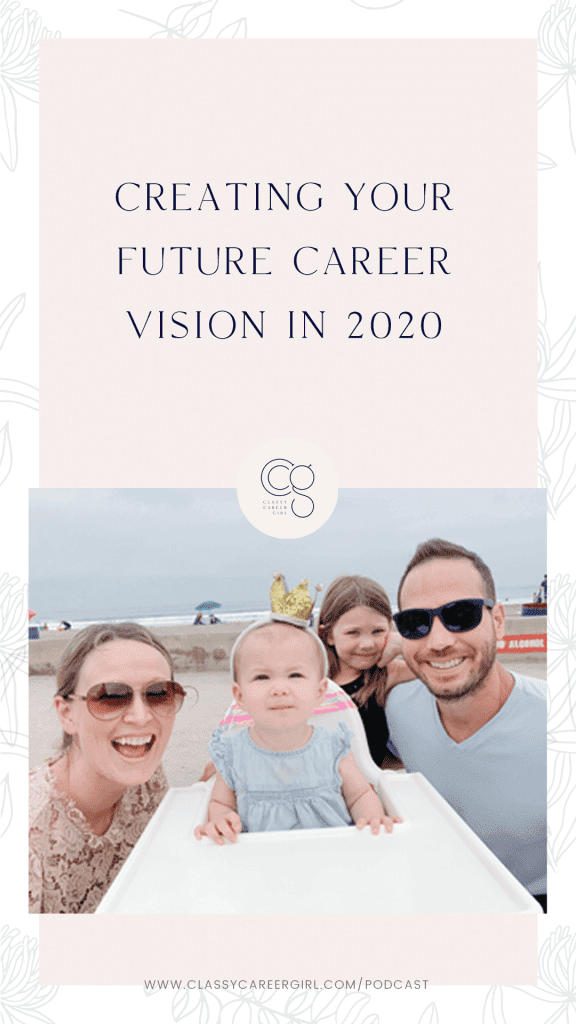 Creating Your Future Career Vision
Where were you 10 years ago?
It's a new decade and I've been doing a lot of thinking about where I was 10 years ago and how much life has changed. Sometimes it feels like we aren't making progress on a weekly, monthly or even annual basis. But looking back ten years, we've come so far, right? All those baby steps add up.
In 2010, I was…
Working as a consultant for the government. I was stressed, unhappy and hated my job. I had no business. I started this Classy Career Girl blog in March 2010 but it was just a hobby. We were in a lot of debt. We were married for 4 years and hardly saw each other between work and school. I dreaded Mondays. We started selling our clothes and clutter (and unused wedding gifts to get out of debt). 
We started to try to get pregnant and began to realize it was going to be a lot harder and take a lot longer than we thought. I had terrible clients at my job who would call me on the weekends. I dreaded Mondays. I was getting my MBA in the evenings to help me figure out what I should do for the rest of my life. I was soooo STUCK!
Most importantly, I was searching for something else. Searching for my purpose and my calling. Trying to figure out my future path because I knew what I was doing was NOT my dream career. 
Now in 2020, I have a fulfilling business that supports my family. I have two miracle daughters. I am in my dream career. I get to wake up and do what I love – impact and help other women around the world. 
I walk my daughter to school every day and volunteer in her class. I am living in a house that was a dream 10 years ago in our dream location in San Diego. I work from home and I get to work with John and we see a lot of each other these days. 🙂
All those baby steps that you are taking right now really do add up! How far have you come over the last 10 years?
I'm going to be doing some free training coming up on creating your career vision for the next 10 years. I can't wait to share with you what I've been thinking about over the last couple of months. 
#annamission
Where are we going now?
Our 2020 Vision For Creating Your Future Career Together – Thinking 10 years out.
What I don't want it to be:
Unhealthy

Missing out on kids growing up too fast

Not able to pay the bills

Unsuccessfully reaching goals

Losing a job because work is changing and your work is no  longer "safe"

Regretting bad decisions

Feeling like a failure
What it looks like for me:
Reduced anxiety, stress, and burnout

Showing my daughters what a strong mom is 

Completing my family vacation bucket list and making memories with my family

Helping women change the future of their families and future generations 

Healthy

Increased savings, raises, and promotions (or sales and revenues) – not worrying or being scared about money or debt

More energy

Spending more time with family

Stepping out of line and doing what's best for your family
2020 vision:
Help you take the first step that changes your life. Like I did 10 years ago. So you can say wow 2020 was the year that changed my life. If I hadn't started blank, my life would never be the same. It changed everything. 
I didn't put a ton of thought into that first step. I just went with my gut. I didn't overthink. It wasn't perfect but I did it anyway. 
What's the same today vs 2010. My mission and purpose. Helping women find career fulfillment. I've done a ton of things.
Mindset: you have to stop telling yourself the negative thoughts. It worked for me but it could never work for you.
CCG Vision for the next decade – CLASS membership
It is a dream of a place where the stuck and confused can find support, health and love, hope and encouragement and guidance. It is the dream of serving hundreds of thousands of women around the world. It is the dream of equipping every member for serving by helping them discover the gifts and talents that God gave them. It is the dream of empowering every member for their personal life mission in the world. It is the dream of donating thousands by helping charities It is the dream of helping 10 girls with a scholarship each year. It is the dream of welcoming 10,000 new members into our family and loving each other and learning together.
The purpose of our life serving others.
Resources:
CLASS dream career webinar. 90-minute training. www.classycareergirl.com/masterclass
How To Plan, Design and Launch Your Dream Career or Business (in 90 Days or Less) WITHOUT Wasting Time or Money
This works even if you have NO IDEA what you want to be when you grow up and don't know where to start!
Discover 3 proven and free strategies to speed up your job search or new business start-up.

Learn the top 5 career transition roadblocks for women who are job searching or starting a new business and how to get past them seamlessly.

See how to easily create an "Easy To Implement" Plan to make your dream career or business a reality.

Discover the first 3 steps to start making a living doing something you love in less than 1 week (even if you are just starting out!)
Other Podcast Episodes You Might Like:
How to Put Yourself First and Battle Burnout
The One Thing That Will Keep You Going