I love dressing up for work! When I worked in my corporate consulting job, I loved dressing suits up with jewelry, heels, and a cute top.  I was usually the only woman in most of my business meetings so suits help make me feel a little more comfortable in a room full of men. There are some really fun and classy suits out there that are professional and feminine so I am excited to share with you how I dress for business success.
When I used to work with a ton of men, I really didn't like attracting attention by my outfit so I did my best to blend in with the men around me.  I wanted to be known for my accomplishments at work and my brains…not for what I was wearing.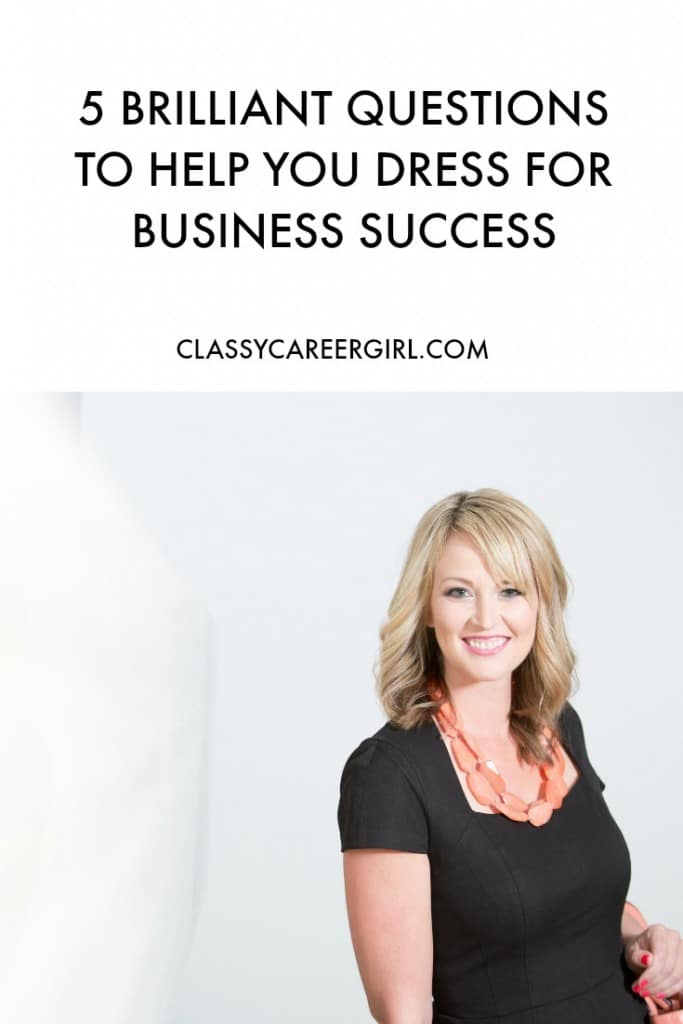 Here are 5 Brilliant Questions To Help You Dress For Business Success:
1. What does your boss wear?
Whether it's a man or a woman, you have a model of what you should be wearing. Is it jeans? A suit? Conservative or professional? Even if it's pretty laid back in your office and the rest of your co-workers are staying casual but your boss dresses up, err on the dress up side too. Always model your boss, not your co-workers.
2. What does the highest level woman in your organization wear?
The best advice I received as a young woman in the professional world was to look at the person who does the job I want someday and dress like that person. This is key for figuring out how to dress for business success.
3. What are you the most comfortable wearing?
 When I don't feel comfortable in what I am wearing, my focus comes off my work and I become less confident in myself.  That's why it's important to dress for your comfort most importantly so you can focus on doing a great job, instead of hating how tight your suit jacket is. Try wearing your outfits at home for awhile before you take the tag off.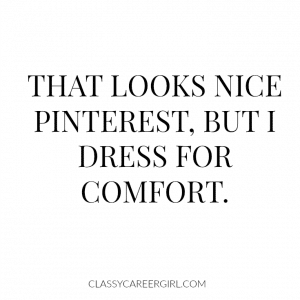 4. How can you plan ahead for the workweek?
Plan your week of outfits and have them ready so you can throw them on quickly in the morning when you are in a rush to get out the door.  Have your comfortable outfit ready to go before you go to bed. Figure out how your outfits fit together on a daily basis. For instance, maybe on Monday, you can wear a shirt that also goes with an outfit on Friday so you can save on dry cleaning.
5. Can you wear the outfit outside of the office too?
Since I used to dress up for work 5 days a week, I tried to find business clothes that worked great on the weekends, too.  I found that my favorite work outfit finds also were my favorite outside of work finds, too. There are ways to dress down work blazers and mix them with jeans, etc.