Check out the latest version of this post – 10 Best Inspirational Gift Ideas.
Office gifts can be one of the hardest purchases on your shopping list.  You don't want to get the wrong thing and make someone feel bad and you definitely don't want to be too cheap.  Even worse, you never want to hurt someone's feelings because it could mean a harder working relationship in the new year. The usual office gift ideas range from a bottle of wine to a nice, office plant.  These are a little boring so I have some other ideas for you today.
What if you could give a gift that actually makes the recipient think about you positively for the entire next year? What if you give a gift that allows you to have an easier conversation and get to know each other even better.
Your gift can have a direct impact on your career success so it really is important to buy the right thing.
Here's a roundup of the 5 best office gift ideas:
1. Magazine subscription.
You really can't go wrong. A few of my favorites for bosses and co-workers are Forbes, Working Mother, Money, Inc, Real Simple, People Stylewatch or Success. This is a great way for them to remember how thoughtful you are every month for the rest of the year.
2. Starbucks Gift Card. 
Who doesn't want a peppermint mocha or gingerbread latte this time of year?  

3. Chocolate.
You usually can't go wrong with chocolate (unless they are allergic).  The best part is that it's a gift that you will probably get a taste of when your co-workers open up the chocolates in the office!
4. Books.
How many books are on your book shelf?  Why not give your favorites to your co-workers?  If you thought they were great, there is a good chance that those working with you will also. The best part of this gift is that it gives you something to talk about during the year when they read it. If they learn anything from the book it will all be because of you.
[Related: My favorite career and entrepreneurship books]
5. New  Year Planners
I am obsessed with sugar paper planners at Target.  Get all your co-workers these with a little bow on top and they will love you. This is another great way for them to remember how thoughtful you are everyday for the entire next year.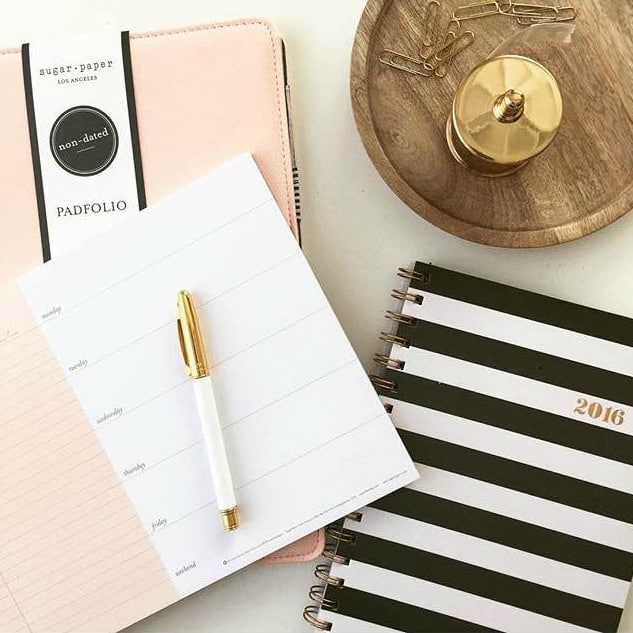 Photo by @sugarpaperla
**This is an update of a previous office gift ideas article I wrote all the way back in 2010. Back then I thought you should make cookies and bring home-made granola for your office presents.  Who am I, Martha Stewart?! I officially would like to say that I no longer recommend baking presents for your office. 🙂
What are your favorite office gift ideas? Any to add to the list above?