We are over halfway through! Can you believe it! This challenge week is flying by! Day 3 of The 2015 Fall in Love With Your Work and Life Challenge has officially arrived. 
Challenge #3: Become Aware of Your Roadblocks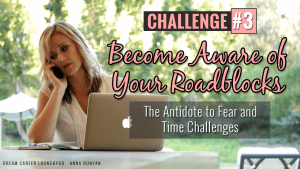 Today I am sharing my "lessons learned" on how to find the time to launch your dream career or dream business and how to get over all of the fears standing in your way.
Your Action: Share in the Love Your Work and Life Ladies community what your roadblocks are and what your plan to conquer them is. For example, I currently feel like I do not have enough time to work on my job search. I will conquer my roadblock by waking up 1 hour earlier every morning to work on my career goals.
In case you missed our previous challenge videos:
Day 1: Challenge #1: Stop Searching – The Surprising Truth About Passion and Purpose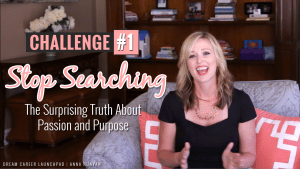 Day 2: Challenge #2: Make a Non-negotiable Commitment – From Stuck and Stressed to Jumping Out of Bed
UPDATE (Time Sensitive): After reading all of your introductions and career frustrations, I decided to open up complimentary sessions next week to be able to give each of you my personal career recommendations. I have been hearing from some of you that you aren't sure what course option might be the best fit for you and it's hard to answer all 1,000 of you in this group!
So I have opened up my schedule next Tuesday and Wednesday exclusively for members in this private group. Here's the link to complete the application and reserve your free spot. Can't wait to chat!! 

Love,
Ann
P.S. I recommend reserving your spot soon because these sessions are limited and not always available.