Good morning ladies! It's another great day! Day 2 of The Fall in Love With Your Work and Life Challenge has officially arrived. 
Challenge Video #2: Make a Non-negotiable Commitment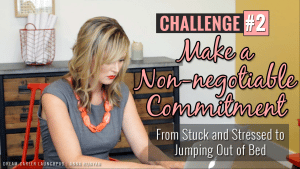 We are continuing on to learn how I went from stuck and stressed to jumping out of bed and exactly how you can too! 
No matter how old you are or what job you have had up until right now, it's time to face the facts that you are here on this earth not to work at a draining, stressful and boring job just for a paycheck, but instead to live and work operating on "full throttle" where you are empowered, confident, passionate, energized, content, healthy and balanced.
If you dread your current job that does not fit who you uniquely are, you are not alone. I used to be in the same exact dead end job counting down the hours and minutes until the end of the workday. But today, you get to design your dream career and life and I want to help.
I can tell you personally that right now is the best time to attract the career of your dreams. No matter what your profession you want, the internet has made so much more possible to find your dream job at an exciting company or to create your dream business so you can make an impact around the globe.
The truth is that when you have the courage to confront your fears, make your own path and create your life and career on your terms, opportunities open up for you automatically. There are truly no limits to what is possible for you. 
If this sounds like what you have been waiting for, then it's meant for you. And you can start today.
You can have a life and career that is bigger and better. You can make a difference and have meaning in your career. You can work somewhere that you are actually EXCITED to wake up every single day and go to work.
Stay tuned because I'm going to show you exactly how to launch your dream career and life no matter where you are at right now in my recently revamped program, Love Your Career Formula 2.0. 

Thank you for being here in our community and letting me share my story with you of how I launched my dream career. I hope it inspires you to launch yours as well!
Love,
Anna
P.S. See you inside the Facebook group. Have you posted yet?