Today I'm going to teach you how to break down your dreams and goals and turn them into an organized monthly plan. You'll be able to use our monthly planner template to get organized and decrease your overwhelm.
You can download my FREE monthly template here and get started feeling less stressed and overwhelmed about your month ahead!
The Best Monthly Planner Template
Every 4 weeks in your planner, you'll hit the monthly plan. You'll want to go back to your 90 day plan first and see if you are on track to reach those goals. Has anything changed?
Do you need to make a pivot? What is working? What is not working? Are you on track?
Every month I usually change a few things. I see what worked and what didn't and make a monthly plan to do more of what IS working. This is why it's important to stay flexible when creating your plan each month.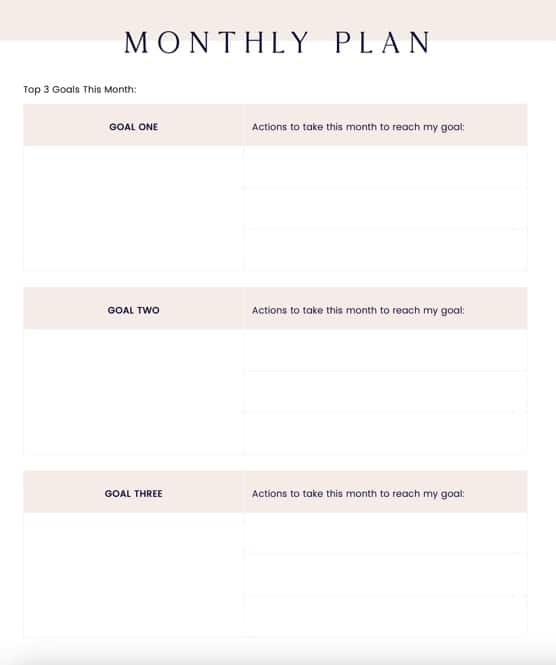 Here are the steps to create your monthly plan.
Step 1: Identify Your Top 3 Goals For The Month
The first thing you want to do is identify 3 main priorities for the month. You'll use your best time each week to focus on these 3 big goals.
What are the top three goals that you want to accomplish this month? Remember to look at your 5 year vision and your annual goals in order to figure out where you want to go long term. Every action you take this month should help you reach your annual goals and vision.
Step 2: Outline the Actions and Tasks You Need To Complete
Now that you know what your top 3 goals are, it will be easier to identify what actions you need to take this month. I always make a brainstorm list of all of the tasks that I need to do or delegate that will help me reach my goals.
For example, when I was creating my physical planner, I wrote down that I needed to email a printer, make the planner design and send an email to everyone I knew who was interested. Those were actions that I then scheduled into my calendar.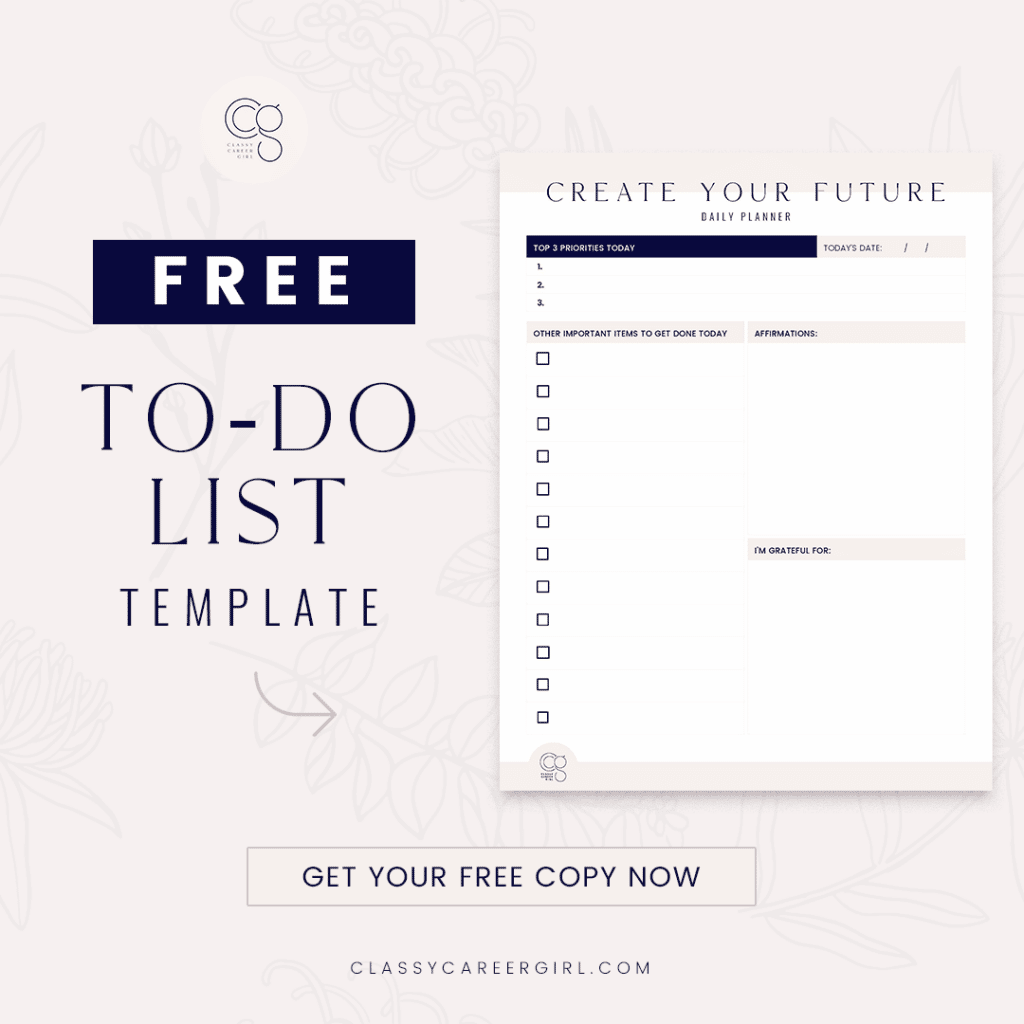 Click here to download my daily to-do list template too!
Step 3: Block Out Time In Your Calendar
Now that you have a list of actions you need to complete to reach your goals, pull out your calendar and plug in when you are going to take those actions. I use a google calendar for all of my personal and professional appointments. When I am ready to make my monthly plan, I go into my calendar and block out focus time for 1-2 hours for when I am going to complete my priorities.
You have to plan ahead and MAKE THE TIME to complete the tasks that are going to help you reach your goals!
Remember that learning and networking is something you want to make time for too. Most likely you don't know HOW you are going to reach your goals so make sure you add some extra time into your calendar for learning and networking to expand your ideas and get accountability!
To summarize, at the beginning of every month, you should block out some time to identify your top 3 goals for the month, outline the actions and tasks you need to complete to reach your monthly goals and then block out time in your calendar to take those actions.
If you do these three things, you will be taking baby steps towards your dreams and goals!! You got this!
Want more help? You'll love our Planning Workshop where I'll guide you through the process of creating your annual plan. Click here to sign up for the Planning Workshop.