Finding hip and fun, yet affordable (and quality!) office style pieces can be tough, but only if you don't know where to look. With some time, and a little imagination, having both a reliable and interesting work wardrobe can be done.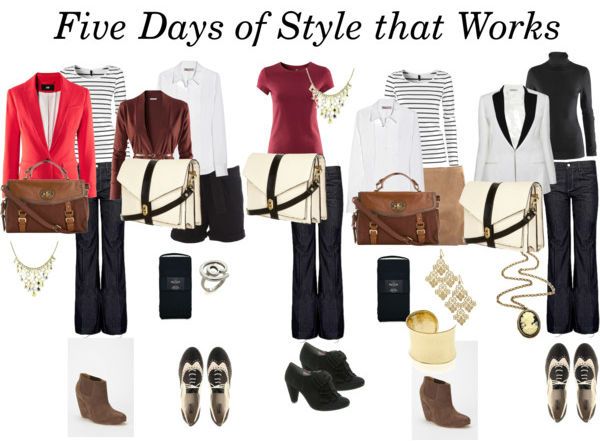 Here are my favorite places to find pieces for my wardrobe.
Five Days of Office Style On a Budget
1. 

H&M 
H&M is always the first stop on my list for basics. It is here that I buy most of my tanks and camis, and all of my tees. I've recently found that the store sells these super amazing, super soft turtlenecks for under $15 in black and pale pink (conveniently two of my favorite colors). H&M is also a great place to go for basic dresses. Both of my black dresses are from here, a black sheath (perfect for the office) and a black satin dress (perfect for dressy nights out), and collectively, I didn't spend more than $100 on the dresses.
To be honest, I have found good luck with the brand's quality aside from many of the sweaters (tip, if it feels rough, it's probably "cheap", so just walk away). Off and on I've found some pretty great blazers at H&M too, though I have to be careful with the sleeve length (I am tall!). So if you're shopping H&M, make sure you have time to comb through the racks, especially in the business section. I guarantee you'll not walk away empty handed.
2. 

Express
When I was in high school Express was the hippest clothing store in my small town. Years later I've found that I like revisiting it. Checking back here and there in recent months I've found an adorable pair of gray wedge ankle boots (hello, under $100), a great Ralph Lauren style belt (perfect for jazzing up the black sheath dress mentioned above), and an amazing sequin tank that I use as "daytime sequins" at work under a neutral blazer or sweater.
3. 

Kohl's
I've never been a Kohl's fan until I discovered Lauren Conrad's collection there. Everything I've seen of hers (except the faux leather) is well made, fits me, and some office style pieces are appropriate for the office- sweaters with cute camis under and (surprisingly) well-tailored shorts. So I will say this, when a more affordable store has a designer with a budget line coming in, walk, don't run to the nearest location. Odds are you will find something to add into your office wardrobe mix.
4.Victoria's Secret 
Ah, Victoria's Secret. Yes sometimes scandalous, this brand has a great office style clothing selection on the website! I very highly recommend buying outerwear at Vicki's. My last two winter coats came from here, as well as an amazing tweed jacket that will never go out of style. I've also done well here with blouses appropriate for work.
Though the prices aren't the absolute cheapest, I find that the quality, fit, and styles are what I'm looking for. Signing up for an Angels Card and/or waiting until sale time is your best bet because the brand often has decent deals on clothing.
5. Clothing Swaps
The secret to wardrobe success on a budget and limited time frame? Clothing swaps! Done with your friends, or perhaps a bunch of your local fashion bloggers, this is the place to snatch up finds, basically for free! In the past year, I have gotten three perfect jackets alone, without paying anything beyond bus fare for transportation to and from the swap locations – a gray wool Banana Republic jacket, a rich brocade swing jacket, a black tailored cotton jacket.
Sure these jackets aren't "this season", but two of the three are classics, and the third fits my personal style 100%. Check out swap.com for information about clothing swaps in your area.
6. Handmade
Nothing beats having a mom that can sew, and a sister that can sew, and my own sewing machine! One of my goals moving into 2012 is making more time for creative projects and let me tell you, even though I've made a few great pieces over the years, one thing that I encourage you to try (and hope that I find time to get back into) is making clothes. Even starting with something simple like a skirt will help both your budget, and originality!
I'd love to learn about where you shop for your office finds, and hear your thoughts on sequins at the office? Comment below.
Today's career fashion post comes from Ashley Laurel. Ashley is co-founder of Digitally Chic, a San Francisco-based fashion and technology networking group. Her office style inspiration generally comes from menswear with a touch of Victorian Gothic. She also spends way too much time reading fashion blogs, trolling new fashion apps, and being creative.
Where do you shop for office style?