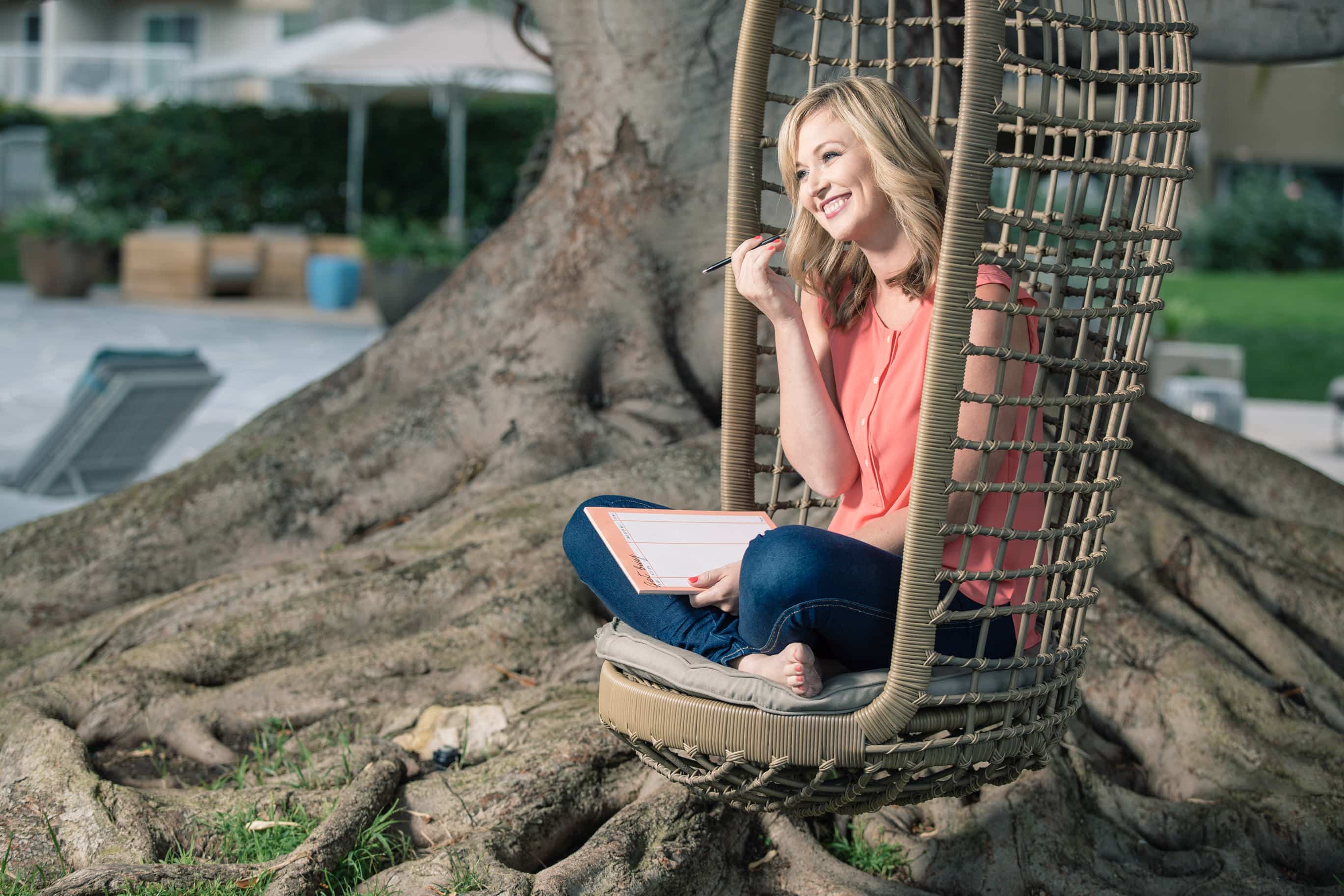 10
Jun
One of the most-asked questions I hear is about how Classy Career Girl started, so that is what we are going to talk about today.
This is episode 2 in our new Classy Career Girl Foundations course, so if you haven't, please take a moment to listen to our first episode, where we covered what, exactly, a Classy Career girl is! Listen to the first podcast in our new series here. 
Subscribe on your favorite platform below: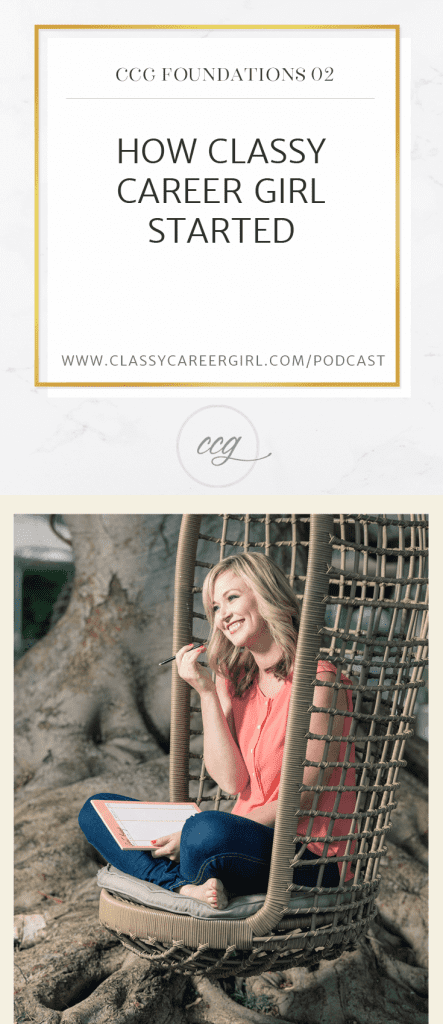 How Did Classy Career Girl Start?
When I first started my blog, ClassyCareerGirl.com, in 2010, I wanted to create a place to share what I wish I would have known when I graduated from college. I was a few years out of college and feeling stuck at work and stressed out. It didn't help that I was also in debt, overweight, and I was kind of miserable.  I needed a change badly.
I remember what it was like when I was stuck in a job I hated. I wasn't happy and fulfilled in my career and it was really keeping me up at night.  I was so stuck and I would apply to jobs over and over again online with no luck. Monster.com and it was my best friend at that time even though I hated online job searching. I just didn't fit my job.  
I would come home crying to my husband, and some weekends I just couldn't relax because all I could think of was work and how I needed to get out of there and how much I dreaded Monday and didn't want to face what was on my plate on Monday morning. I knew I had more potential than my day job.
The problem was I didn't really know what I wanted to do. For years, I was stuck in a job I hated.  
After a marketing project researching blogs in business school and a week-long break from school, I decided to write my first blog post and do my best to learn how I could become happier.
I Started Writing
I started sharing what I was inspired by and created a blog series called "Ask Classy Career Girl" that spoke to professionalism and having class in the workplace. My goal was to create content that motivated and inspired women to find happiness, balance, and success at work.
I was searching for something better. One of the things I tried was teaching a class called "How To Navigate Your Career" as an Adjunct Instructor at my company. And all of a sudden, I found my passion.
It was in my own time, and I didn't get paid for it. I had to put a lot of extra hours in, but it didn't matter. It was work that fit me. And then I realized, I wasn't in a full-time role that fit my interests, strengths, personality, and motivations.  
It was such a lightbulb because I finally was learning more about myself. I realized then that I wanted to be in charge of my own destiny and have my dream business. But I had no idea how to make that happen.
When people want to figure out what they should do with their careers, and they want their lightbulb to happen immediately, I love sharing how long it took me. Nothing happens overnight, and the only way I could have made that first step into a career and business I love is by taking action and trying new things. By learning, and taking chances, and being very, very uncomfortable.
It Was Time to Take a Major Leap Forward
There was this whole other side door opening that I wasn't aware of.  There was this door of happiness by working on my blog. The door to work I loved and complete personal fulfillment.  But, I didn't know that then, just like you don't know what is through that door for you right now. There was a step or a major leap that I needed to take. But, I almost didn't take that step until my life took a turn, and I learned what was truly important in my life.
Through 2011 and 2012, when I was working and struggling to turn my blog into a business, I suffered the loss of two babies in early miscarriages. Our precious little ones devastatingly forced us each time to hope more, grow more, trust more, and love more; I remember each of them by the impact they had on my life. Each of them causing a drastic change. Sparks to awaken us. They each were activators that reversed the direction we were headed. They live on now in everything John and I do, how we live our lives and in every decision we make.
My rock bottom was sitting in an emergency room after a wedding in Seattle at midnight hearing the doctor telling me that I had miscarried. What did this have to do with my career? Nothing. Except for the first words out of my mouth were, "I hate my job. I need to quit."
I realized my life was headed in the wrong direction and it was a huge wake-up call. I needed to turn my life around.
There was my life before this moment and after this moment.
Before this moment, I worked for a paycheck and was just going to stay miserable in my work for the rest of my life always stressed and who knows where I would have ended up.
I Knew I Needed a Change
After this moment, everything changed. I vowed not to be the same again. How could I with this personal tragedy and struggle? It hit me hard. My blog saved me. I threw everything into my blog. I dove in head first. It was the only thing that saved me from the tears. Supporting other women who thought I was helping them. They were actually helping me. With every "thank you" I realized that my life had a purpose even though my personal life was falling apart.
My personal life felt like a bad TV movie. I said that night in the hospital that I felt like I was on a TV show and this wasn't my real life. This couldn't happen to me. Truly I grew up that night. I felt loss. I've had uncles and grandmas that I've lost and I knew loss, but this was a loss that shouldn't happen. I had dreams for my baby and my family, plus I'd been trying to get pregnant for a year!
This is a big reason that I believe personal life and work life are so intertwined. I would not be here today doing what I do if I hadn't had my personal life pregnancy and infertility struggles. We had two miscarriages and even did IVF. No babies survived. I was literally at a loss. Like, I am not meant to be a mom. Why was God shutting this door for me over and over? It was hard to see at that time, but I can look back now, 8 years later and see this whole journey. Oh, it's so much bigger than I ever could have known then.
I was Determined to Build Something
I learned finally in my journey to my dream career not to care what people thought, and I suddenly had this mad determination and fierceness to change my life and the world, so there were some reason and purpose for my pregnancy losses. Trust me, everyone thought we were crazy when we both quit our jobs to work on our business full-time, but we didn't care!
The only reason I can talk about this dark time in my life now is I have a beautiful, miracle daughter, Mila. My miracle happened when I wasn't expecting it, and all happened as I was pursuing my purpose and path and let go of what was holding back in my life. Let me tell you; she was worth the wait.
But my devastating moments didn't stop. On my journey to continue growing my business, I was not balanced or happy. And it was in that time that even though my husband and I were working our butts off and trying to grow our business and live out our dream, we suffered a third miscarriage trying for a sibling for Mila in 2016.
Another devastating loss threw me back into a very depressed state suddenly grieving all three losses again and feeling alone. I was suddenly in this 1% club, only 1% of women suffer three miscarriages. This made me wake up and realize that I was once again not living the life that I wanted to live. Even though from the outside it looked like I was successful, I wasn't happy or balanced. I was burnt out, miserable, and barely scraping by financially supporting my family with my business. So I went on another journey to decrease my stress, improve my health, change my business model, and improve my life.
And Then, Our Second Miracle
Long story short, a year after working through my grief journey and working hard on myself to become more fulfilled and happy with my life no matter what the future held, we were shocked to find out we were pregnant while working abroad in New Zealand! Sienna Grace Runyan arrived nine months later, and I now feel like I can share and write to you about what being a Classy Career Girl really means to me.
Writing my blog and helping women around the world helped me through my grief. If you have ever read a blog post or supported Classy Career Girl in any way, know that you helped me through those tough times. And I want to help you through your tough times too.
Ever since that first moment in the hospital, I have had this fire in me. I have had a purpose. And I beg you not to let as much time go by stuck in a job that isn't the right fit for you as I did.  If you are feeling discontent in your current role, it is time. You don't need to hit rock bottom and have a major life tragedy like mine to give yourself a jolt to make a change. I am here to tell you, your time is now.  That is why you are reading this book today. This is not a chance. There is a reason.
I Found My Calling:
Sharing what I was learning: I started with a blog. I started writing about what I was learning at my day job.
Trying new things: I started taking new opportunities at my day job. I volunteered to be on the training team. I volunteered to become an Adjunct Professor and teach a course.
Commitment: I started to see that I could make this my living. And I committed.
My blog tagline originally was a Consultant by day, MBA Student by Night. Journey with me in my final year of business school. I stole a picture off the internet and put it on my header. I didn't know you couldn't do that. I started on blogger. I didn't even own classycareergirl.com, and it took me a few months to purchase it.
But I started somewhere, and my mom read it. Haha.
Then, we graduated a few months later to another re-brand. I wanted it to be more professional, and I decided to move over to WordPress and invest in my blog. So I hired a designer and we made a new look to match my professional corporate look. Then, I had the legs and I was a girl on a search for success, happiness, and balance.
No pinks. Can you believe it? I was in a male-dominated environment, and at the time, I thought classy was strictly manly. I dressed in suits and very professional at all times. It was my brand at the time. But things can change, and nothing needs to be perfect when you start. You just have to get started!!
Thank You for Listening!
I  hope you all enjoy this episode. I would love to hear your thoughts on Instagram! Check in next week for a new episode of Classy Career Girl Foundations. 

Latest posts by Anna Runyan
(see all)