25
May
More and more employees are opting to work remotely. The ability to manage emergencies at home, save time and money in commute, access to fantastic global job opportunities and flexibility are some of the reasons why telecommuting is preferred by employees. As far as companies are concerned, expenditure on maintaining physical workplaces, employee dissatisfaction and stress, and a waste of time and productivity are all curtailed when workforce goes virtual.
Also, as compared to a few years back, technology has grown in leaps and bounds to make it easier for employees in different parts of the world to collaborate and work as a team.
If you are looking for a work from home job, then there is no doubt you will be spoilt for choice. The infographic given below lists some of the best and highest paying telecommuting jobs available. There is something for everyone in the list with a range of jobs from creative writing, SEO, graphic designing and photography to clinical research, medical writing and engineering up for grabs.
You can also choose to be on platforms like upwork.com or freelancer.com where you will be able to bid for short-term projects and get paid as soon as you deliver. These portals allow you to post your portfolio, work credentials and CV, and help connect you with potential employers.
Though there are plenty of opportunities out there, it is necessary that you keep your eyes open to detect potential fraud. Several companies make offers that appear too good to be true but never stick to their end of the bargain. You should always verify the credentials of the company you are working with. It should have detailed contact information including a physical address, a contact email, and a phone number. You should also Google whether the company has been involved in any scam earlier. This will help you be sure about whom you are collaborating with and avoid mishaps.
Check out the infographic from Ponbee below to get some very handy information about current telecommuting trends.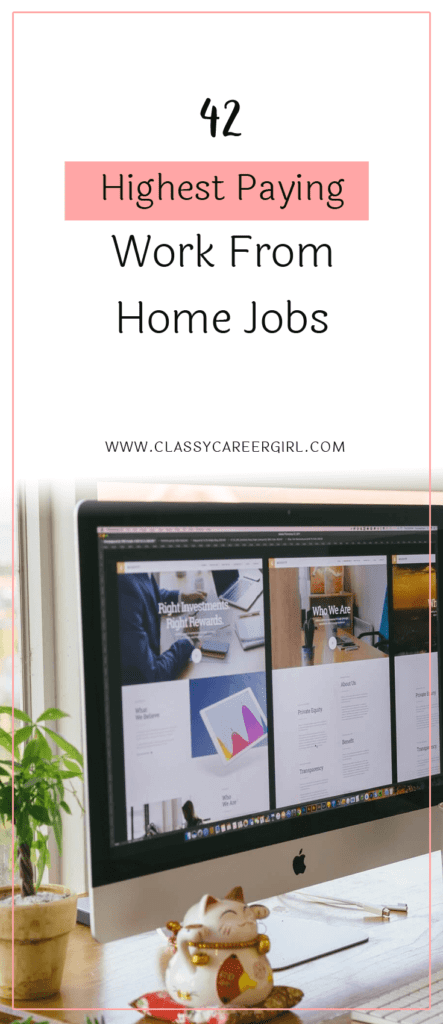 42 Highest Paying Work From Home Jobs [INFOGRAPHIC]

Brian Zeng is a Blogger and Owner at Ponbee.com. He is a digital marketing enthusiast. His interests include aiding small business growth and following e-commerce trends. He is a tech junkie with an entrepreneurial spirit and enjoys spending his time on staying updated on the various aspects of digital marketing, website design, and SEO.
Latest posts by Brian Zheng (see all)