14
Dec
Are you happy with where you are at right now in your life? I always dream of being in a place that I really want to be in and doing something in my life that I really want to do. Well, it's almost 2017 and it's the perfect time to add some personal time into your schedule to create your plan to achieve your goals and dreams in 2017.
I know we all want to be in a place where we can grow, be encouraged and connect with people that can help us reach our goals. But how do we do that? How can we lead ourselves in our own lives? How can we create our own personal space?
At Classy Career Girl, we always encourage women to achieve their goals and do what they love every single day because we believe that women will be more successful when they are fulfilled in their work. We help women get to know themselves better and share strategic steps and advice on how to succeed. That's why we are all about learning and sharing create content and courses with you when we find them.
Today's featured online course is taught by Concordia University. The "How to Create Your Personal Space" online course helped me understand more why I need to grow, be encouraging to others in my life and connect with people in order to achieve my goals and be in the place that I dream off.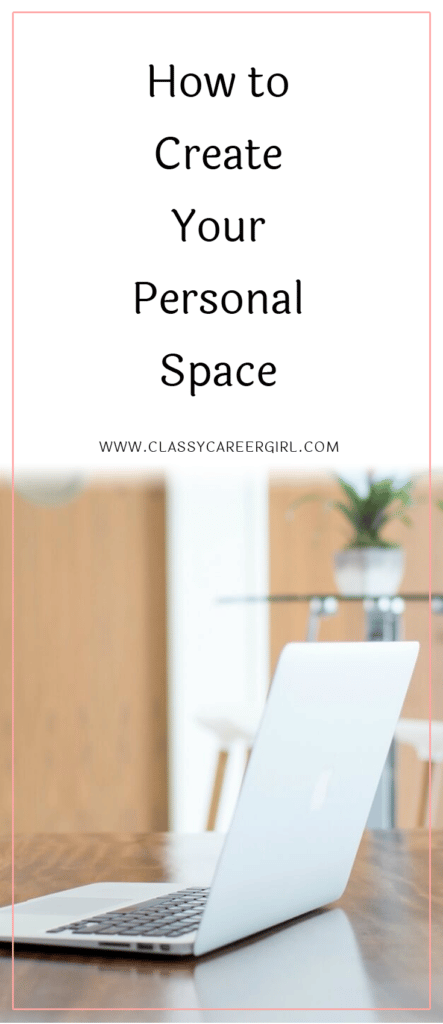 Here's my takeaway:
Carving out time to work on your goals and dreams is SO important. All day today I have been brainstorming my goals and dreams and vision for 2017. On my run, while driving and even in the shower!! The key is that you need to carve out that time personally to set goals for yourself. I have realized that I am a better mom and CEO, when I take care of myself and am accomplishing my own personal goals too. Most recently, my personal goal is to run a half-marathon in April! Creating personal space to self-reflect and create goals is a hot topic in this mini-course too!
This course has a clean and simple platform with great content that is easy to understand and follow. Worksheets are also provided to help you self-reflect. Not everyone is a huge fan of self-reflection but it's one of those things that helps me when I feel stuck and unmotivated. Give yourself a few minutes and ask yourself the questions from this course. Trust me, you will be amazed.
It is so important to understand ourselves better and really know our values, our purpose, our interests, our ideal workday and our ideal work environment. The good news is, this course will give you the information you need to help you lead your life to the place that you want to be.
The course is free, delivered to your inbox, and takes about 1 week and 3 – 4 hours to complete. It consists of essays, videos, interactive polls, and download journals. All content from this email course is taken from Concordia University Wisconsin's 100% one-year Master's Degree in Organizational Leadership and Administration (OLA). An OLA is an alternative to an MBA that focuses on your personal growth and a leadership potential. Learn more on an OLA here and here.
This course is perfect for:
-Self-Help Enthusiasts
-Business Professionals
-Continuing Education
There are inward and outward-directed strategies involved in finding this place for yourself. Finding it requires you to be comfortable considering what your life goals and accomplishments are. After completing this course, you will know yourself better and what it will take to take the next strategic step towards success.
The How to Create Your Personal Space online course explores:
-Why having a personal place is needed.
-How to teach yourself to grow professionally.
-The importance of connecting.
-How to succeed with encouragement

The best part is that you can take the course from anywhere.
Disclaimer: This post is sponsored by Concordia, however, opinions are my own.



Latest posts by Anna Runyan
(see all)