28
Oct
This post is a series of posts in the #MyStartupStory movement that starts November 10th. We'll be sharing the real life experiences of starting a business and helping you create your brand and website copy. Learn more here.
So in case we have never met and you are wondering who is this girl teaching about starting a business and on billboards, well let me introduce myself to you and tell you my journey to where I am today. This picture is my dad, my mom and me and my daughter just last weekend where I got to see with my very own eyes myself on a billboard.

Yes, I had to see it to believe it. But I am no overnight success. There's been a lot to get to where I am today. Let's start at the beginning.
So, if you are feeling stuck, I have been in your shoes. I remember what it was like when I was stuck in a job I hated (financial management). I wasn't happy and fulfilled in my career and it was keeping me up at night.  I was so stuck and I would apply to jobs over and over again online with no luck. I blamed the economy and I was frustrated that I wasn't doing all that I was capable of. This is monster.com and it was my friend and I absolutely hated online job searching. I just didn't fit in my job.  I mean I was doing well and getting promoted but something was just off.  It just didn't fit me.
The problem was I didn't really know what I wanted to do.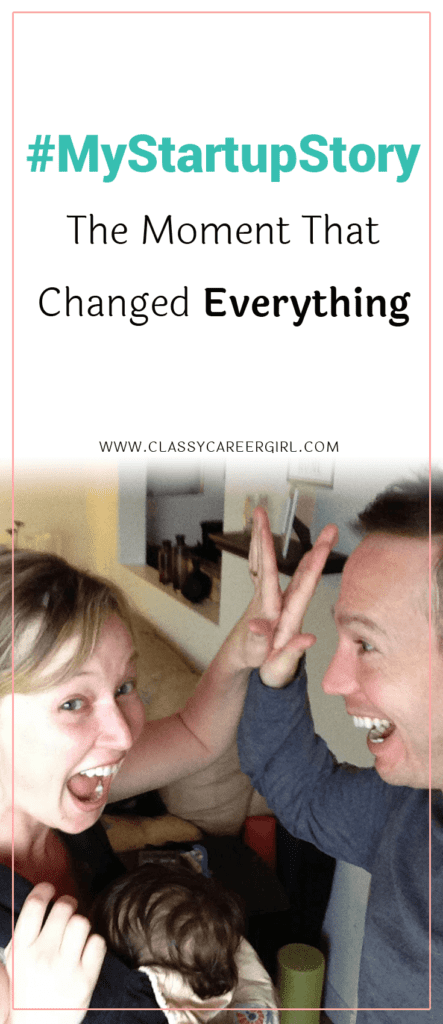 For years, I was stuck in a job I hated.  
I would literally come home crying to my husband and some weekends I just couldn't relax because all I could think of was work and how I needed to get out of there and how much I dreaded Monday. I didn't want to face what was on my plate on Monday morning. It was impacting my relationships because my work life was off. I couldn't attend happy hours or social events because I had to work or I was crying about work.  I was just barely holding on.
The only thing keeping me afloat was I had picked up a side project that helped me realize what I was passionate about. I was able to teach a "How To Navigate Your Career Class" as an Adjunct Instructor at my company that I LOVED. I helped people review their personality assessments and figure out how to navigate within the company into roles that they loved so they could be happy at work.
It was on my own time and I didn't get paid for it. I had to put a lot of extra hours in but it didn't matter. It was work that fit me. And then I realized, I wasn't in a full-time role that fit my interests, personality, and motivations.
It was such a lightbulb because I finally was learning more about myself. I realized that finance was a skill I was good at but I didn't enjoy it. It wasn't my favorite skill. But I loved teaching, training, and coaching. I realized that I wanted to do that for my career. I realized then that I wanted to be in charge of my own destiny and have my dream business. But I had no idea how to make that happen.
So another year went by and I was still in the same position.
I got comfortable. Nice salary.  Promotions.
But something was just off.  I was in limbo.  I was just making it through the days.  Living for the weekends. Letting life pass me by.  Dealing with a lot of frustrations you might be dealing with right now, lots of ideas but no solid plan, bored and stuck, don't want to regret not being all that I was capable of being. I knew I had more to offer the world but I had a lot of fear and self-doubt.
I will just settle with what I have now. A job is just a job and it pays the bills. I just have to keep doing it because I don't have another choice. I just didn't care.
It's so sad to think of that time in my life because I just let go.  
But I knew I had a message. I knew I had a purpose. My thoughts can be found in the quotes I was posting on Instagram around that time. This photo was in 2012. I knew I had more potential than my day job. I knew I could be the boss way better. I was inspired by this quote "Your life is your message to the world. Make sure it's inspiring."

But there was this whole other side door opening that I wasn't aware of.  There was this door of happiness by working on my blog and growing a startup. The door to work I loved and complete personal fulfillment.  Living a life of purpose and making a difference. A career that totally fit me in this door over here.  But, I didn't know that then just like you don't know what is through that door for you right now. There was a step or a major leap that I needed to take. But, I almost didn't take that step until my life took a turn and I learned what was truly important in my life.
#MyStartupStory: The Moment That Changed Everything
Through 2011 and 2012 when I was working and struggling to turn my blog into a business, I suffered the loss of two babies in early miscarriages. Our precious little ones devastatingly forced us each time to hope more, grow more, trust more and love more, I remember each of them by the impact they had on my life. Each of them causing a drastic change. Sparks to awaken us. They each were activators that reversed the direction we were headed. They live on now in everything John and I do, how we live our lives and in every decision we make.
I learned finally in my journey to entrepreneurship full-time not to care what people thought and I suddenly had this mad determination and fierceness to change my life and the world so there was some reason and purpose for my pregnancy losses. Trust me everyone thought we were crazy when my husband and I BOTH quit our jobs to work on our business full-time but we didn't care!!
The only reason I can talk about this dark time in my life now is I have I have a beautiful, miracle daughter, Mila. (Here's her baby blog announcement). My miracle happened when I wasn't expecting it and all happened as I was pursuing my purpose and path and let go of what was holding back in my life and making me stressed and unhappy. And let me tell you she was worth the wait.
Ever since that moment I have had this fire in me. I have had a purpose. And I beg you not to let as much time go by stuck in a job that isn't the right fit for you as I did.  Please, if you are feeling discontent in your current role, it is time. You don't need to hit rock bottom and have a major life tragedy like mine to give yourself a jolt to make a change.  I am here to tell you that I know you can feel it if I am talking to you, your time is now.  That is why you are here today. That is why I am doing what I do with my life and in my business now.
This post is a series of posts in the #MyStartupStory movement that starts November 10th. We'll be sharing the real life experiences of starting a business and helping you create your brand and website copy. Learn more here.

Anna is the founder of Classy Career Girl, named by Forbes as one of the top 35 most influential career sites of 2014. She helps millions of women design and launch their dream careers, businesses and lives through her website, online courses and social media channels.

Latest posts by Anna Runyan (see all)