30
Aug
We have over 2,000 women already registered and I am so excited to get started!
I can't wait to help you turn your dreams into a reality this fall! We're starting soon. GRAB YOUR FREE SPOT HERE.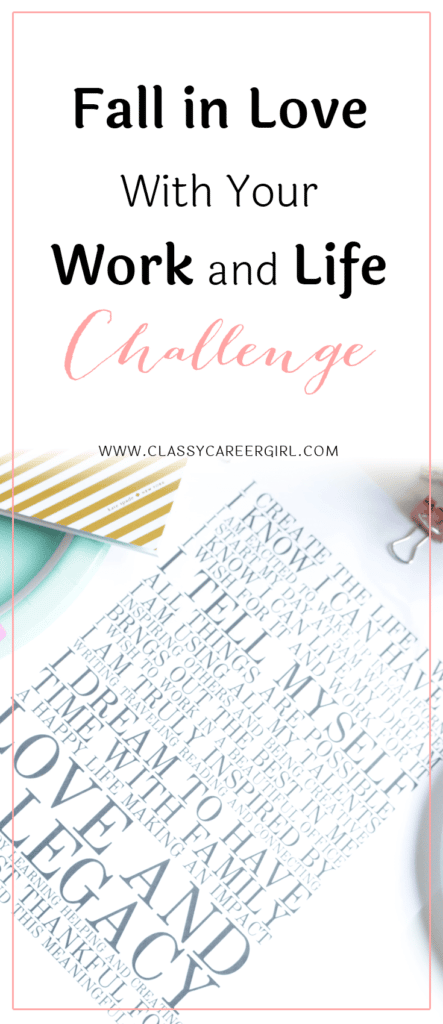 So what is this challenge all about?
The 2016 Fall In Love With Your Work and Life Challenge is going to be jam-packed with activity, fun and videos to help you make your 2016 career goals a reality and love your life. It's the most inspirational and life-changing thing I have EVER created in my life.  I am so beyond proud to put this out into the world.  
And here's the best part….the whole thing was done last year and I have improved it and made it even better given the feedback we received last year…meaning that I have been ON FIRE and totally inspired to give you the very, very best while living the life of my dreams too. 
There's something about being with you on this journey in our recently re-launched Classy Career Girl Network Facebook group that makes me so much more creative and pumped to be my very best self.  I have looked back at the videos of this

challenge

 and been like, where did these come from and who is that person on video.  I inspire myself and even tear up when I watch them. Now, that's really awesome, right?
So if I can inspire myself, I think you will also find the challenge and the videos motivational and life-changing as well. 
If you are reading this now, this is your time to create a huge transformation in your life and be a model to your family, friends and colleagues around you. You can seize the moment, or not.
I'd love to welcome you to our video challenge and welcome you into our incredible group of ambitious women making their dream lives and careers happen. The Challenge officially starts on September 6th but be on the look-out for pre-party activities in our private Facebook group beforehand.
See you there! It's only one week away! Woohoo!
Love,
Anna
P.S. This only happens once a year. Don't miss out! Click here to join us.

Latest posts by Anna Runyan
(see all)