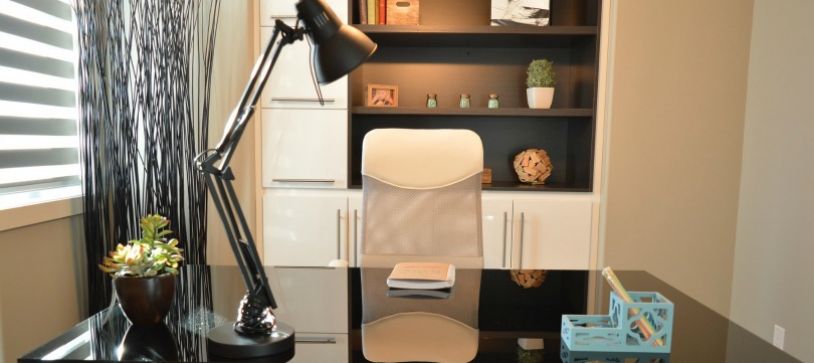 10
Mar
In The Office, regional manager Michael Scott gathers his entire staff every Monday to watch a movie. When corporate finds out, he defends his actions by claiming it increases staff productivity; they now have to work faster to make up for the time lost spent watching the movie. There's no need to resort to these drastic procrastination tactics to boost your work productivity, when simply updating your office décor will do. Having a comfortable and stimulating work space can not only improve one's output but also one's happiness in the office.
Here are a 9 essential office décor items:
1. LED lamps
Dim lighting can lead to issues such as eye strain, drowsiness, and lack of focus. LEDs produce a clean, bright light that can mimic natural sunlight. Sunlight provides benefits such as boosting overall mood and promoting better sleep habits. So for those with little to no access to windows, this is a great alternative to battling with your coworkers for that window seat.
2. Ergonomic chairs
As a working professional spending hours sitting at the desk, having supportive and comfortable seating is critical. Investing in suitable chairs will benefit you by preventing spinal issues and chronic discomfort.
3. Organizational items
Keeping your work area tidy and organized will help reduce distractions and increase efficiency. Using file folders and letter trays prevent time wasted searching for documents and reference material. While functional, they don't need to be those boring, standard-issue black trays. Office supply and container stores now carry them in bold colors and prints. You can even DIY your own using spray paint.
4. Memo board
Taking a cue from Pinterest, memo boards are a great way to post your favorite inspirational quotes, jokes, and Post-it note reminders. They provide inspiration and motivation during stressful projects and aid in keeping you organized.
5. Plants or terrariums
Studies have shown that having living plants boost productivity and workplace satisfaction. They also provide a pop of color in an otherwise monochrome, indoor environment. There are a number of plants well suited for indoor offices and require little upkeep. The most popular ones being succulents and air plants. Or if you really lack that "green thumb", terrariums filled with dried moss are an alternative.
6. Photos and digital picture frames
Personal photos can help relieve stress and reduce negative thoughts on those hectic and manic days. If you're tight on desktop space, consider a digital picture frame. They're capable of displaying photos from your phone, storage device, and even from your social media accounts.
7. Calendars
Yes, your phone or computer can display the date and time, but art calendars are an excuse to inject more of your personality and style into your work space. Like any calendar, they help keep you organized and provide reminders for future events.
8. Scent diffusersor sprays
This can be a tricky one so please be considerate of your fellow coworkers. Aromatherapy can be a powerful tool in managing your mood. Bright, invigorating scents such as citrus and rosemary stimulate your brain and fight fatigue. Others such as lavender and jasmine are more calming. If none of those work for you, then there's always bacon!
9. Paint or colored backdrop
Whether through paint, paper, or fabric accents, changing the overall color of your office can help boost your productivity and attitude. Research has shown green provides a relaxing atmosphere whereas yellow stimulates and promotes creativity.
Hopefully with the addition of these essential décor items, not only will your productivity improve but your workplace satisfaction as well. Having an enjoyable working environment can contribute to a person's efficiency just as much as providing the needed software or resources. Otherwise you might end up leading an Office Space-like revolt yourself. So go ahead and treat yourself to that red stapler.

Latest posts by Eugenia Lin
(see all)